🇨🇭 Test Center Zugersee
Our station in Switzerland: Sarah Zurbrügg-Greenaway and Anita Suter run their training center here on the west bank. They train in paddling technique, safety and offer training for all levels. A selection of SKIM sea kayaks as well as kayaks & surf skis from Stellar can be tested by arrangement.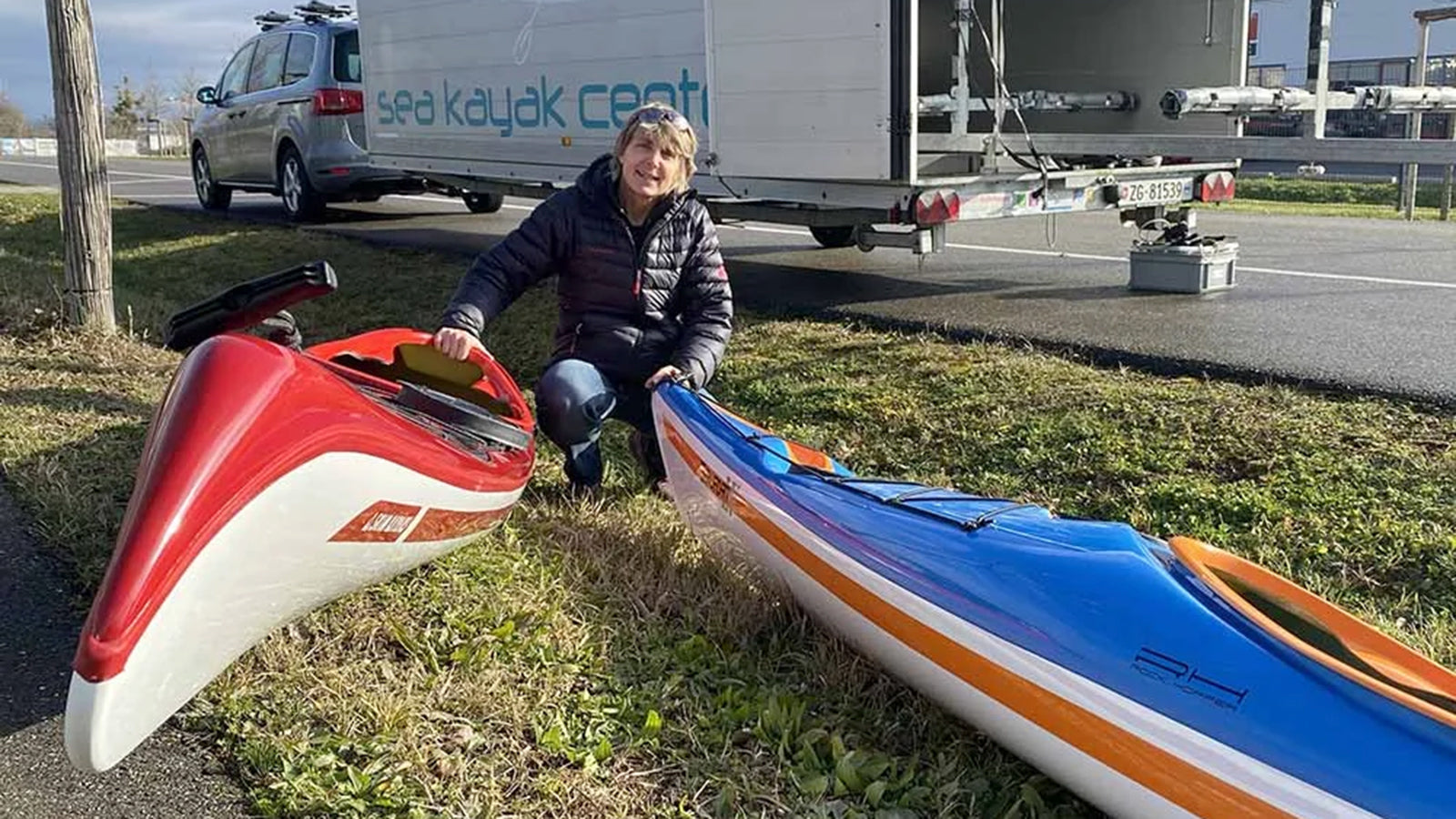 Sarah Zurbrügg-Greenaway picking up the new SKIM kayaks for the test center on Lake Zug
The experienced paddlers will help you to find the right kayak for you. On request, the kayaks and surf skis that are on site can be tested. The Seakayak Center is also happy to offer individual courses and training sessions to deepen your skills in the new boat.
SKIM sea kayaks from Finland:
Finnish manufacturer SKIM designs special sea kayaks: each boat is handcrafted in Finland. The design is based on classic boat shapes and improved. Many details show that their designers are themselves on the water and know what is important. Legendary is the "negative stern" on the SKIm Beaufort, which extends the waterline of the boat.
The following models are available for testing at the station on Lake Zug, others on request:
SKIM Beaufort
SKIM Beaufort LV
All in Models available from our main warehouse are listed here:
How does testing at the test station work?
There are no fixed opening times. The best thing to do is call the phone number below or write an email, describe what it is about and make an appointment. Swiss customers who opt for a kayak can pick it up directly from the central warehouse in Eschbach (Germany) by arrangement. This is how a private import into Switzerland takes place, which enables a refund of the VAT.
🇨🇭 Test station Lake Zug
Seakayakcenter, Sarah Zurbrügg-Greenaway
Phone: +41 79 213 51 06
Email: sarah@seakayakcenter.ch
Address: Bootsplatz am Zugersee, Dersbach, 6333 Hünenberg See
Appointments by arrangement