Test center Hamburg
The Lite Venture Station in Hamburg is located in the east of Hamburg within sight of the Elbe on the Altengammer main dike. Here, sea kayaks from SKIM, the light tourers and surf skis from Stellar and all Lite Venture SUP boards can be tested by appointment.
Alex von Strombeck is in charge of the location. He advises on the different models and also allows you to test the kayaks and boards. Guided tours on the Elbe and the northern German lakes are also part of his offer. Courses for kayak beginners on paddling technique, safety, navigation or tours are offered individually.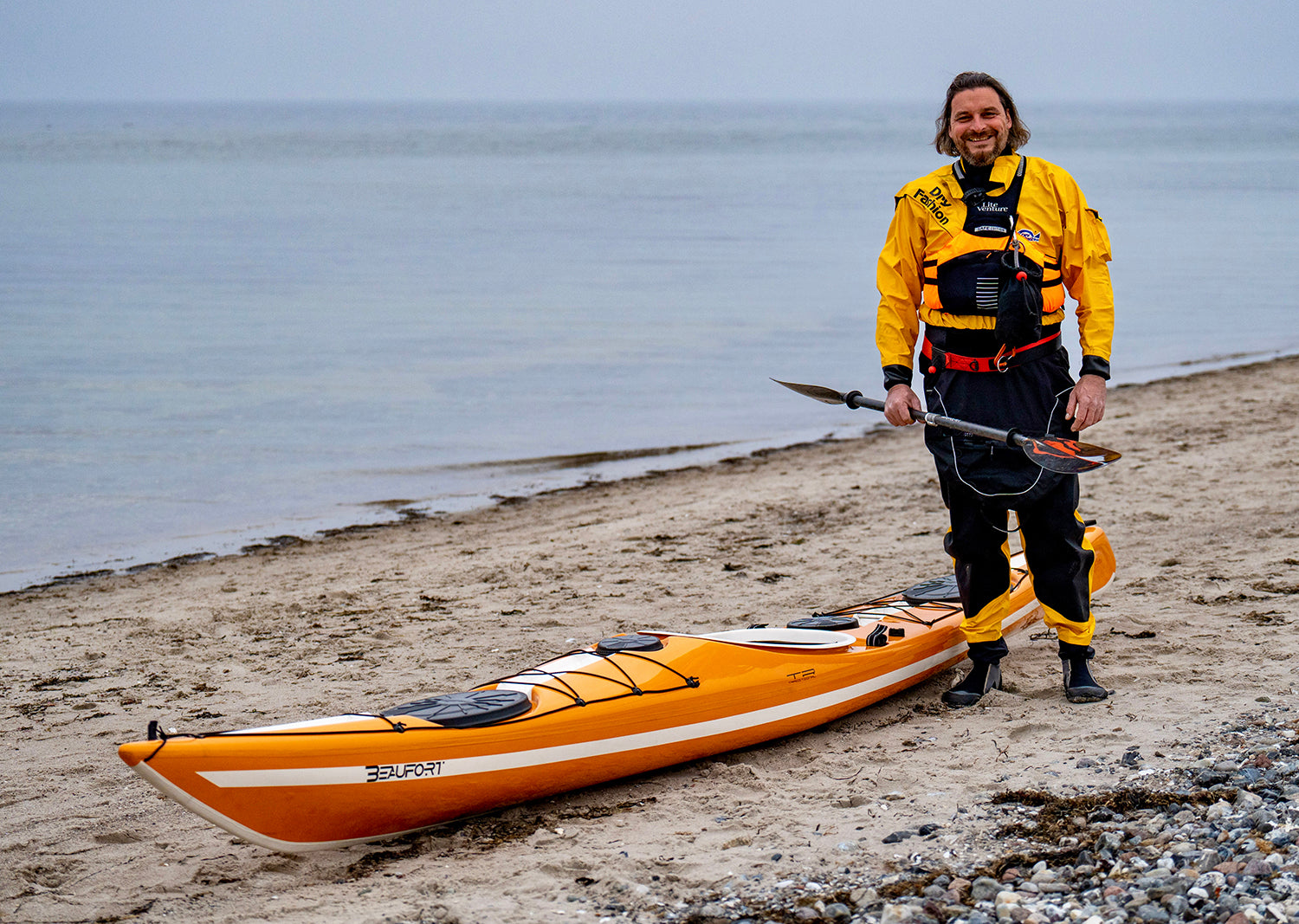 Alex got to know the water in many forms: Avid sailor since childhood. He learned a lot about traditional seamanship and worked his way up from ordinary seaman to skipper. He is the holder of all sailing licenses up to the sport high sea ship certificate and the required marine radio certificates.
Because of his fascination with ships and water, he studied shipbuilding in Hamburg. During his studies he worked in Hamburg and on the Baltic Sea as a sailing instructor and motor boat instructor and as a skipper he went on sailing trips on the Baltic Sea, North Sea, Mediterranean Sea and Atlantic.
In 2007 Alex discovered his fascination with sea kayaking on the Canadian Pacific. Since then he has been part of the team on paddling expeditions in Germany, Denmark, Sweden and Greece and has spent wonderful paddling times on the Baltic Sea and North Sea, the Mediterranean Sea, the Atlantic, but above all on the north German lakes, rivers and coast. In 2015 Alex completed a 6 week sea kayak guide training course and a 4* sea training course at Seakayaking Cornwall.
SKIM sea kayaks from Finland:
The models Beaufort, Beaufort LV, Braveheart, Braveheart LV as well as Differ and Artisan 5G are ready for testing. The models currently available in our main warehouse are listed here:
Light touring kayaks and surf skis from Stellar Lightweight:
The touring models S14, S16, S18 EXP, the marathon racer S18R as well as the Surfski S18S and Falcon are available ready for testing in Hamburg. All immediately available models are listed here:
The Lite Venture SUP Boards
We make Stand Up Paddle Boards with high standards of technology and performance: The hardboards with real wood decks also have a carbon layup, which makes them very stiff. The inflatable boards are also known for their rigidity and high-quality materials. All models can be tested in Hamburg by arrangement.
More information about the models:
How does testing at the test station work?
Since Alex is often on the road to test with customers or to offer his tour program, an appointment should be made before visiting the station. The best way is to call the number below. Anyone who decides on a kayak or SUP will have it sent home directly from Lite Venture's central warehouse or can pick it up from Alex at the station.
🇬🇧 Test center Hamburg
Phone: +0172/528 6393 or 07634 - 340987 0
Email: alex@liteventure.de
Address: Altengammer Hauptdeich 88, 21039 Hamburg

Dates by arrangement, tour program possible