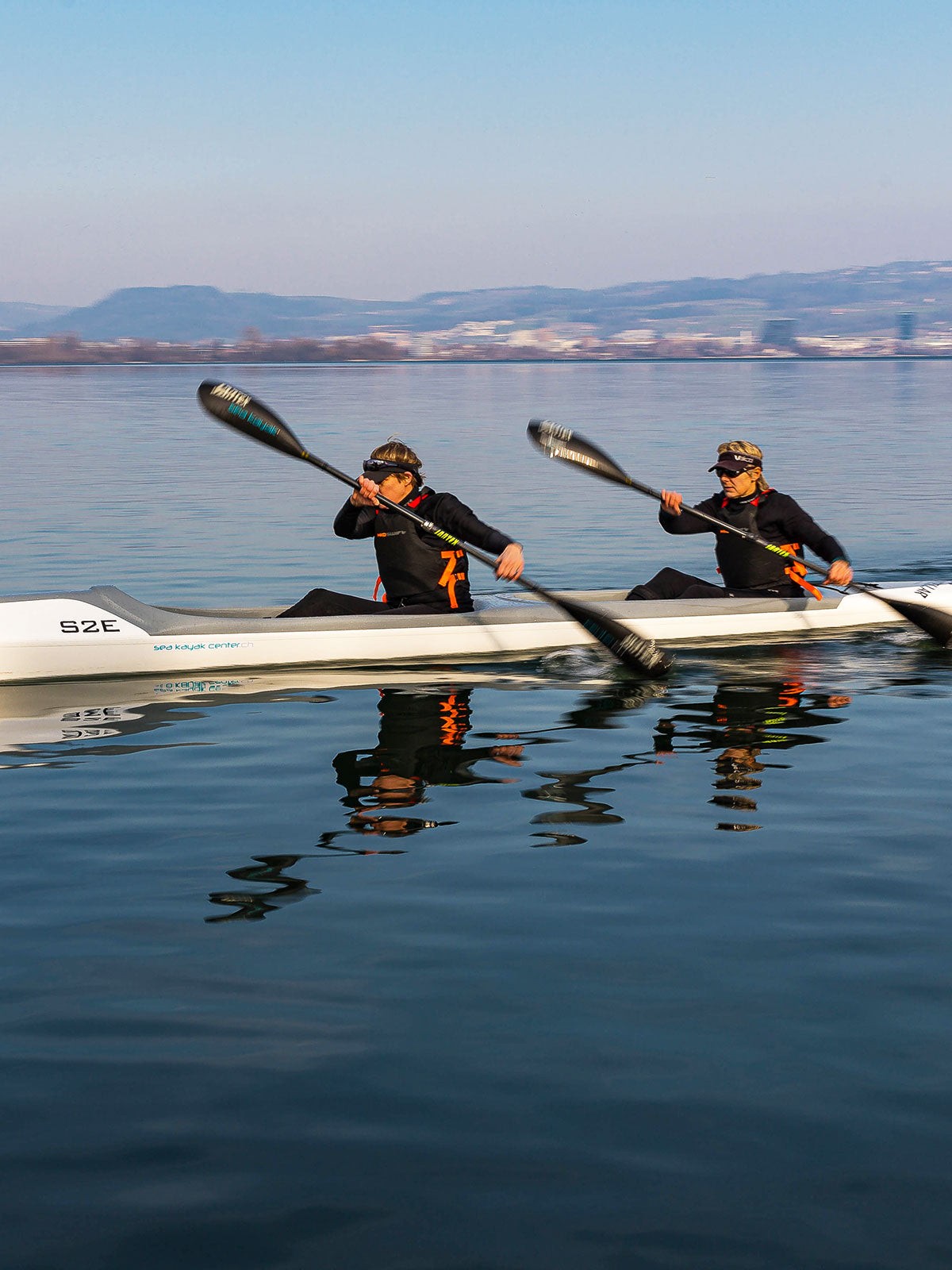 STELLAR S2E Tandem Surfski
Tandem for surf ski pros
The two-stroke steam engine
Stellar Surfski S2E Tandem
This is the racing machine for a well-rehearsed duo with clean paddling technique - or for those who want to train to get there.
The Stellar S2E Tandem Surfski brings the optimum in stability and speed in this class, making it one of the fastest yet most stable surfskis on the market. The Stellar Elite Double (S2E) Surf Ski is therefore also able to cope with rough conditions on the sea.
Suitable for
Paddler weight: 70-110 kg
Load: 220 kg
Light weight: yes
Downwind, training, marathon, competition, professionals
construction
Excel layup: 18 kg
Construction: laminated
options
Excel layup: €4,490.00
Control fin: €70
Tail rudder: €120
Dimensions
Length: 750 cm
Width: 48 cm
Features of the S2E tandem at a glance
The tandem surf ski is ideal for this
This tandem racer is an outstanding surf ski: Ideal as a competition and training device for an ambitious paddler duo or for training in a club. On request we can order it as desired. In the light Excel layup, it weighs only 18 kilos and is 750 cm long!
Paddling technique training
Ideal for advanced training in clean paddling technique in pairs.

fitness training

competition
These points make the S2E tandem special
Click the +crosses to get more information.


Optional tax possible
The S2E comes with an understern rudder. An addition of Smart Track Ski Heckruder is possible.
Andersen Bailer
The S2E is equipped with the Andersen Bailer.
Stable handle
Carrying handle made of carbon


Understern Rudder
The S2E has an 8" understern rudder. Alternatively, 4" and 10" rudders are also available.
Increase in the front area
In the front area of ​​the seat pan, the sides are raised so that less water can penetrate into the seat area. In the rear, the sides are kept lower for easier re-entry.