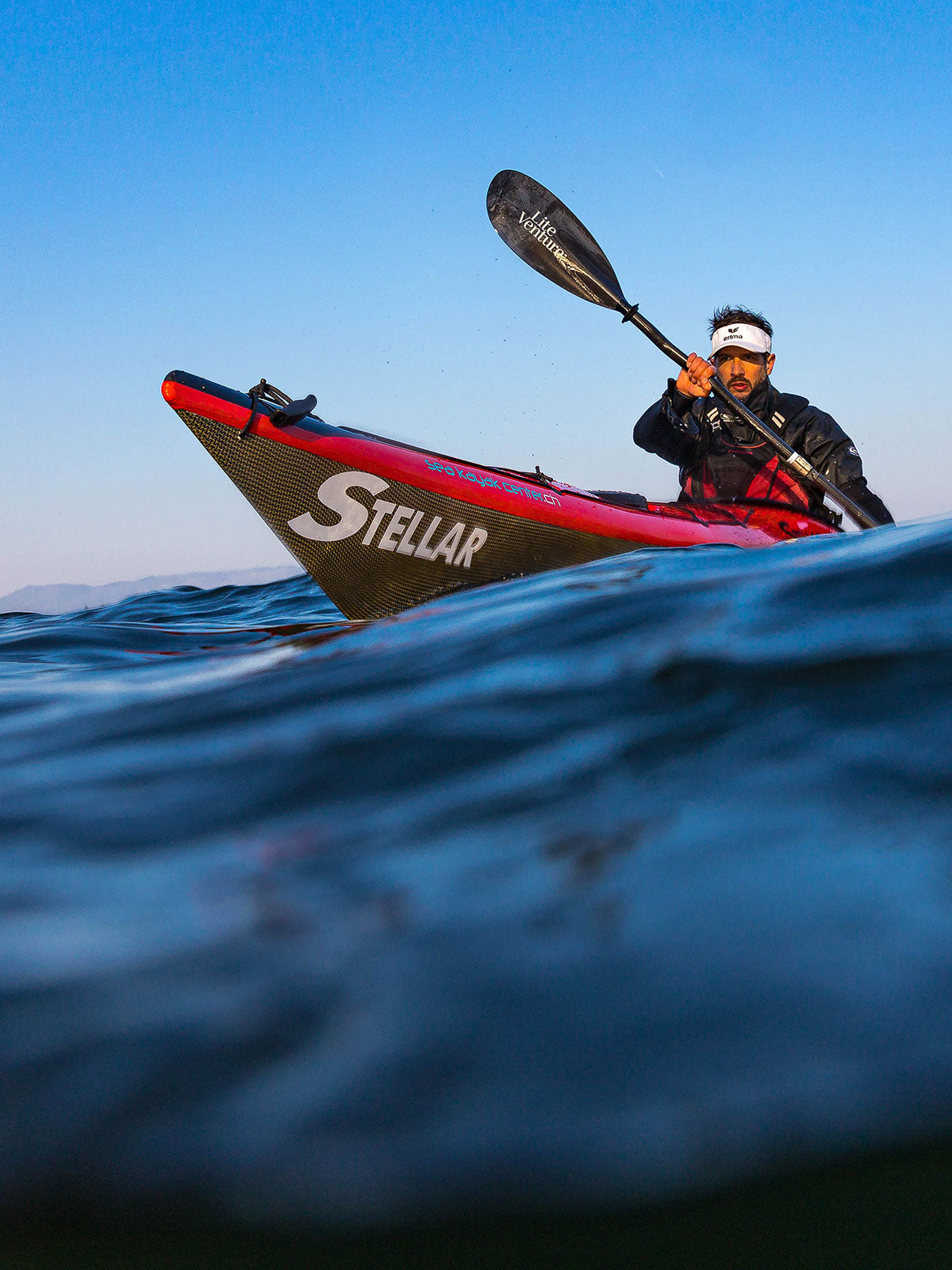 STELLAR SI18 Gull
The light sea kayak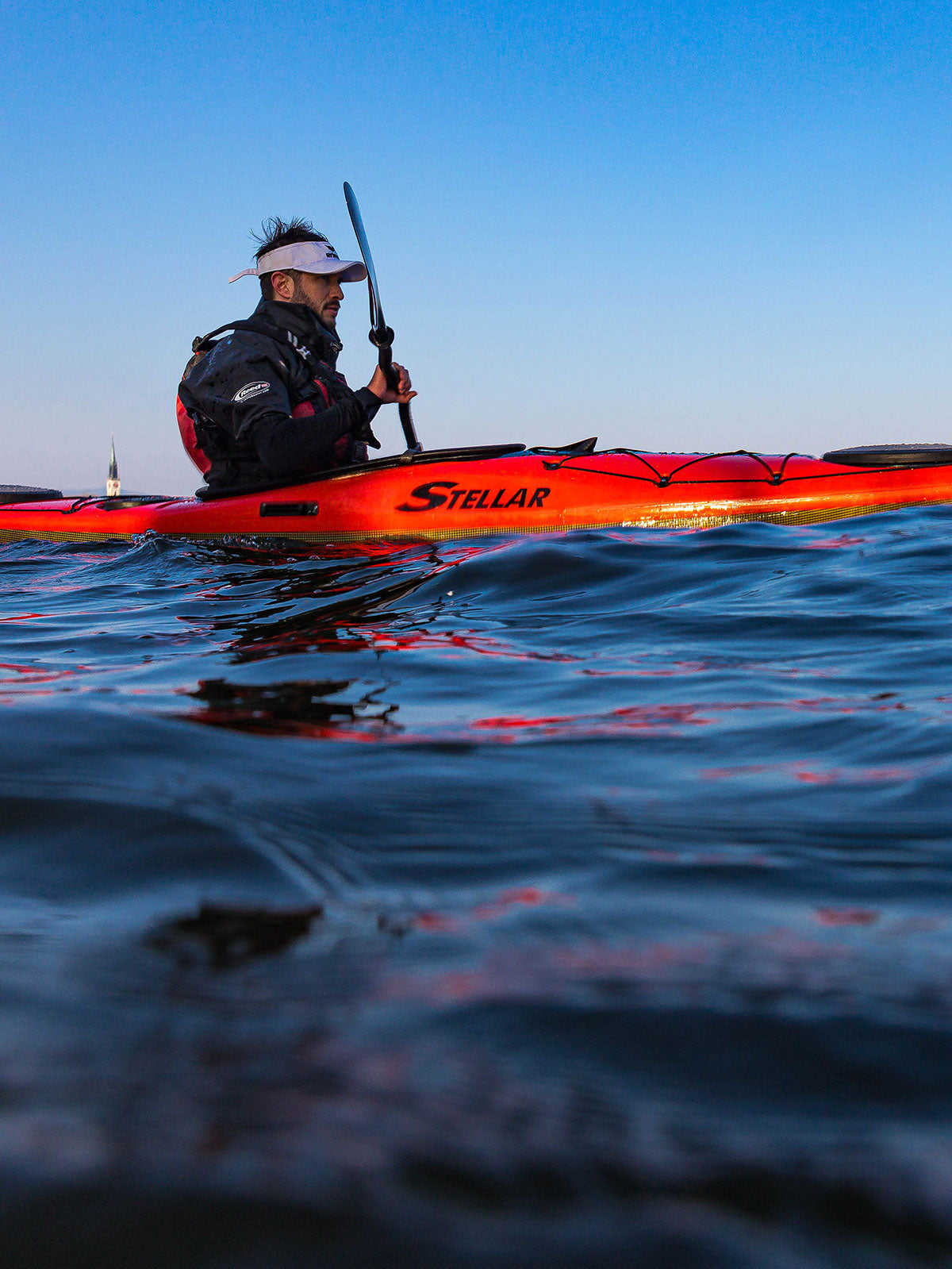 STELLAR SI18 Gull
The light sea kayak
The light sea kayak under 20 kg
Stellar SI18 Gull
The SI18 and the SILV sea kayak from the Stellar family offer the speed you are used to from Stellar in combination with stability and safety, which the sea kayaks prove under rough conditions.

We configure the SI18 and the SILV in Stellar multisport layup by default. This means the hull is made of carbon/kevlar, which is a sandwich of fiberglass and a honeycomb core. The result is a sea kayak with a total weight of 19.5 kg.

The SI18 and SILV are available with the option of adding a Smart Track stern rudder and keel strips.
SI18 or SILV: Choosing the right model
The SILV (LV = "Low Volume") is ideal for light to medium-heavy paddlers with a weight of 55 - 80 kg. The SI18 is for medium to heavy paddlers with a paddler weight of 75 - 120 kg. Anyone who is in the transitional range in terms of body weight should decide according to the area of ​​application and potential payload. For example, if you decide to use the SI18 as a person weighing 70 kg and often use it without a load, you may quickly reach your limits under more difficult conditions. Because then the kayak offers more surface for wind and waves to attack, which requires more strength to control it.
If you are not sure, make an appointment at one of our test stations, here are all experienced paddlers who will give you good advice . Here you will find information about the SILV
Suitable for
Paddler weight: 75-120 kg
Load: 145 kg
Light weight: yes
Tours, multi-day tours, sea kayak, ambitious, professionals
construction
Multisport layup: 19.5 kg
Construction: laminated
Layup variants: multisport
options
Multisport layup: from €3,390.00
Optional rudder: €120
Laminated keel strip ex works: €120
Dimensions
Length: 550 cm
Width: 54 cm
Seat hatch: 81 x 44 cm
Volume hatch front: 125 l
Volume hatch rear: 57 l
Day hatch front: available
Day hatch aft: available
Who is the SI18 the right sea kayak for?
The light and comfortable sea kayak
Many of our customers who choose the Stellar sea kayak appreciate the sensationally light weight of less than 20 kg and the very comfortable entry into the cockpit. The kayak can be steered reliably and offers space for additional loads for trips lasting several days. It's ideal for big-water touring in moderate conditions.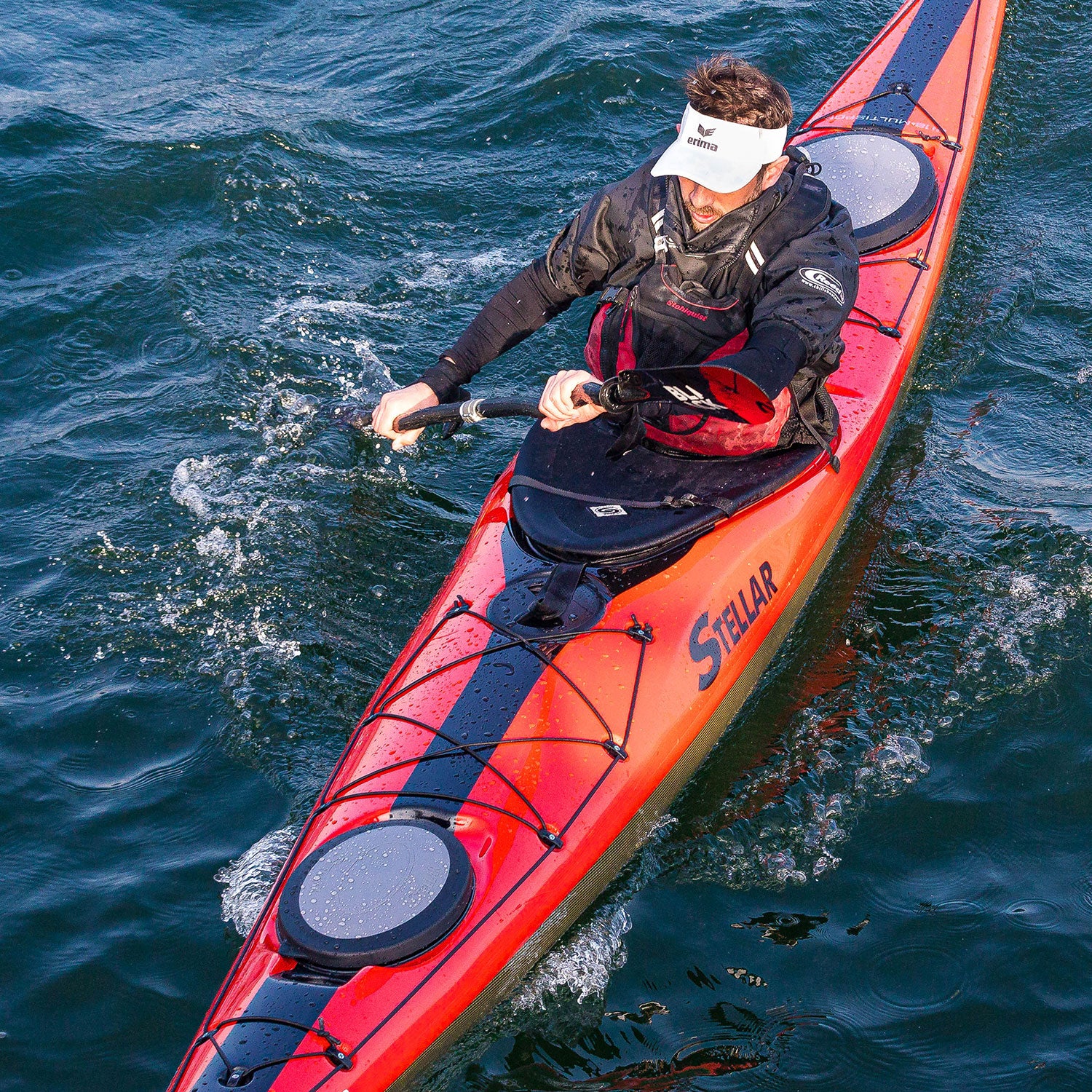 Integrated seating position
The cockpit lets air: ideal for people who prefer a kayak that is not quite as tight. Accessible from the seat: skeg, two day hatches (one aft day hatch on the SILV) and luggage nets.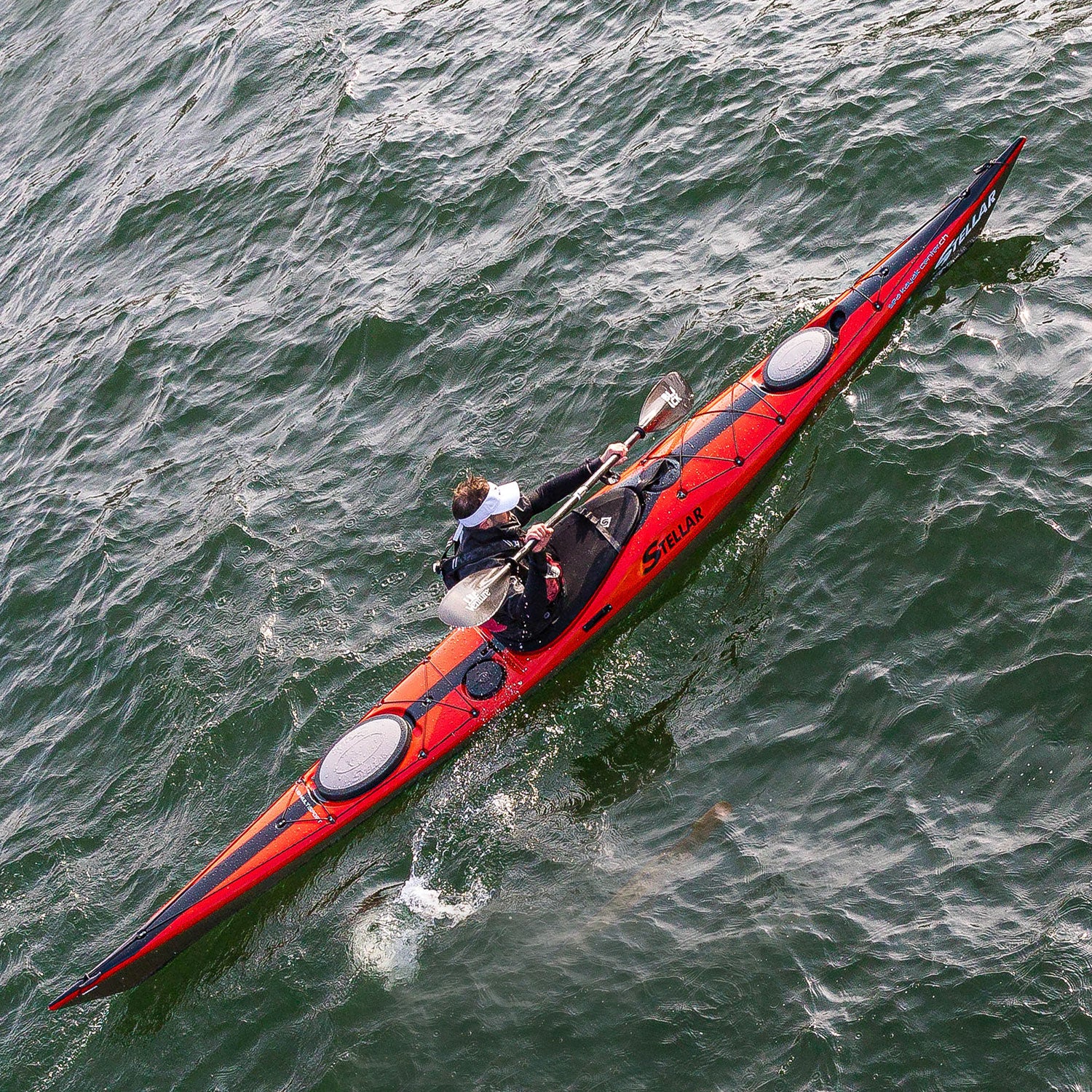 Smooth-running & track-stable
Both models use a long waterline and enable a higher cruising speed to be reached and sustained.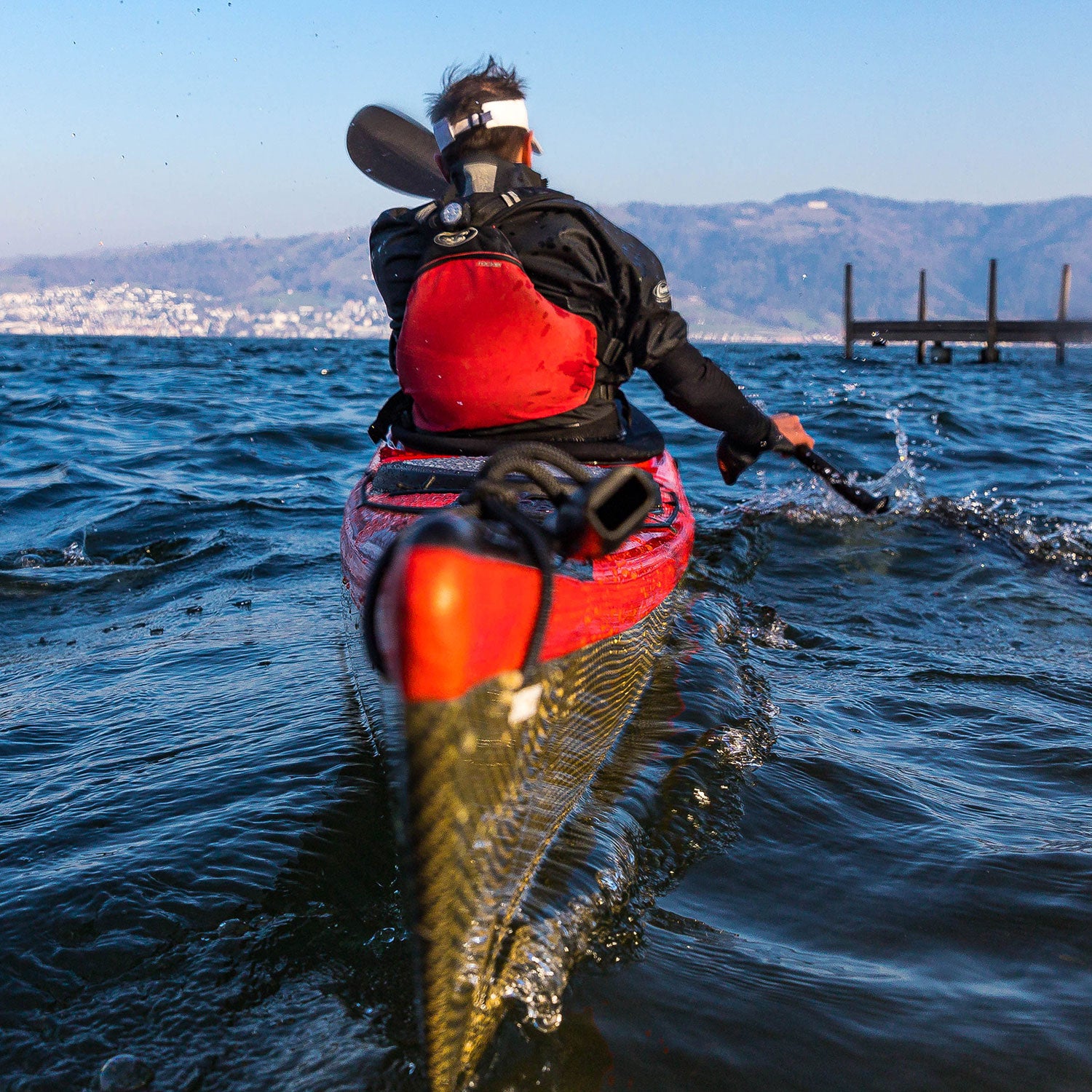 options
The Stellar sea kayaks are equipped with skegs as standard and can therefore be steered very well. A rudder can be added as an option. We also recommend upgrading with keel strips.
These points make the SI18 sea kayak special
Click the +crosses to get more information.


Optional tax possible
The SI18 has a skeg installed that ensures good straight-line stability. If you want, you can optionally attach an additional control.
Large cockpit hatch and comfortable seat
The SI18 has a large keyhole cockpit hatch (81 x 44 cm). There's plenty of room to get in and out of here.
baggage hatches
The SI18 is equipped with two large, oval luggage hatches. These offer enough space to use the kayak for multi-day tours.
rescue toggle
Rescue toggles that are essential for use on the high seas.


SKEG
We equip the SI18 with Kayak Sport SKEG as standard. This impresses with a long and stable fin.
Two day storage compartments
Within range from the seat.
Keel stripes
A Kevlar keel strip can be added to all Stellar kayaks for individual orders. It offers protection when parking and landing. The weight increases by around 700 g.
Presentation using the example of the SILV
Ben Lawry from Stellar introduces the Stellar sea kayaks using the Stellar SILV as an example. Difference to the SI18: The dimensions and only one day hatch behind the cockpit.