Stellar Lightweight Layups
Choosing the right layup for your Stellar kayak or surfski
All Stellar layups allow for a light and stiff boat. Advantage (Fiberglass) and Multisport (Carbon-Kevlar) are the choices for the Stellar touring kayaks, Excel and Alpha are optimized for the ambitious demands of surfski and competition: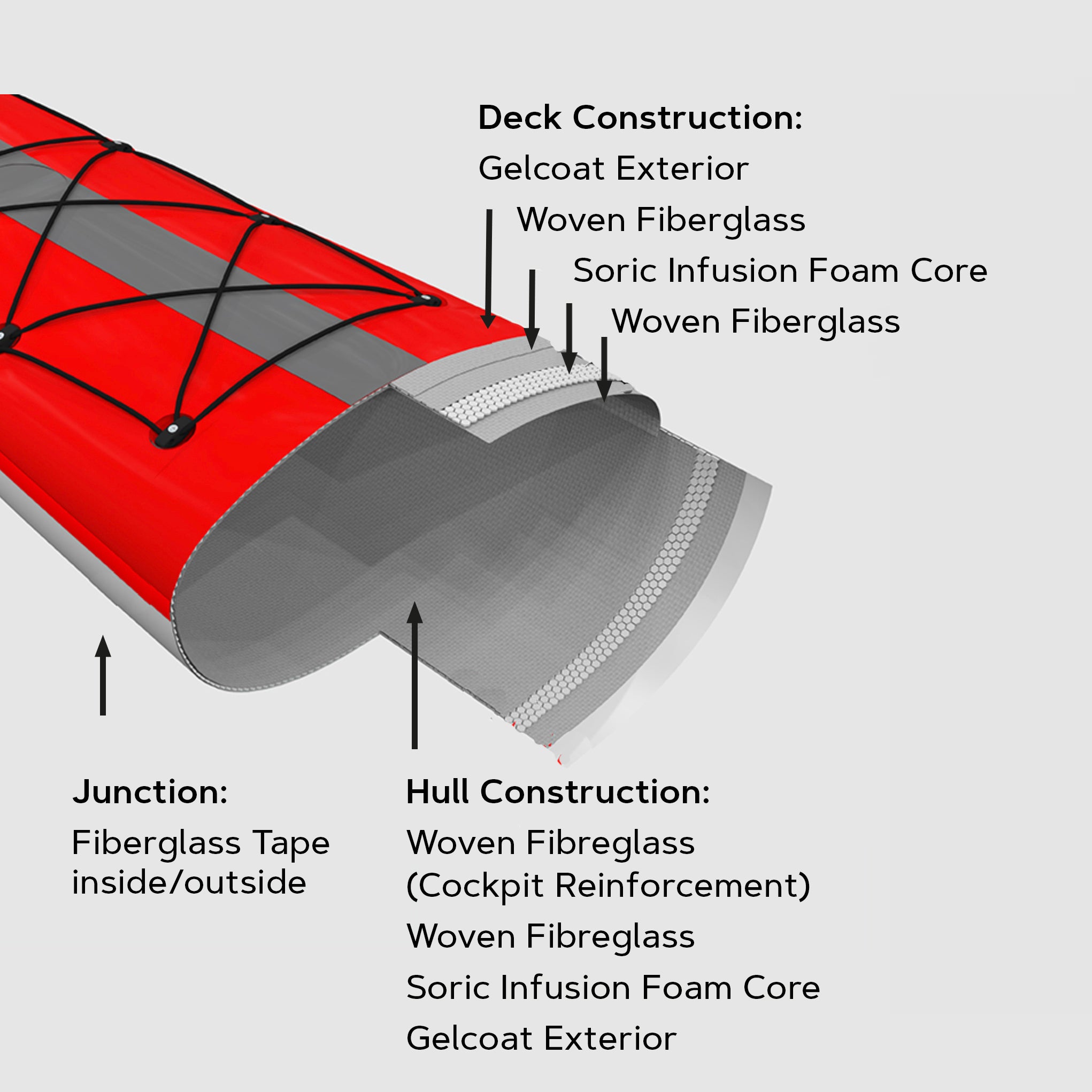 Advantage Layup
The Advantage Layup is based on a multi-layer fiberglass construction. This already makes the kayak or the surf ski surf ski very light. It is very robust. The Advantage is the best choice for a lower price with a moderate weight.
The Advantage models are popular for touring and entry-level surf skis/sit-on-tops because they offer an ideal combination of robustness, rigidity, Offer weight and price.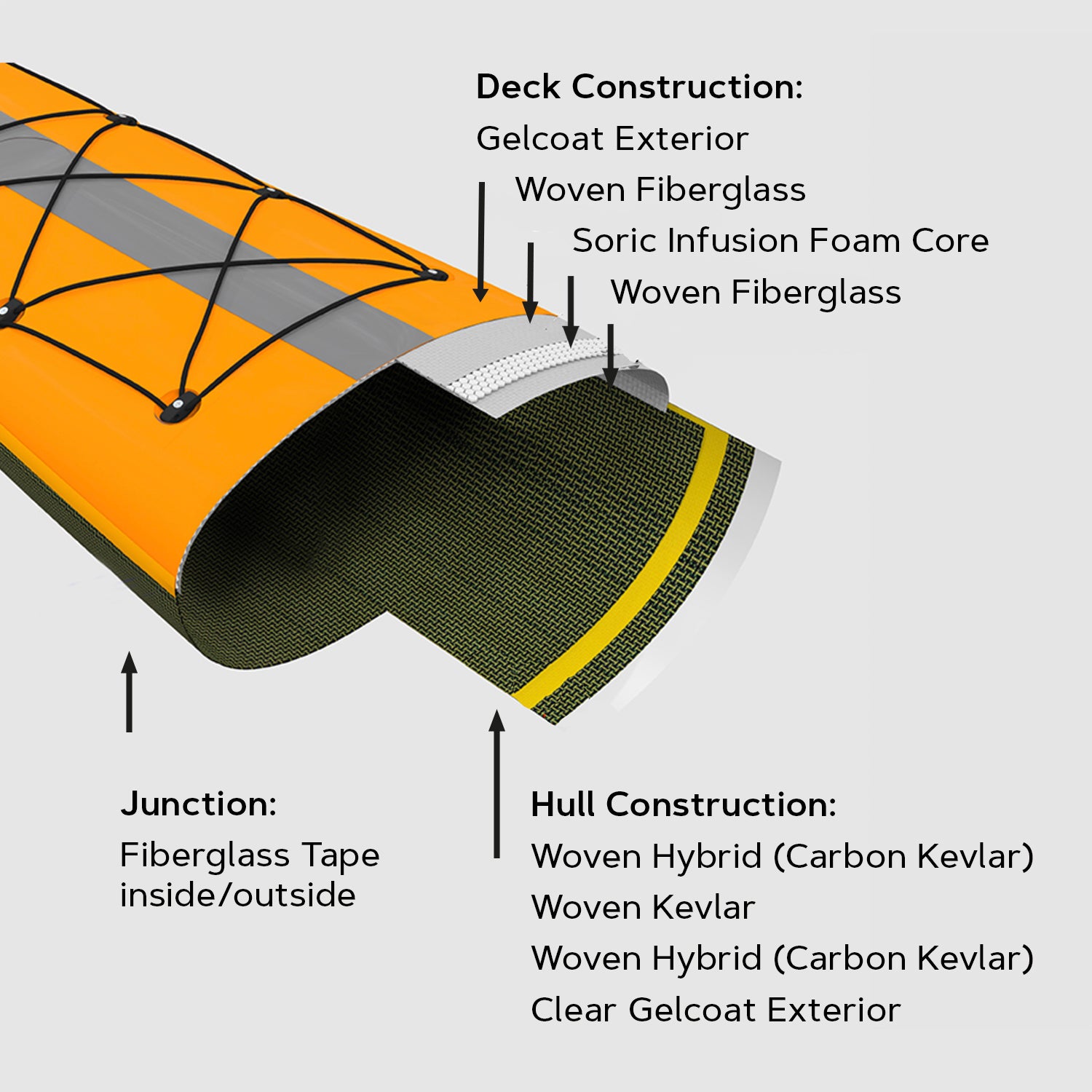 Multisport Layup
In the Multisport Layup, the complete bow is made of Carbon Kevlar. The finish is a clear gelcoat. The deck features the layout of the Advantage series. The Carbon Kevlar construction is very durable. In terms of weight, the result is a very light yet robust kayak for this weight class. Kayaks in a multisport layup are usually just as light as the Advantage kayaks.
We recommend this layup for all touring and sea kayaks.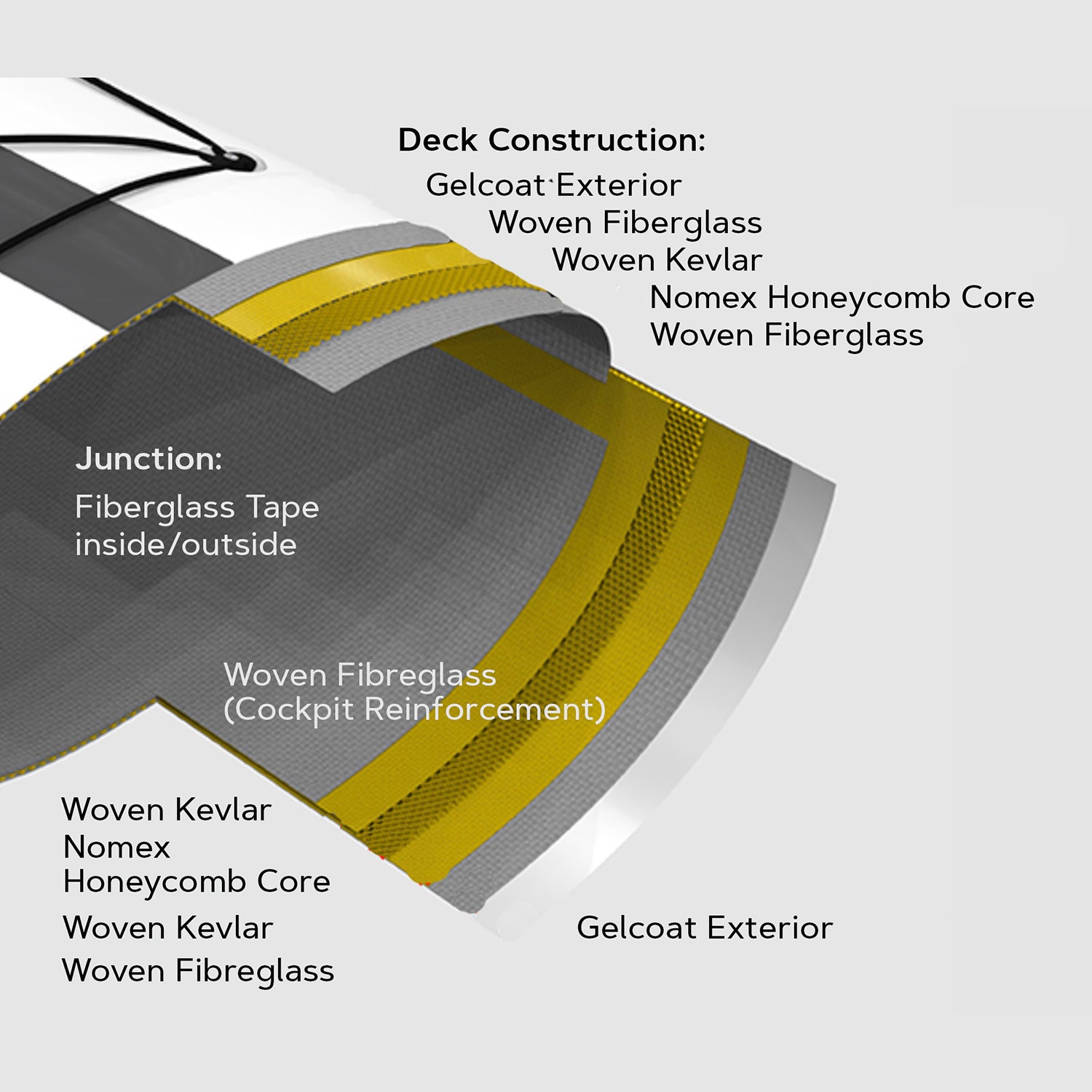 Excel Layup
The Excel Layup is a multi-layer structure with
fiberglass, a Kevlar layer for reinforcement and an aramid fiber honeycomb core from the manufacturer Nomex. The combination results in a stiff, fast and very light surf ski with an outstanding price-performance ratio. However, the surf ski is also more sensitive to external influences. Contact with rocks or over-tightening on unsuitable roof racks can cause damage.

Available for Surfski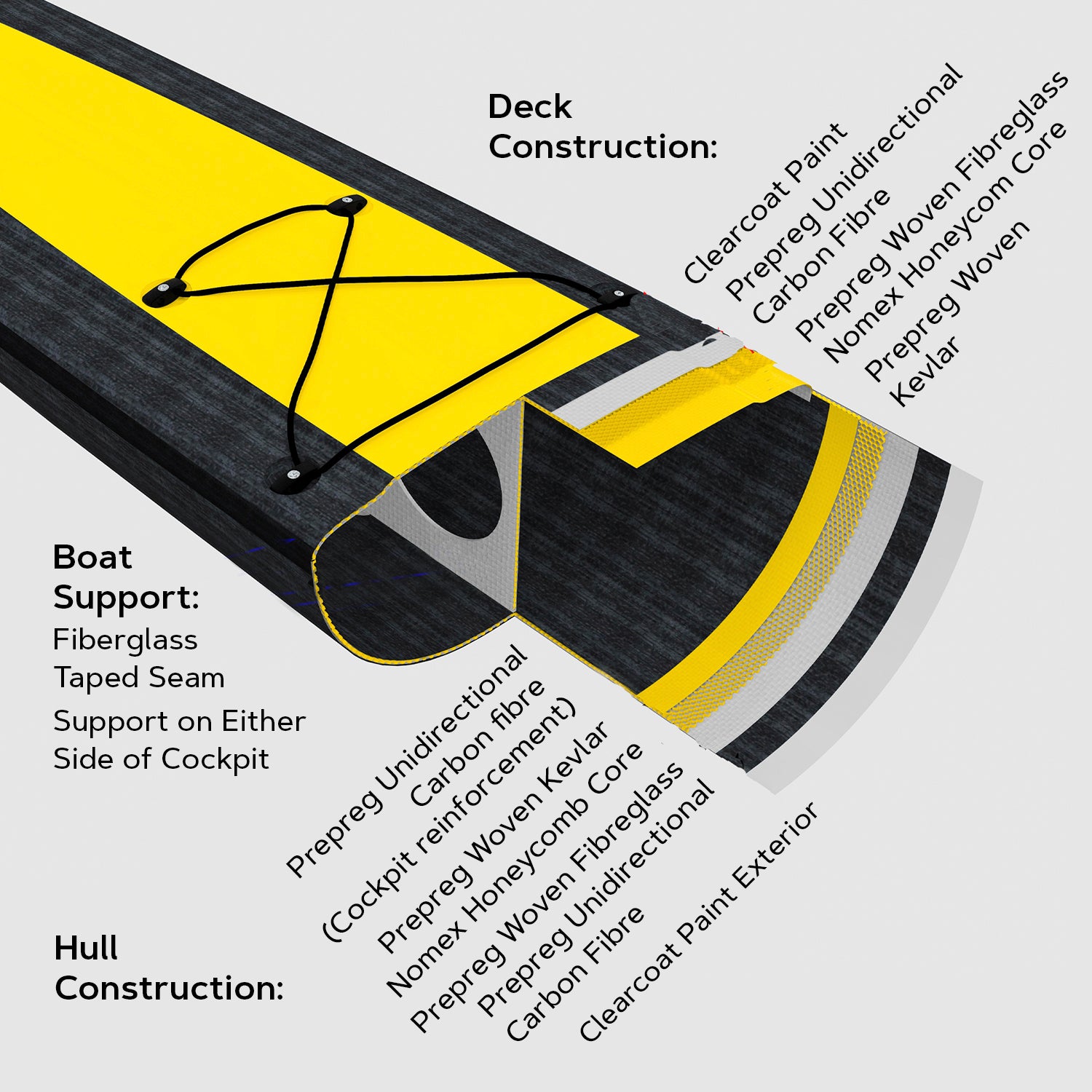 Alpha Layup
In the Alpha Layup, carbon and an aramid fiber honeycomb core are used. Instead of a gel coat as in the Advantage and Excel variants, the outer layer is a varnish. The result is an extremely stiff, light and fast surf ski. Careful handling of the surf ski is also necessary here in order to avoid contact with rocks or other external influences. Lacquer is more scratch sensitive than gelcoat.
Available for Surfski
Do I have to pay attention to something when handling a lightweight kayak?
How robust are Stellar's layups?
Stellar is a lightweight construction specialist! Manufacturing light kayaks is not a trend at Stellar, it has been in the DNA of this company from the very beginning. As the products cater to a wide range of paddlers with different material, budget and usage requirements, there are also different lays to cater for this. All bring with them a high degree of rigidity and an amazingly light weight.
The material is also amazingly robust. The touring kayaks in the Advantage or Multisport layout can be used in the usual touring context with almost no worries. If you want extra robustness, you can also add a keel strip, which is included as standard in the S18 Expedition models and the SI18 and SILV sea kayaks. Made from Kevlar carbon fiber. This layup makes the kayaks very robust despite their light weight. Stellar developed it to enable river descents where grounding is not excluded. At the stern and bow you can see that the material flexes. It yields under pressure, which also makes it less sensitive to impact than the Advantage layup.
The Excel and Alpha layups are optimized for maximum lightness and stiffness. Their properties are aimed at advanced paddlers who are looking for a very light kayak/surfki for competition or training. Less weight also means a thinner layer and greater sensitivity and more controlled handling of the material.
When transporting, we recommend padding the straps and using ratchet straps instead of tie-down straps. Lashing straps can build up extremely high pressure - this is not necessary for the safe transport of a light kayak. We also recommend only using the screwed carrying handles when the kayak is not fully loaded.
We wish all Stellar owners lots of fun with their light kayaks! We are happy to show a picture of a participant in the notorious Krumlov marathon: He uses his Stellar S18R and gets through the uncomfortable passages unscathed: