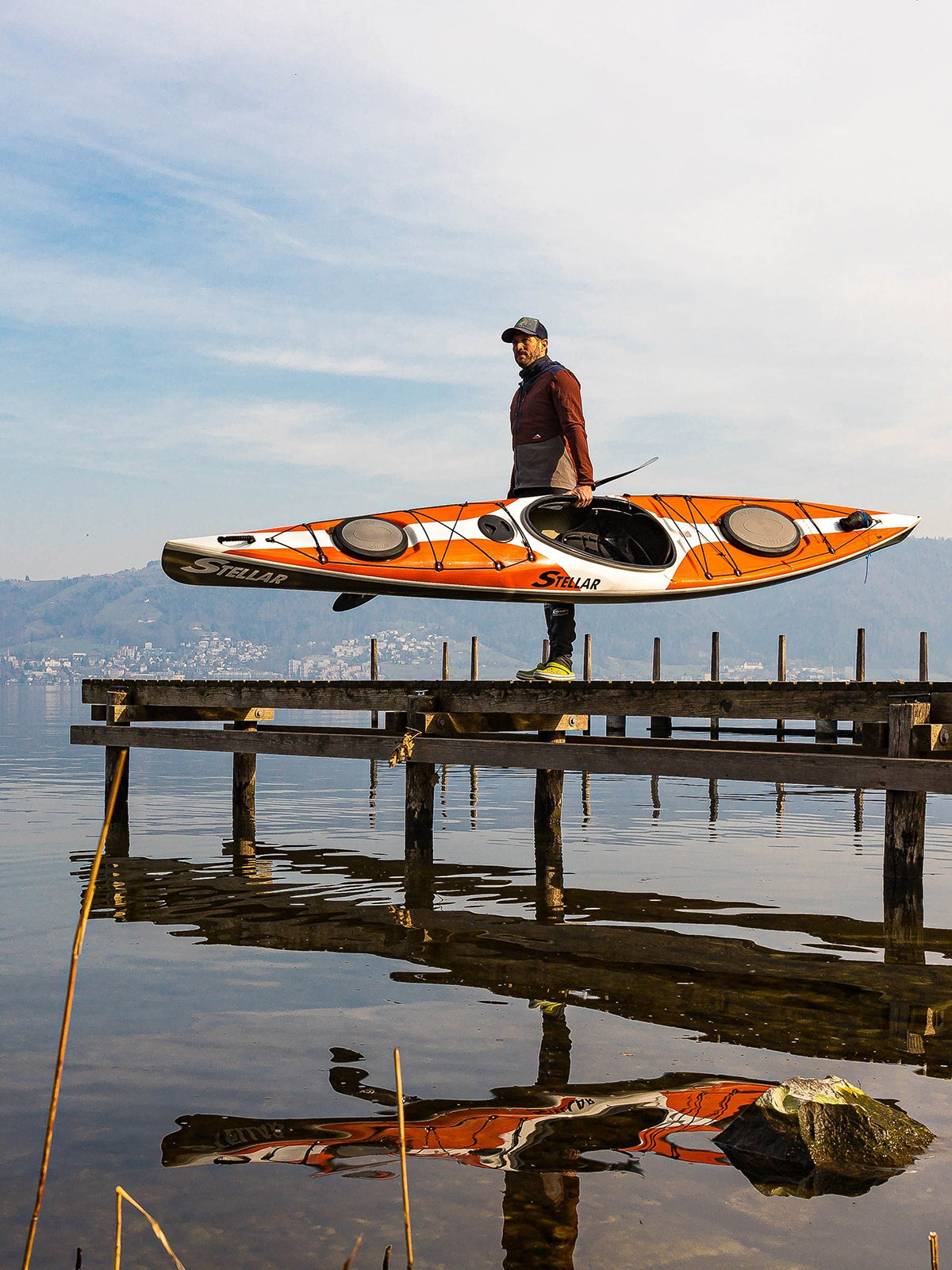 STELLAR S14LV Kayak
The compact tourer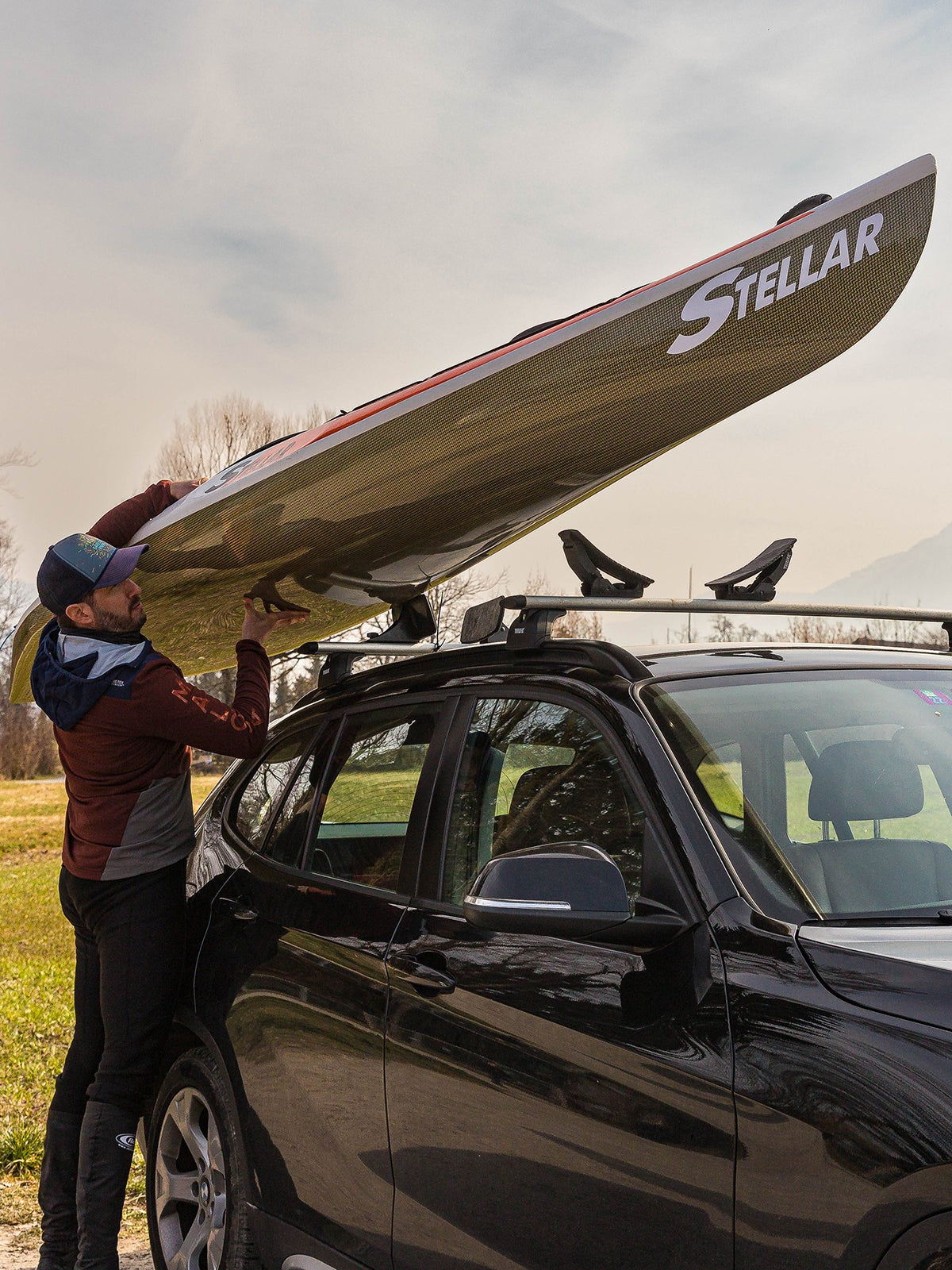 STELLAR S14LV Kayak
Easy handling
STELLAR S14LV
The S14LV is a very compact and easy to transport kayak. With a length of only 4.20 meters and a weight of approx. 15.4 kg, transport and storage are much easier. The kayak also has a spacious seat hatch for easy and comfortable entry and exit.
The S14LV is equipped with SKEG as standard. All S14LV can be supplemented with a rudder.
Suitable for
Paddler weight: 50-75 kg
Load: 110 kg
Lightweight: yes
Leisure, tours, multi-day tours, beginners
construction
Multisport layup: 15.4 kg
Construction: laminated
Layup variants: multisport
options
Multisport layup: from €3,090.00
Optional rudder: €120
Laminated keel strip ex works: €120
Dimensions
Length: 420 cm
Width: 56.4 cm
Seat hatch: 83.1 x 43 cm
Front hatch volume: 48 l
Rear hatch volume: 91 l
The advantages of the Stellar S14LV
Features at a glance
The popular S14LV touring kayak is just as interesting for beginners as it is for more experienced paddlers who want a compact kayak.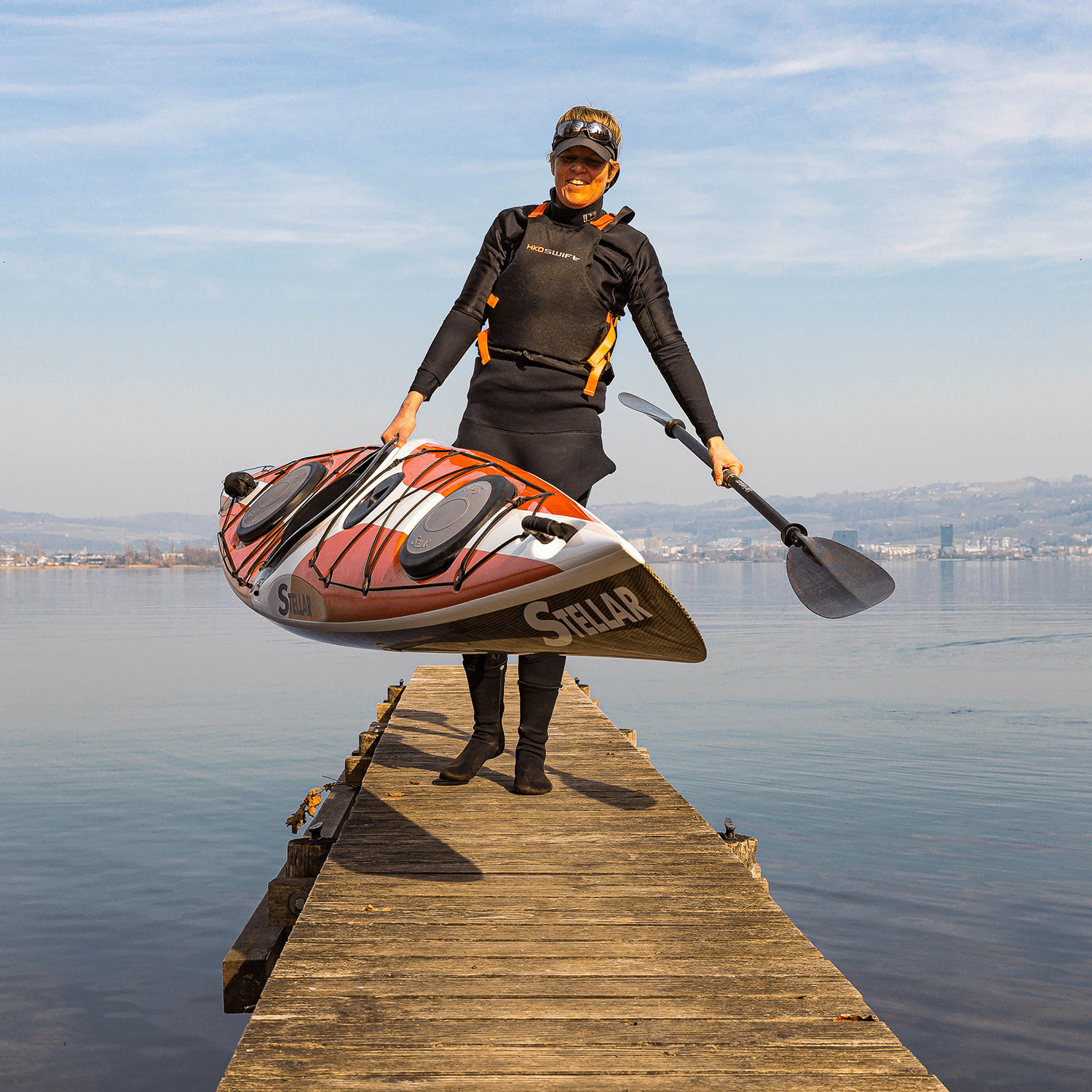 lightweight
The Stellar S14LV is ideally balanced in its form. You can feel it when paddling and also when carrying it.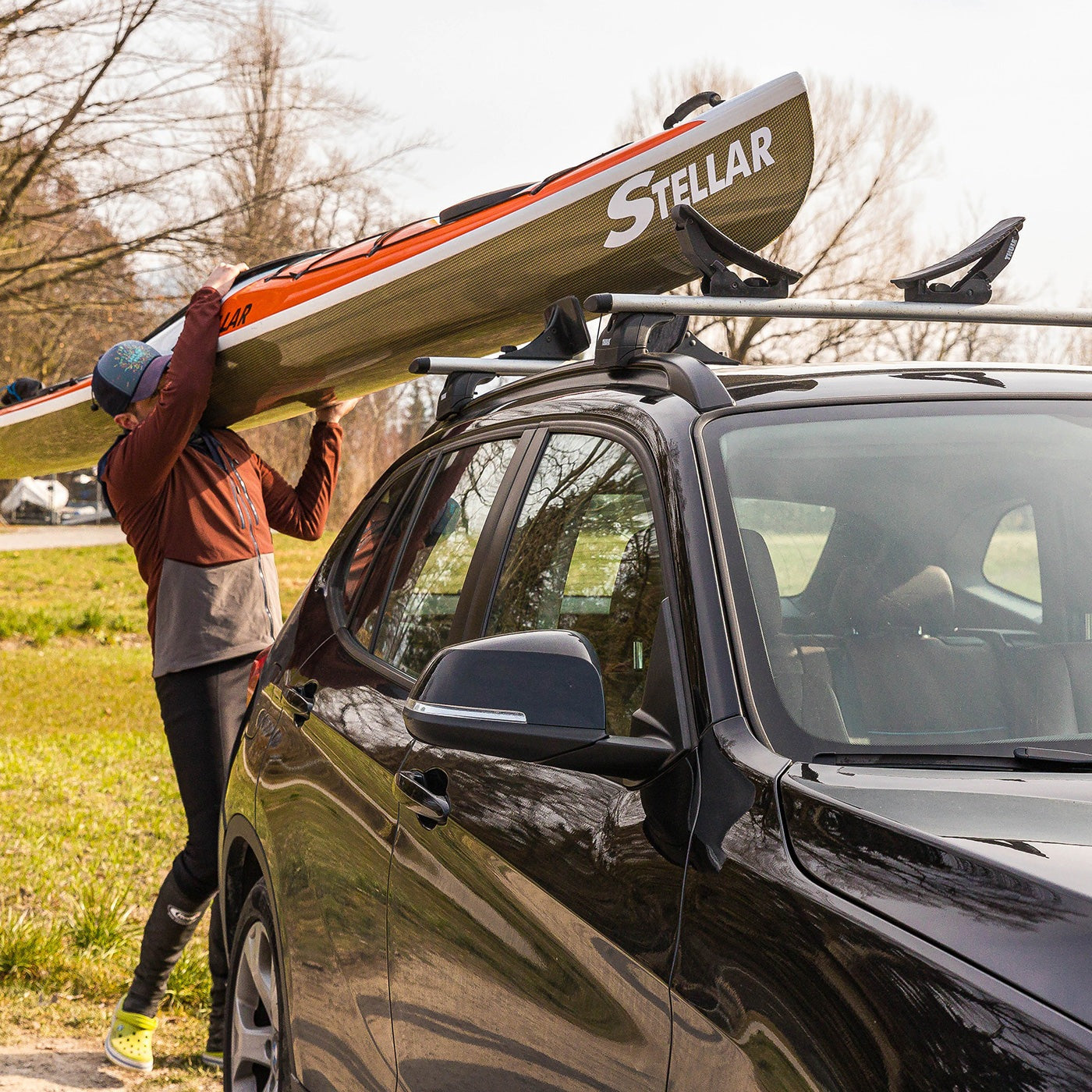 Transport
The lightweight S14LV is also easy to handle on its own - even when transported between water and land.
Mission
Doubly partitioned and with a design that also makes rolling possible, rougher conditions are no problem.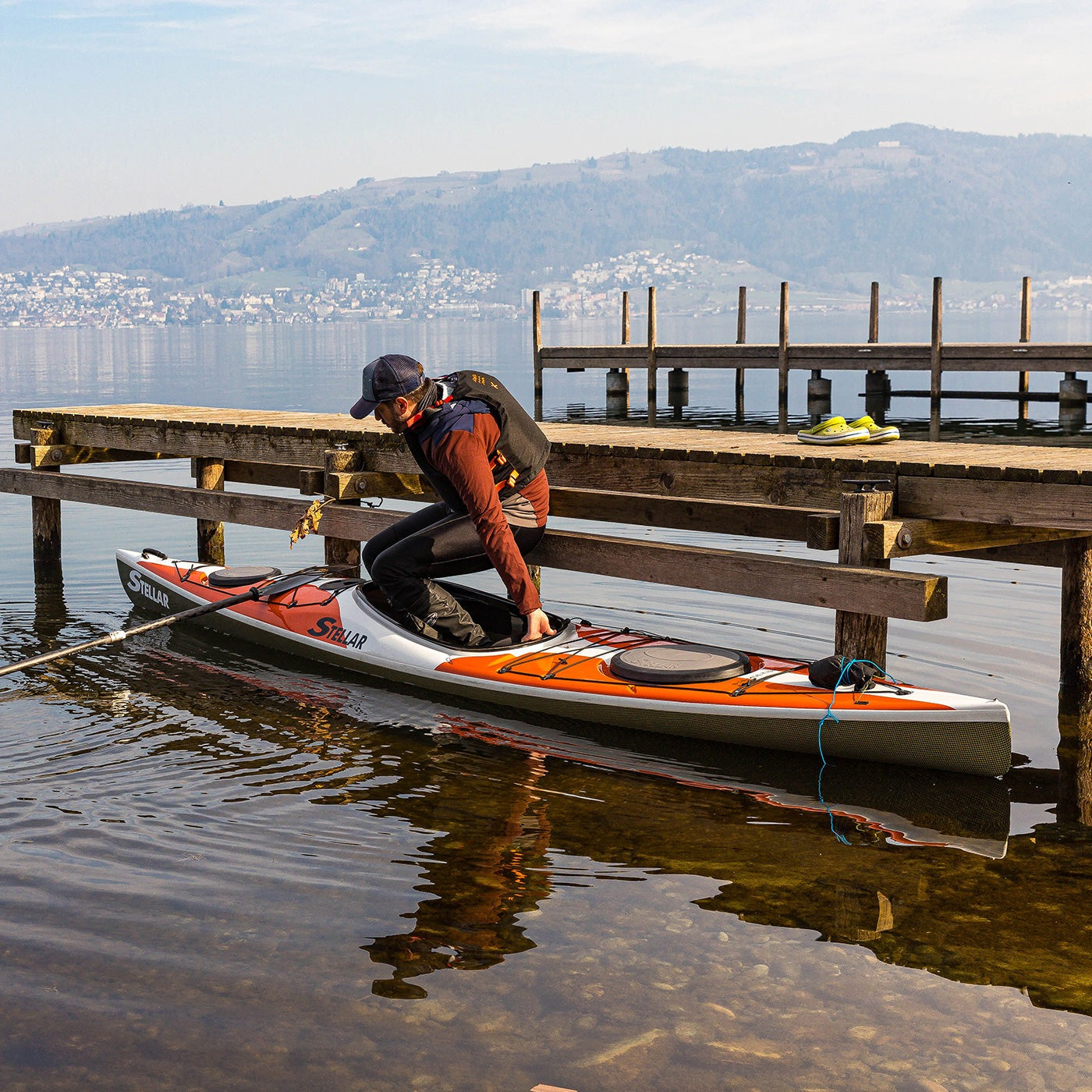 Get in
Entering and exiting is easy thanks to a spacious cockpit.
precision
Precise edging is possible, the driving behavior never feels excited but relaxed.
These points make the S14LV special
Click the +crosses to get more information.


Heckruder - Optional
The S14LV comes standard with a Kayak Sport SKEG. If you want, you can also order a Smart Track tail rudder.
Large cockpit hatch and comfortable seat
The S14LV has a large, oval cockpit hatch (83.1 x 41 cm). This allows easy entry and exit.
baggage hatches
The S14LV is equipped with two large, oval luggage hatches. These offer enough space to use the S14LV for multi-day tours.


SKEG by Kayak Sport
We equip the S14LV with Kayak Sport SKEG as standard. This is a better SKEG rig than what Stellar usually uses.
Kevlar keel strips
A Kevlar keel strip can be added to all Stellar kayaks for individual orders. If the S14LV is in stock, this is usually already included. It increases the weight by around 700 g.
The features of the Stellar S14LV in the video
Ben Lawry from Stellar introduces the new S14LV.