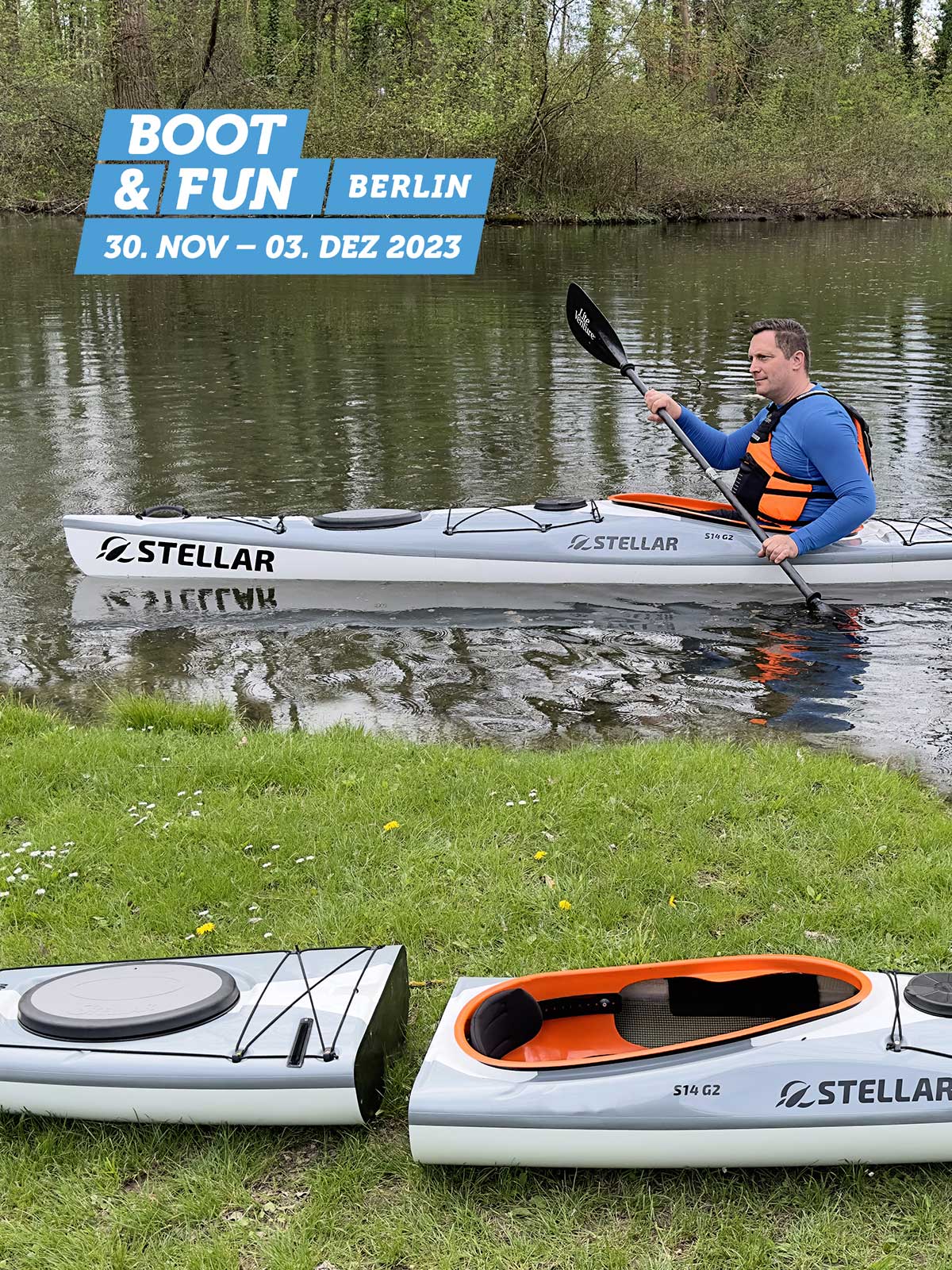 STELLAR S14 Mod: Divisible kayak
Ingenious: Lightweight and divisible!
The S14 Mod and ST19 Mod Tandem divisible kayaks
With these two kayaks, there is finally a solution for a ✔︎ lightweight ✔︎ easy to transport and ✔︎ very easy to paddle kayak! The S14 Mod is the divisible solo, the ST19 Mod is the tandem, which can be used as a tandem or solo.

This concept is immediately appealing because there is no compromise between light weight, performance on the water and compactness for transport and storage. This kayak is the perfect solution for convenient transport and storage without restrictions on the water!
➤ Pre-order now: The tandem Stellar ST19 Mod will be available from April 2024. It can be used as a solo or tandem. All pre-orders placed by 31 December 2023 will also receive a carbon touring paddle worth 449.00!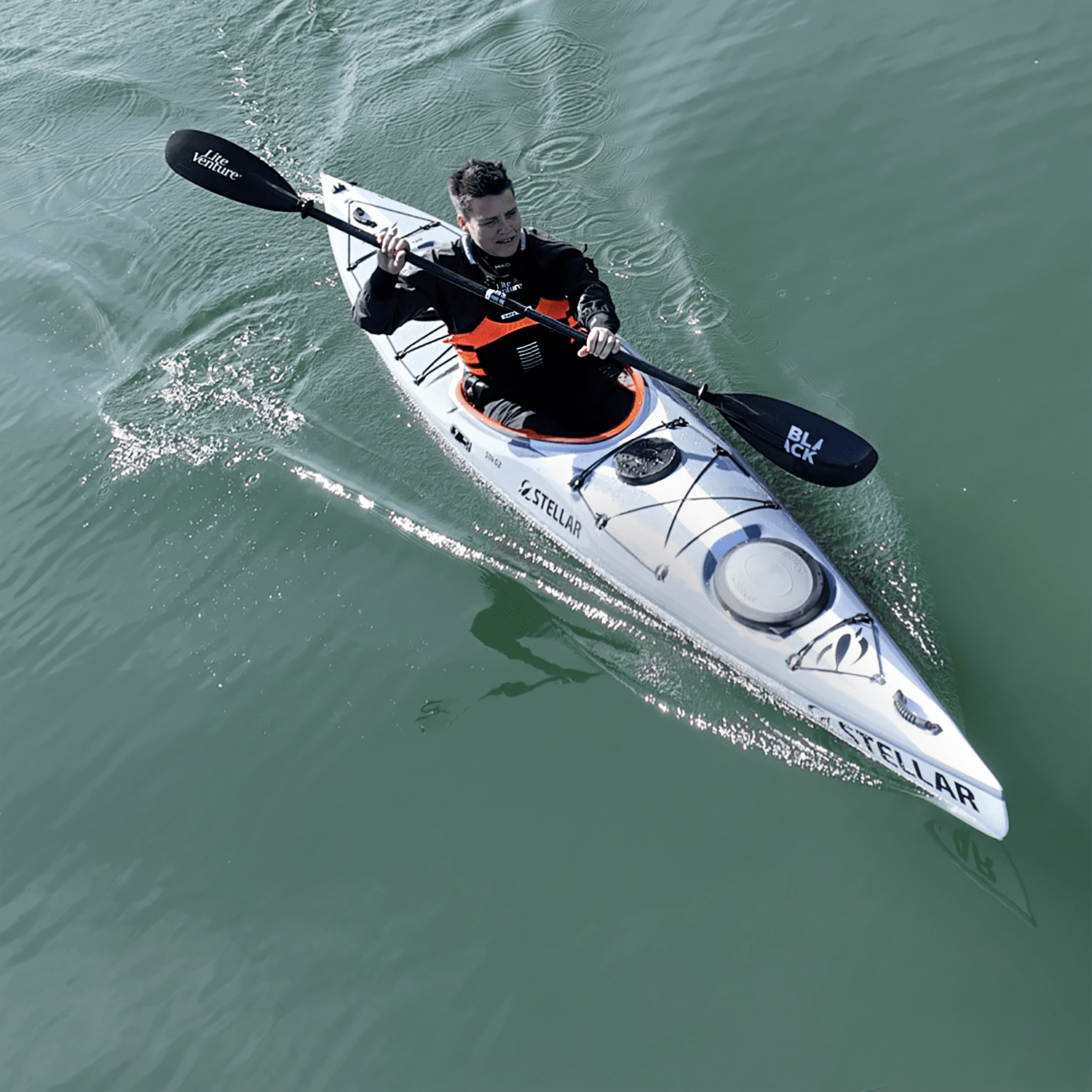 Suitable for
Partable lightweight kayak for
beginners, leisure, touring & multi-day touring
Paddler weight: 60-110 kg
Payload: 155 kg


Construction
Lightweight construction, laminated, divisible
tool-free assembly
secure due to bulkheads
ST19 Tandem Mod can also be used as a solo (modular)
Layups
S14 Mod / ST19 Tandem Mod:
Advantage layup: €3,685 / €4,985
Multisport layup: €3,985 / €5,485
options
Skeg always integrated
Stern rudder optional: 120 €
Keel stripes optional: 120 €
Bags optional: 345 € / 445 €
Dimensions S14 G2 Mod
Length: 438 cm
Width: 62 cm
Seat hatch: 85 x 44 cm
Weight: 18.5 kg
Individual parts
Tail: 167 cm / 6 kg
Middle: 151 cm / 8.5 kg
Bow: 120 cm / 4 kg
Not combinable with ST19
Dimensions ST19 Mod
Tandem 580 cm / Solo 436 cm
Width: 65 cm
Seat hatches: 85 x 44 cm
Weight: 27 kg / Solo 18.5 kg
Individual parts
Tail: 162 cm / 6 kg
Middle: 150 cm / 8.5 kg
Middle: 150 cm / 8.5 kg
Bow: 118 cm / 4 kg
The advantages of the divisible kayak Stellar S14
This is how the kayak splitting/joining works
Here we present the most important features of the divisible S14. You can find out more about the basic properties of the popular S14 touring kayak here:
To the model description of the S14
Uncompromisingly stiff
The division is not noticeable on the water! The S14 paddles just like its "normal" counterpart.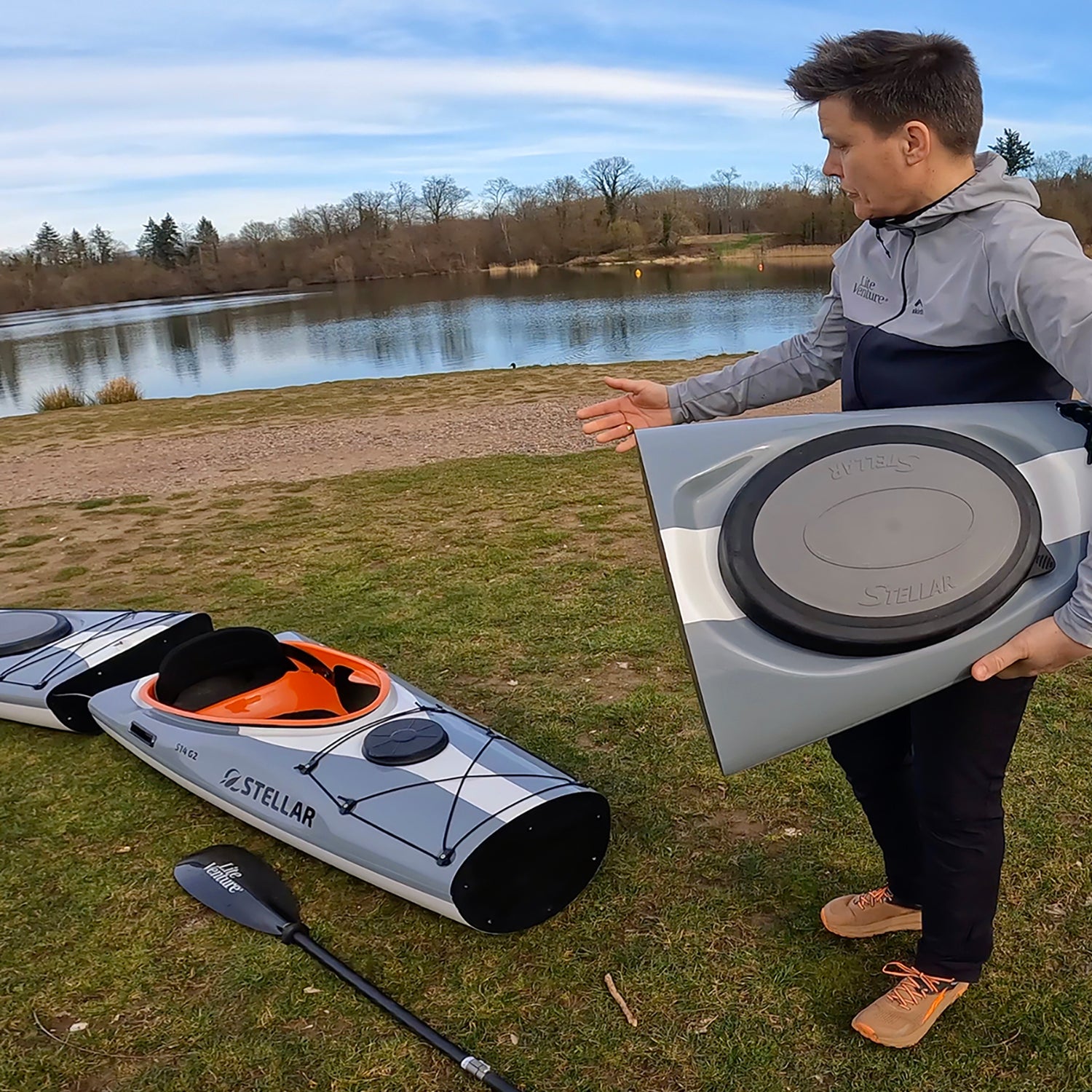 Compact individual parts
The lightest part weighs only 4 kg and measures 120 cm, the longest 167 cm with 6 kg. This makes it easy to store.
connection technology
A connection technology is used here that has proven itself in 8-10 m long rowing boats and high loads.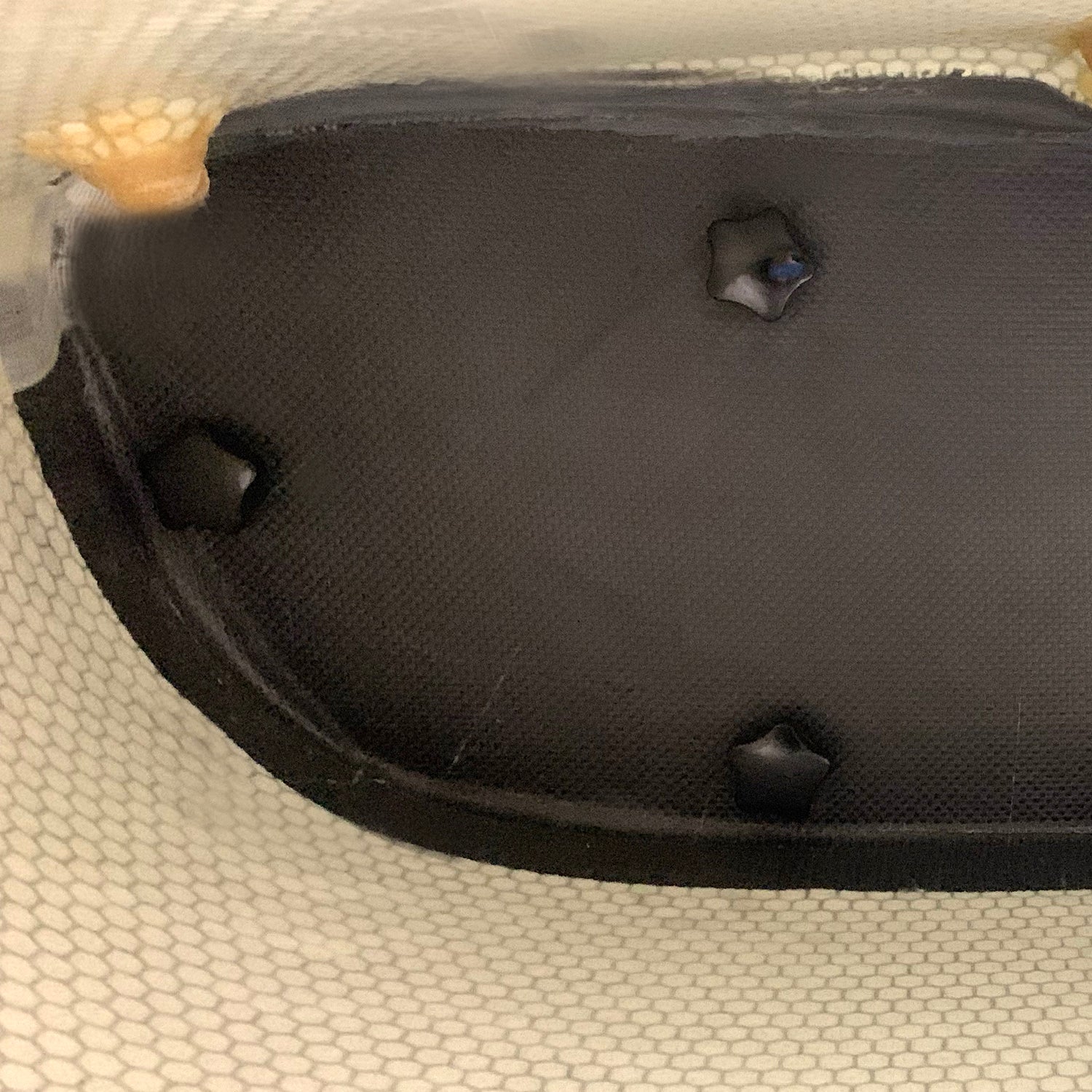 Simple screw connection
The parts are screwed together without tools using stainless steel screws that fit neatly and without play. Time: 5 to 6 minutes!
total weight
The split and reinforced bulkheads make the modular S14 slightly heavier: 18.5 kg instead of 16.5 kg in the undivided version.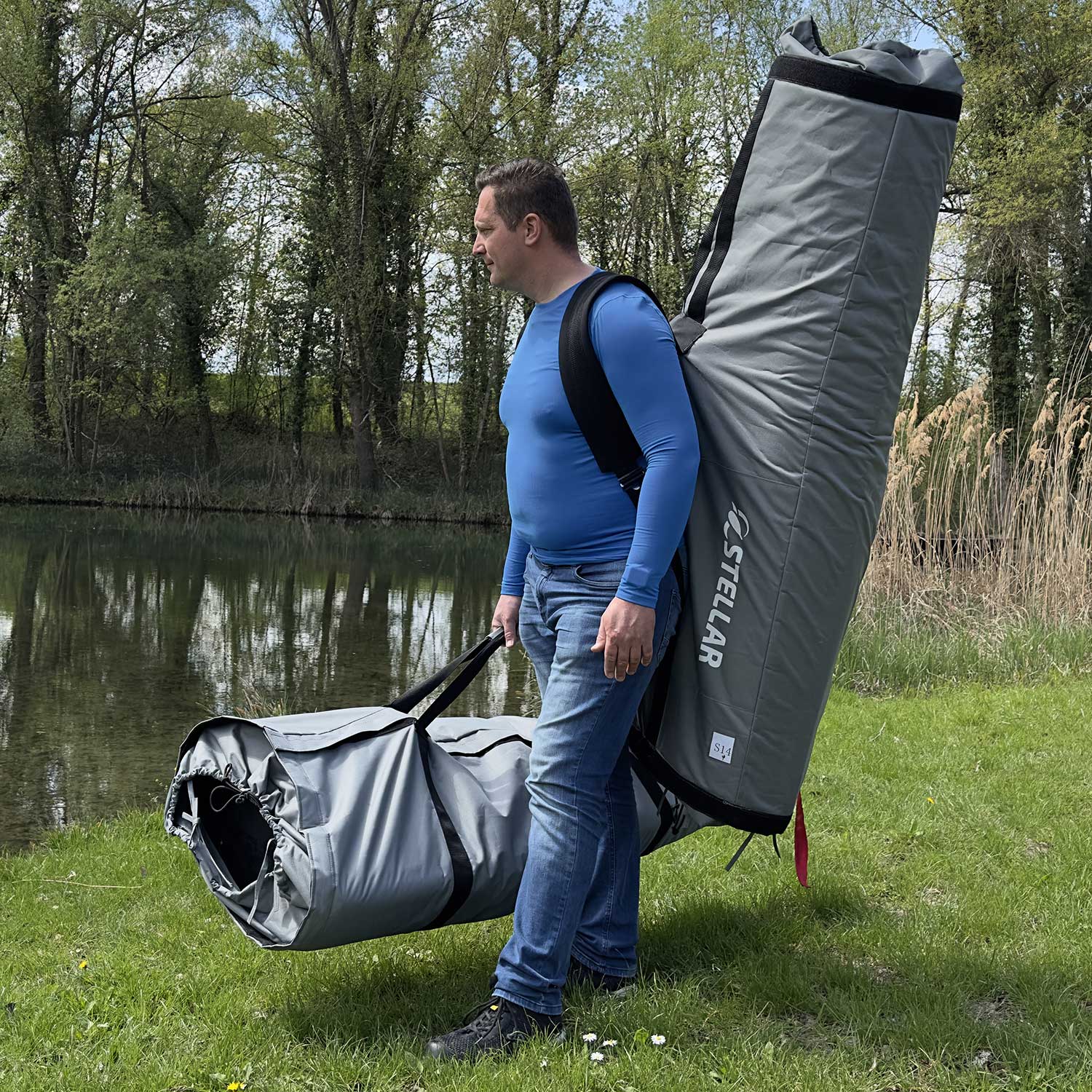 transport bags
Padded pockets are available as an option. They are so sophisticated that the connected kayak can also be completely encased.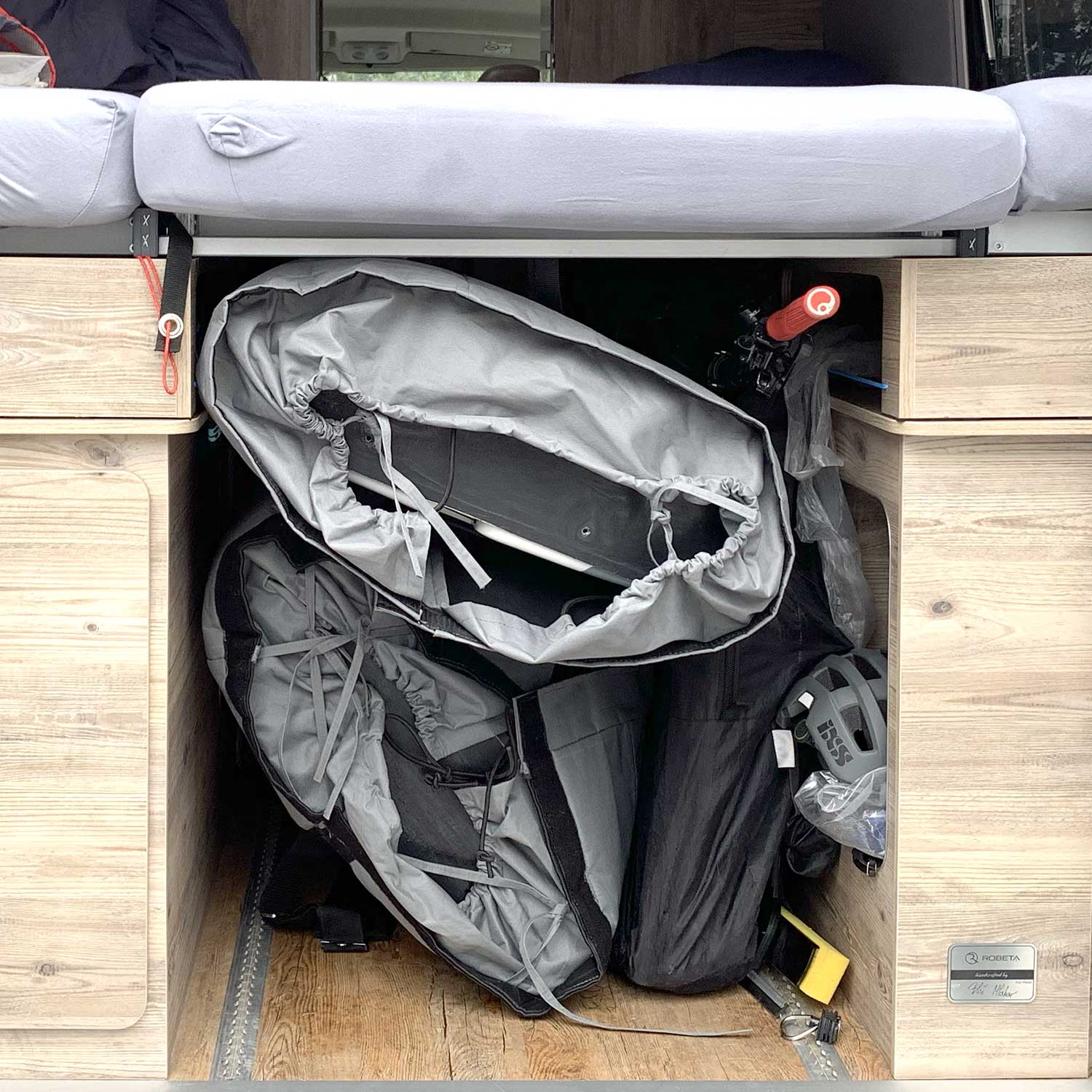 Kayak in a motorhome
Ideal for compact transport in a camper van, campervan or car: here, the S14 Mod can even fit next to a mountain bike.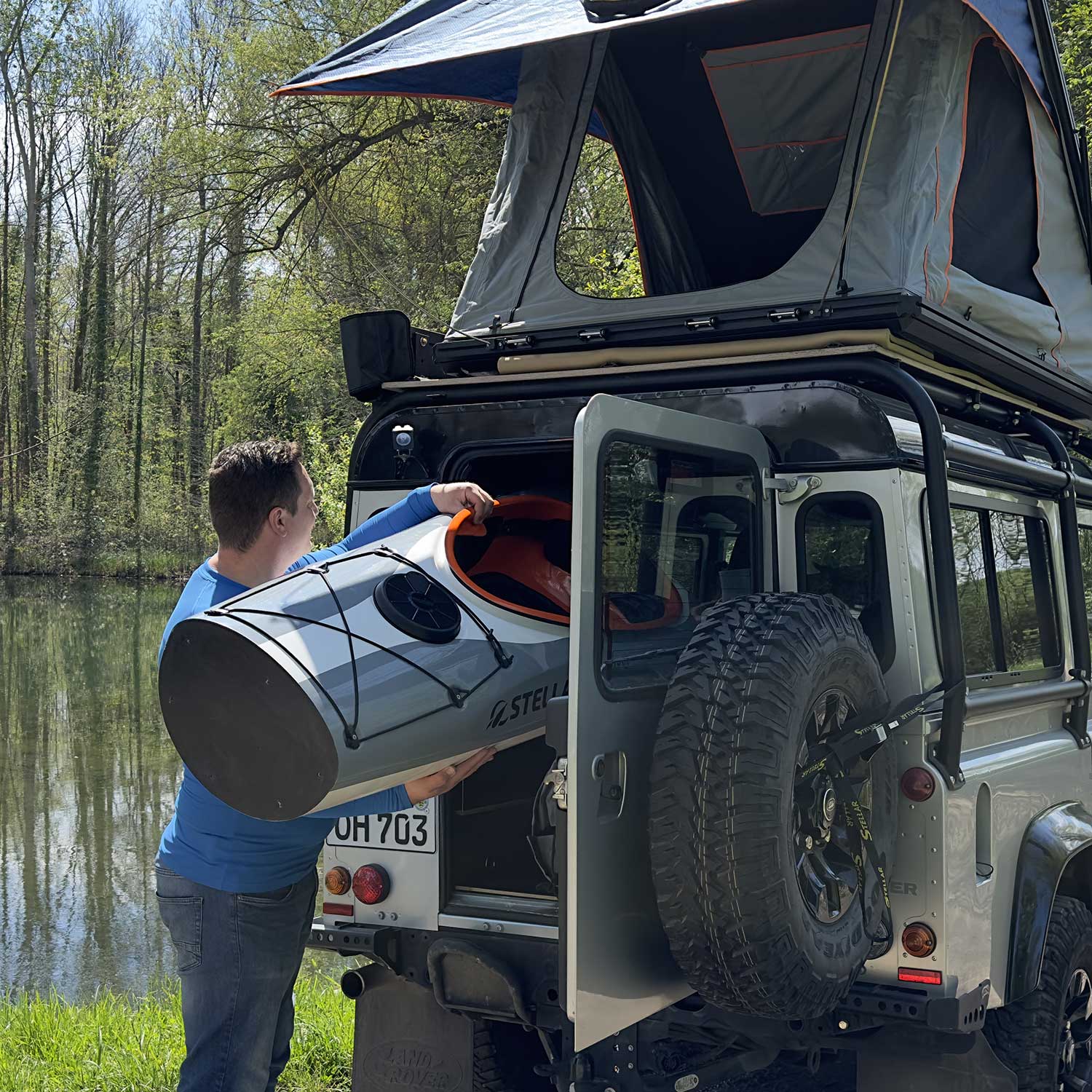 Kayak and roof tent
The divisibility allows a solid kayak to be carried in a small space in the vehicle even with the roof tent fitted.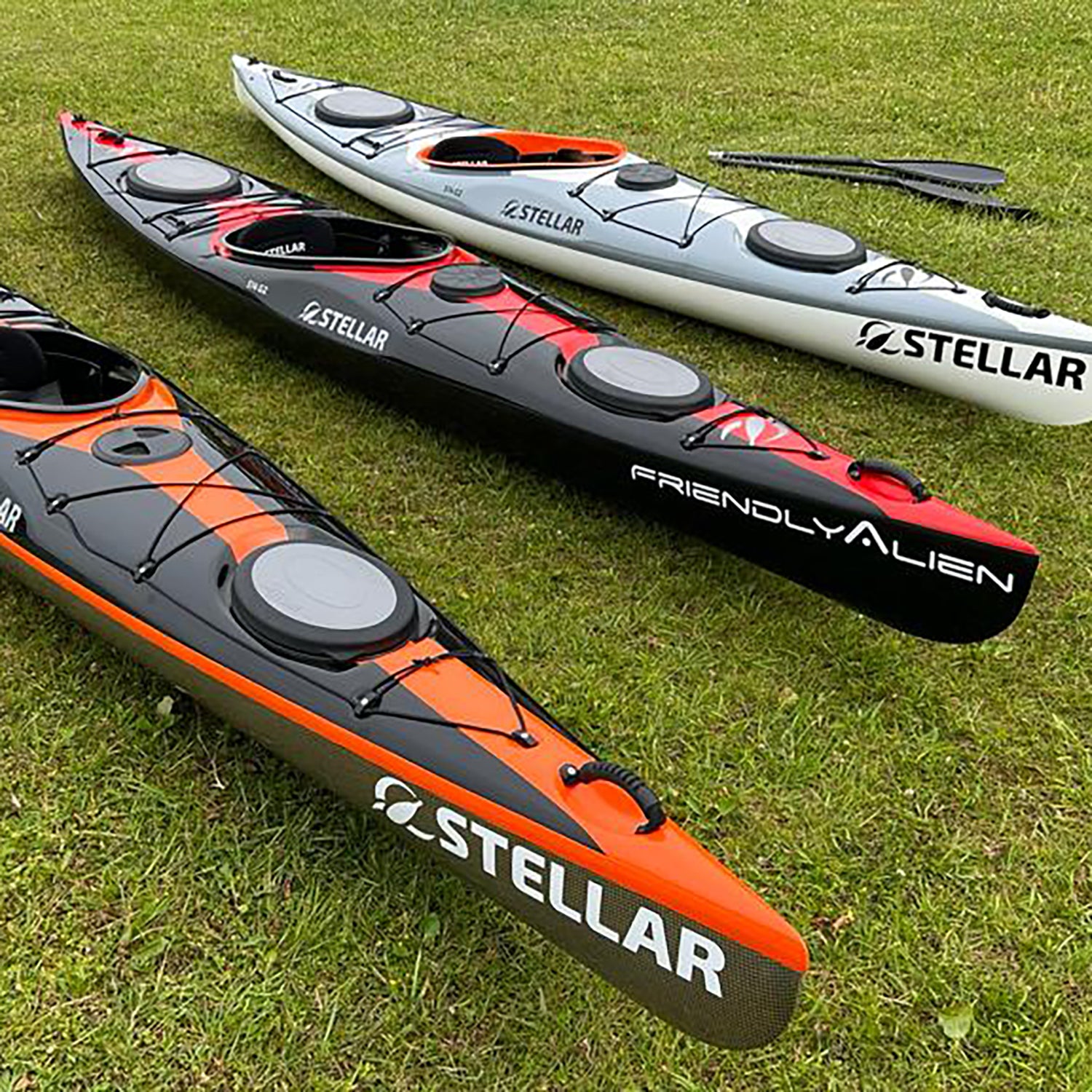 Video
Videos of the divisible kayak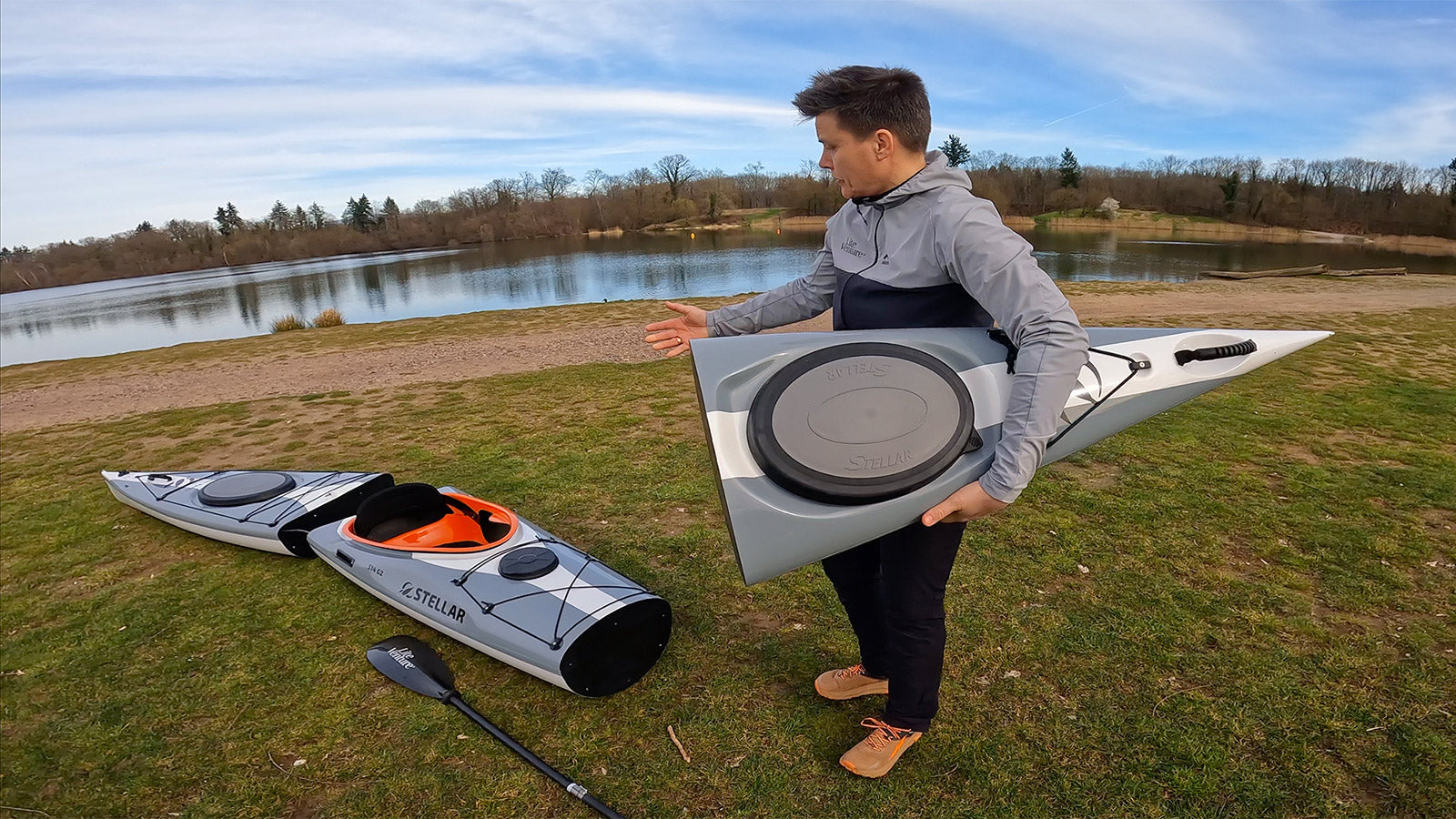 How the Stellar S14 G2 and ST19 Mod work
Anne from Lite Venture presents the ingenious concept and shows details of the dimensions and weight, construction and handling characteristics on the water.
Conclusion from the presentation: The solution for paddlers who have been waiting for a lightweight touring kayak that is easy to transport and store!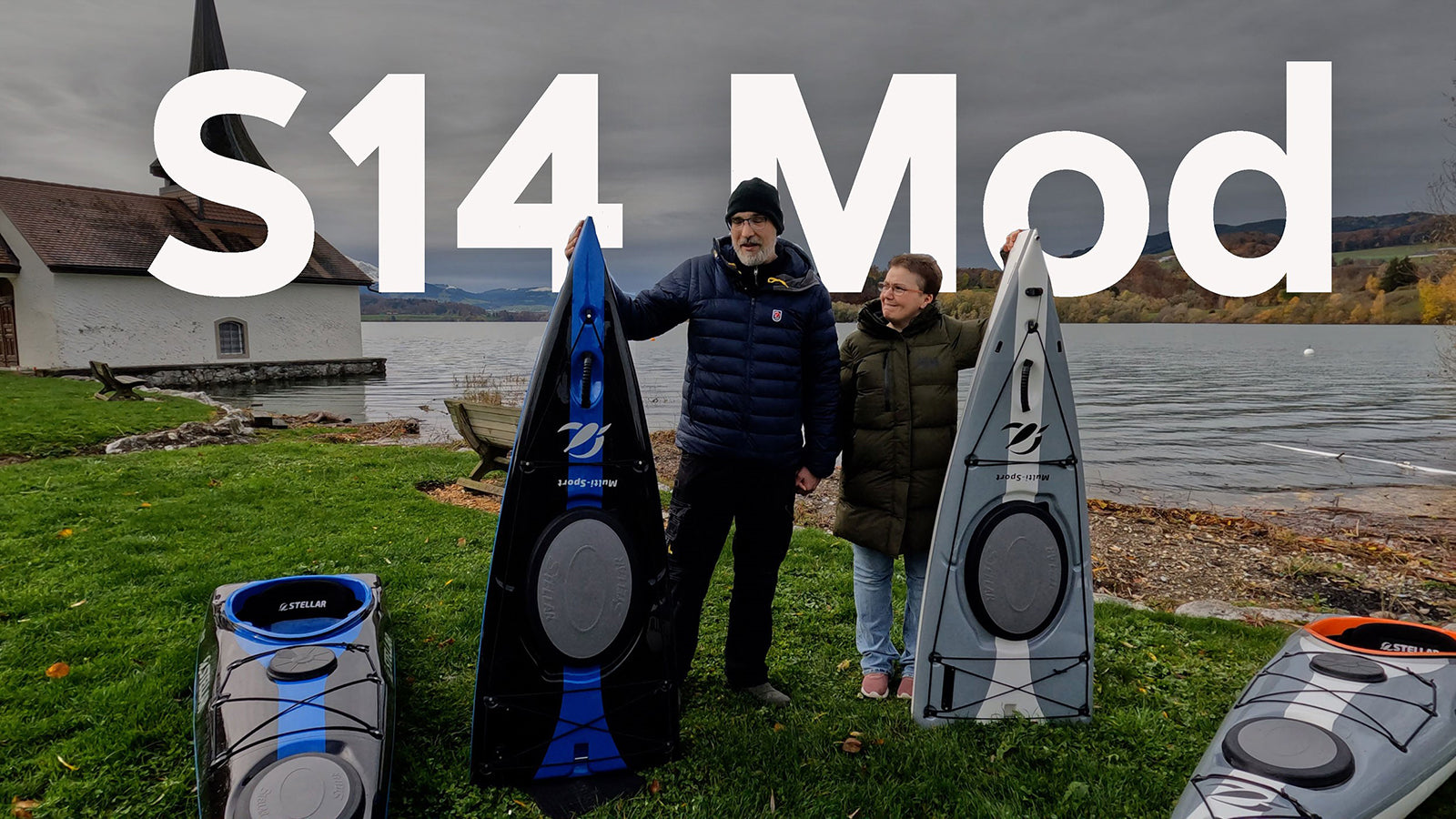 How does it feel ... to paddle the Stellar S14 G2 Mod divisible kayak?
Christian and Sonja have both opted for the divisible kayak from Stellar. They both use it as a Solo S14 G2 mod and explain why they chose it in this video. They also show how to set up the kayak, how to use it and how to stow it in the vehicle. On the water, they explain stability and directional stability. How does the kayak feel on the water? Is it stable? Christian is 189 cm tall, Sonja 160 cm. Does the kayak fit both tall and short people?
What customers say about the divisible S14 Mod
Do you also have a Stellar divisible kayak? Give us your feedback here
Since I bought the boat, almost 5 months and about 400 kilometres have passed. It is mainly used on the waters in and around Lübeck. As I don't have the option of storing / transporting a boat "in one piece" and don't want to be dependent o...
Why did we choose this model?
Firstly because it is extremely light and because I don't have any space. The fact that it can be divided into 3 parts makes it easy to transport and very easy to store. And that was the reason why I decided i...
The great thing for me is that I can simply take my 3 parts, piece by piece, to the water and then put them together at my own pace. And then I still have enough energy to enjoy paddling and the lake. My husband is 1.89 metres tall, I'm only 1....
These points make the S14 G2 Mod special
Click the +crosses to get more information.


Tail rudder: Optional
The S14 G2 comes standard with a Kayak Sport SKEG. If you want, you can also order a Smart Track tail rudder.
Large cockpit hatch and comfortable seat
The S14 G2 has a large, oval cockpit hatch (85 x 44 cm). This allows easy entry and exit.
Generous hatches
The S14 G2 is equipped with two large, oval luggage hatches. These offer enough space to use the S14 for multi-day tours.


SKEG
We equip the S14 G2 with Kayak Sport SKEG as standard. This is a better SKEG rig than what Stellar usually uses. The control unit for the SKEG is also located in the tail section.
day hatch
From model year 2023, we will no longer configure the day hatch with the screw cap but with kayak sport hatch covers. This offers more space in the day hatch, better handling and better watertightness.
Choose from the available models or configure your dream kayak
From the colors to the layup, with individual options like keel stripes or rudders. Create your own kayak. If you have any questions, please contact us.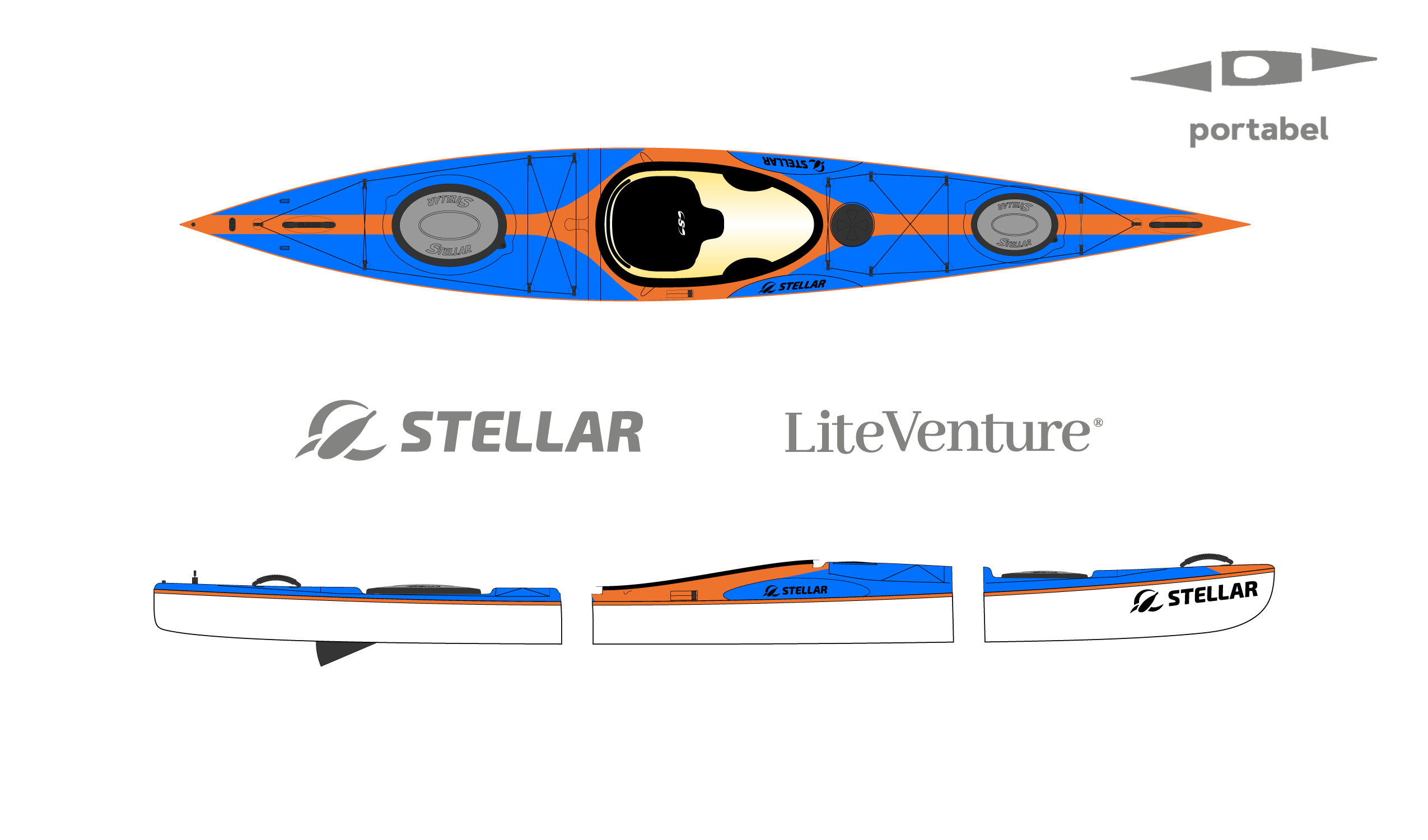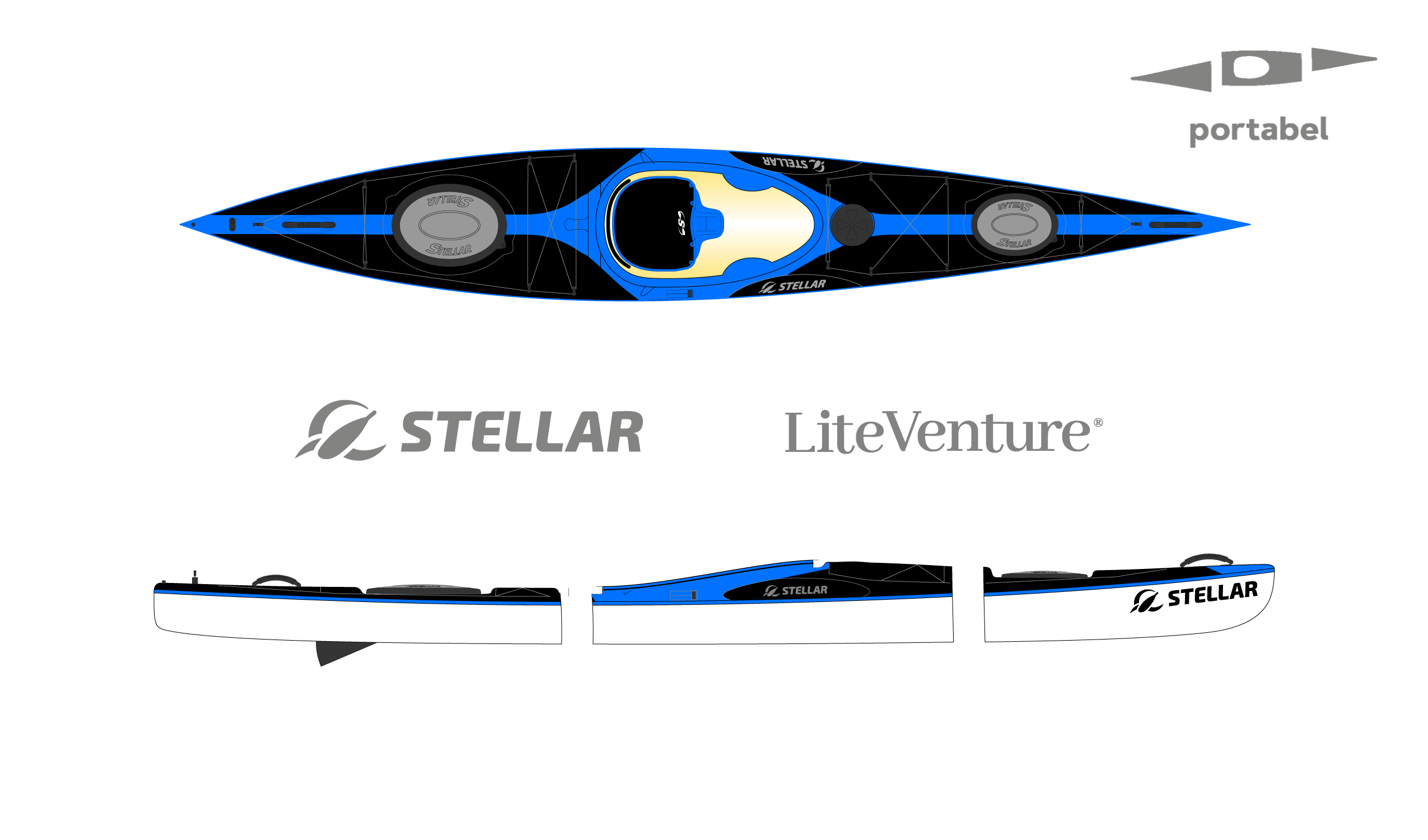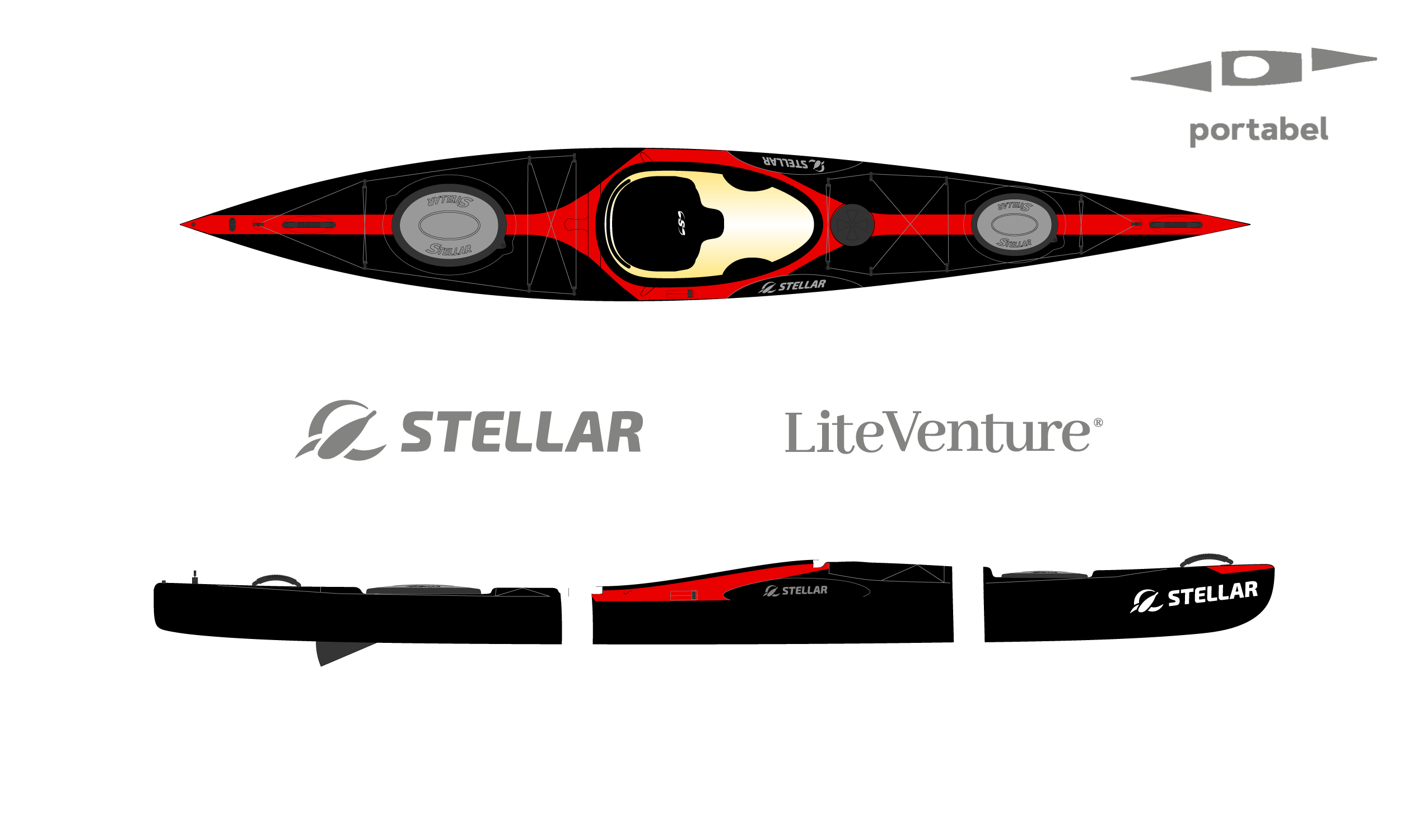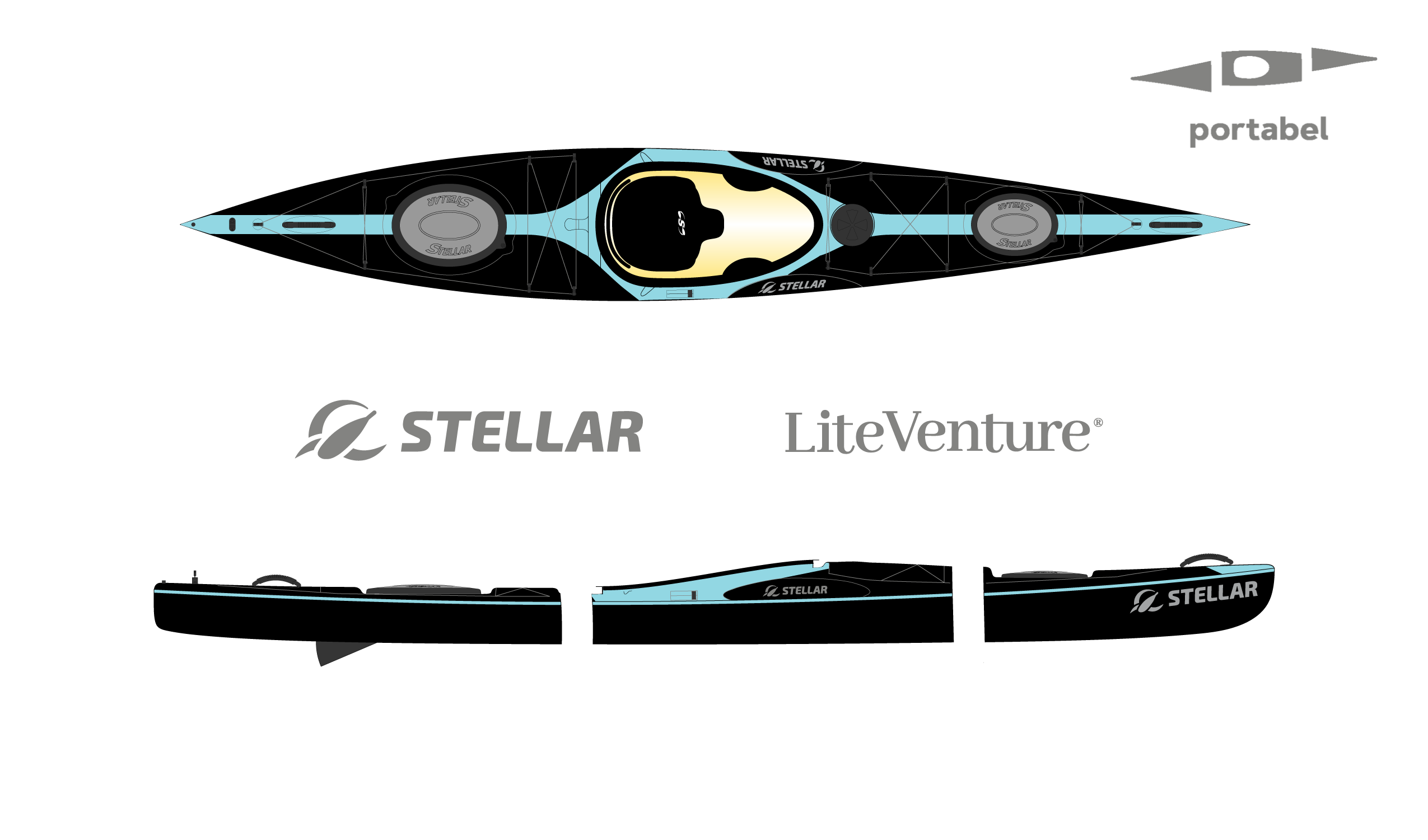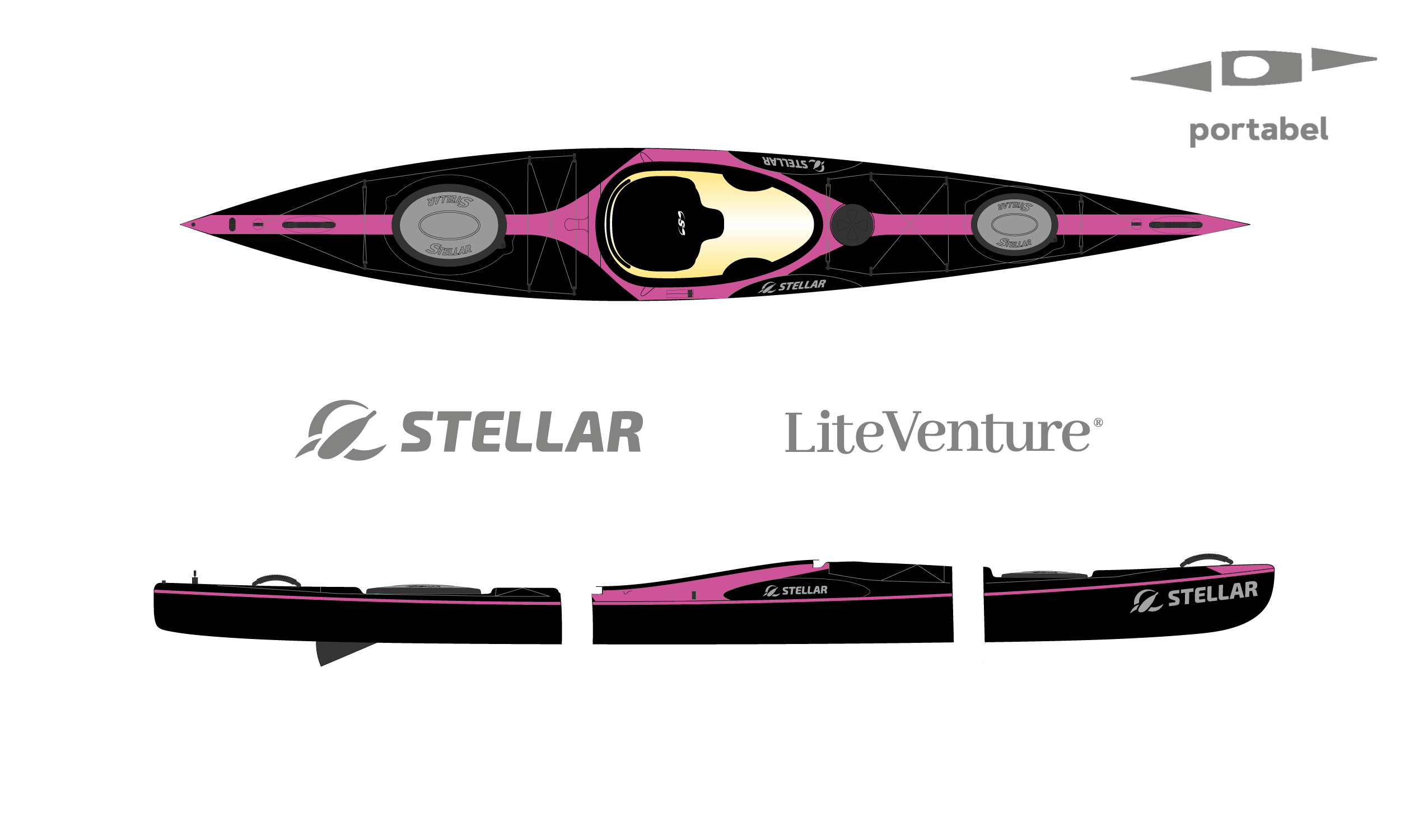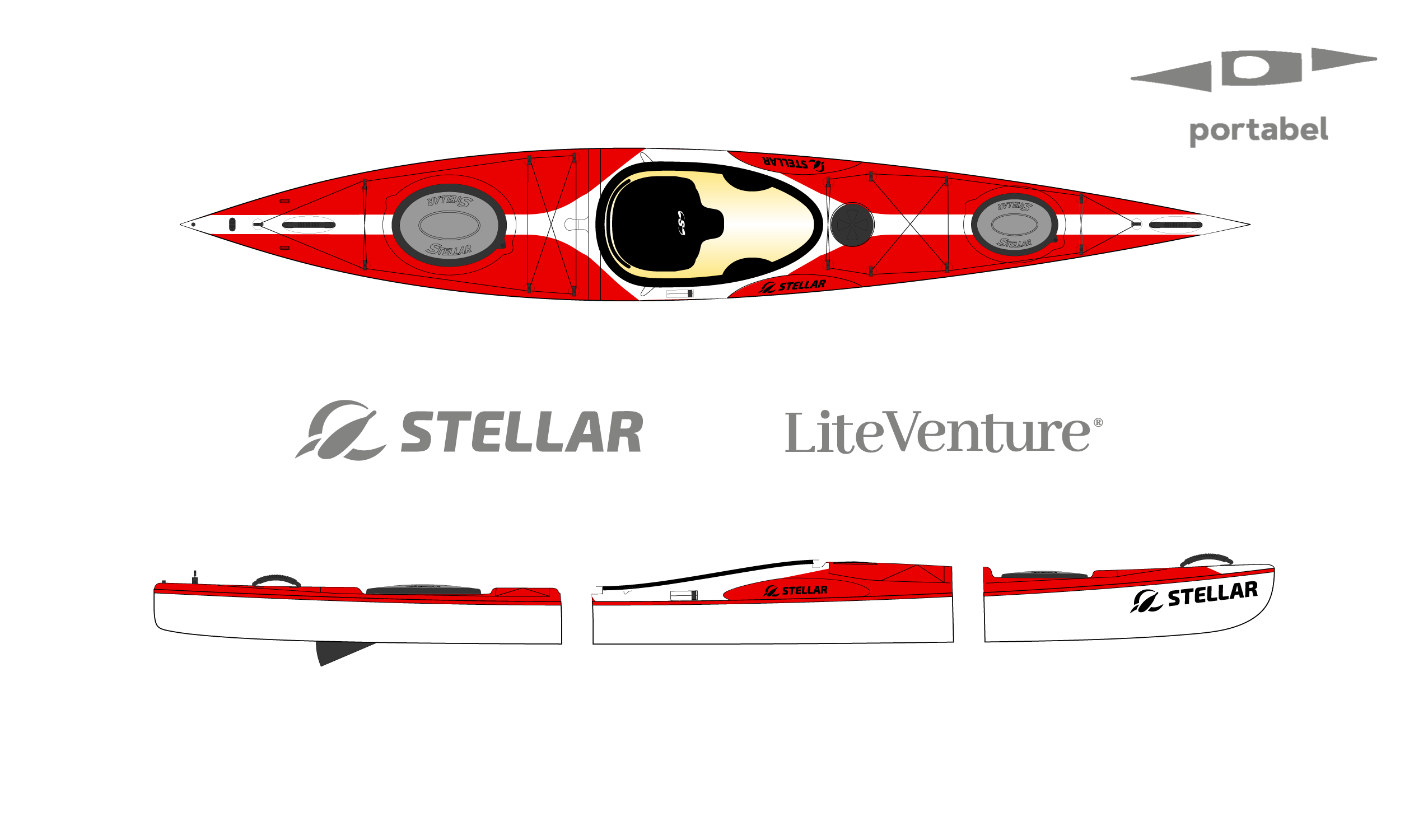 ---
The leisure kayak for easy transport and storage: divisible, light and uncomplicated to set up. Ideal for those who want the excellent features of a solid kayak and want to be mobile.
Delivery time: 12-16 weeks after order
The colours and layups shown here are suggestions.
You can configure this kayak according to your own wishes.
More about custom configuration

Just give us a call:
Phone: +49 (0)7634 / 3409871
Email: info@liteventure.de
Now also available to order as a tandem
The ingenious, divisible lightweight Stellar S14 kayak is now available as a tandem! The ST19 Mod is modular and can be used solo or in tandem. This gives you two kayaks in one and maximum flexibility.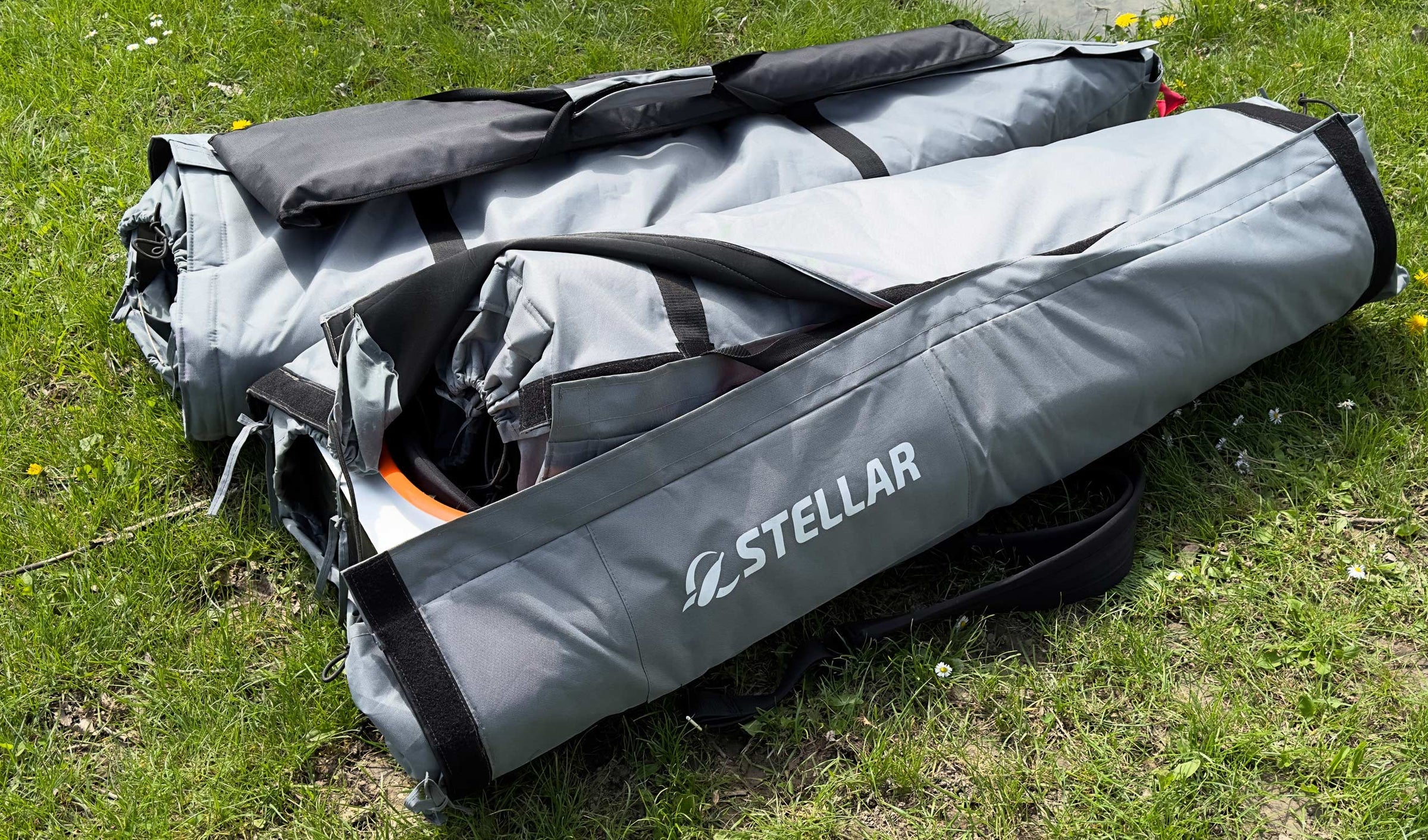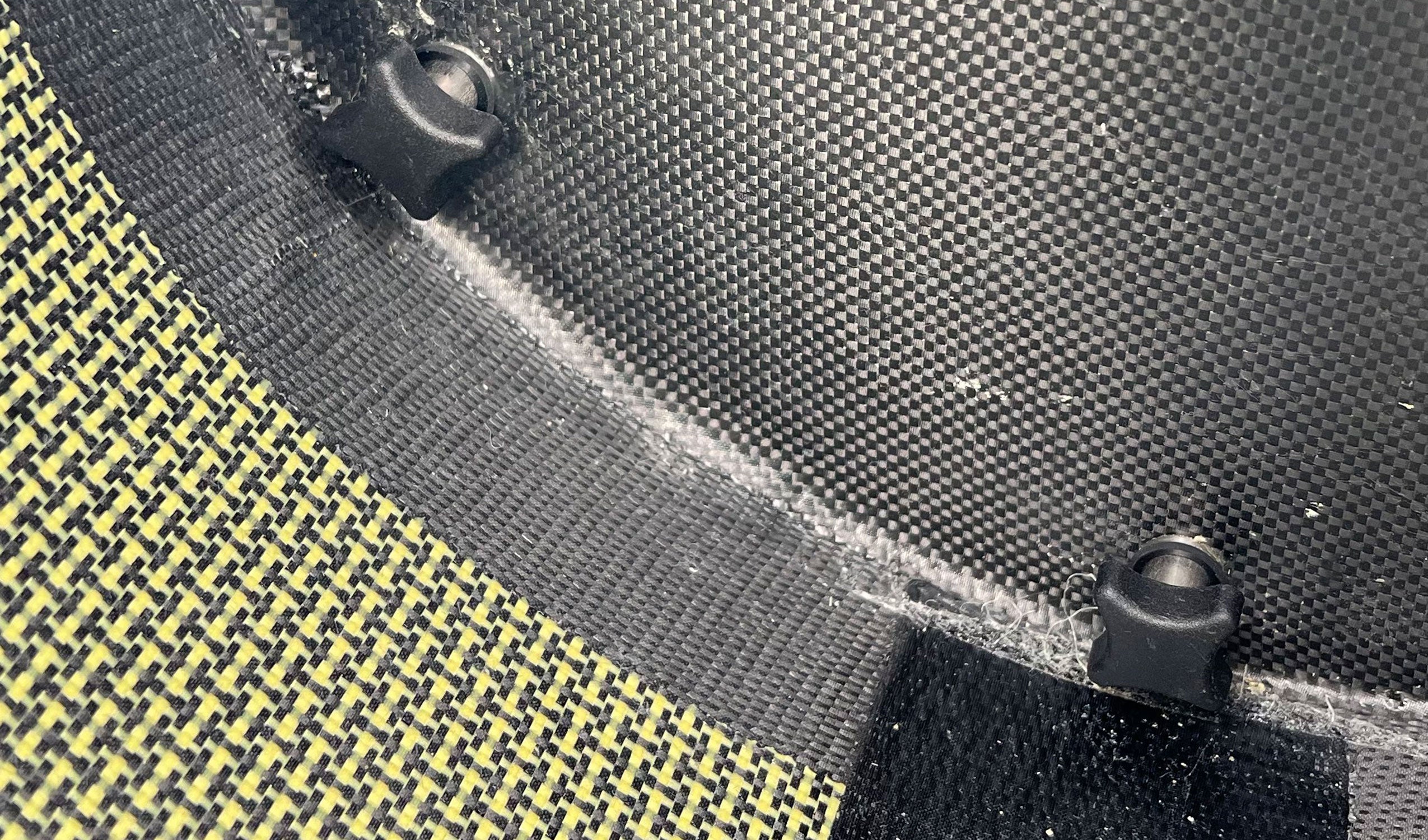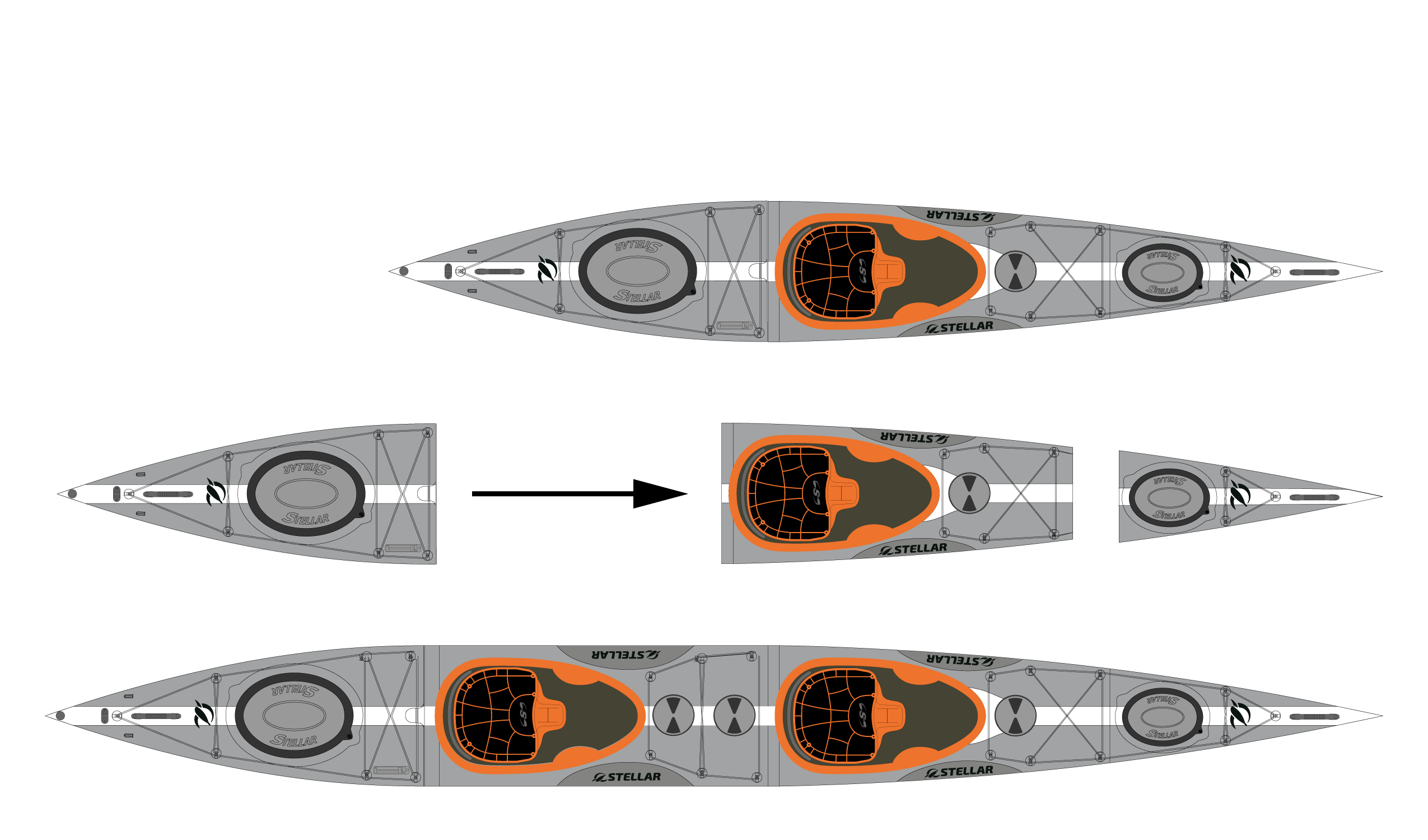 ---
Two in one: the ST19 Mod kayak can be used solo or as a tandem! The leisure kayak is ✔︎ light, ✔︎ flexible to transport, ✔︎ can be stored in any home and ✔︎ is easy to set up. Ingenious - and the first lightweight tandem that can also be split!

A BLACK Edition carbon touring paddle worth €449 is included in the package for pre-orders placed by 31 December 2023! Available April 2024

.
We are happy to advise you personally: +49 7634 3409871
Questions or requests to reserve an S14 kayak:
I am interested in the divisible kayak and would like to be contacted:
Alternatively send us an email or call us directly:
E-Mail: info@liteventure.de | Telephone: +49 7634/340 9871