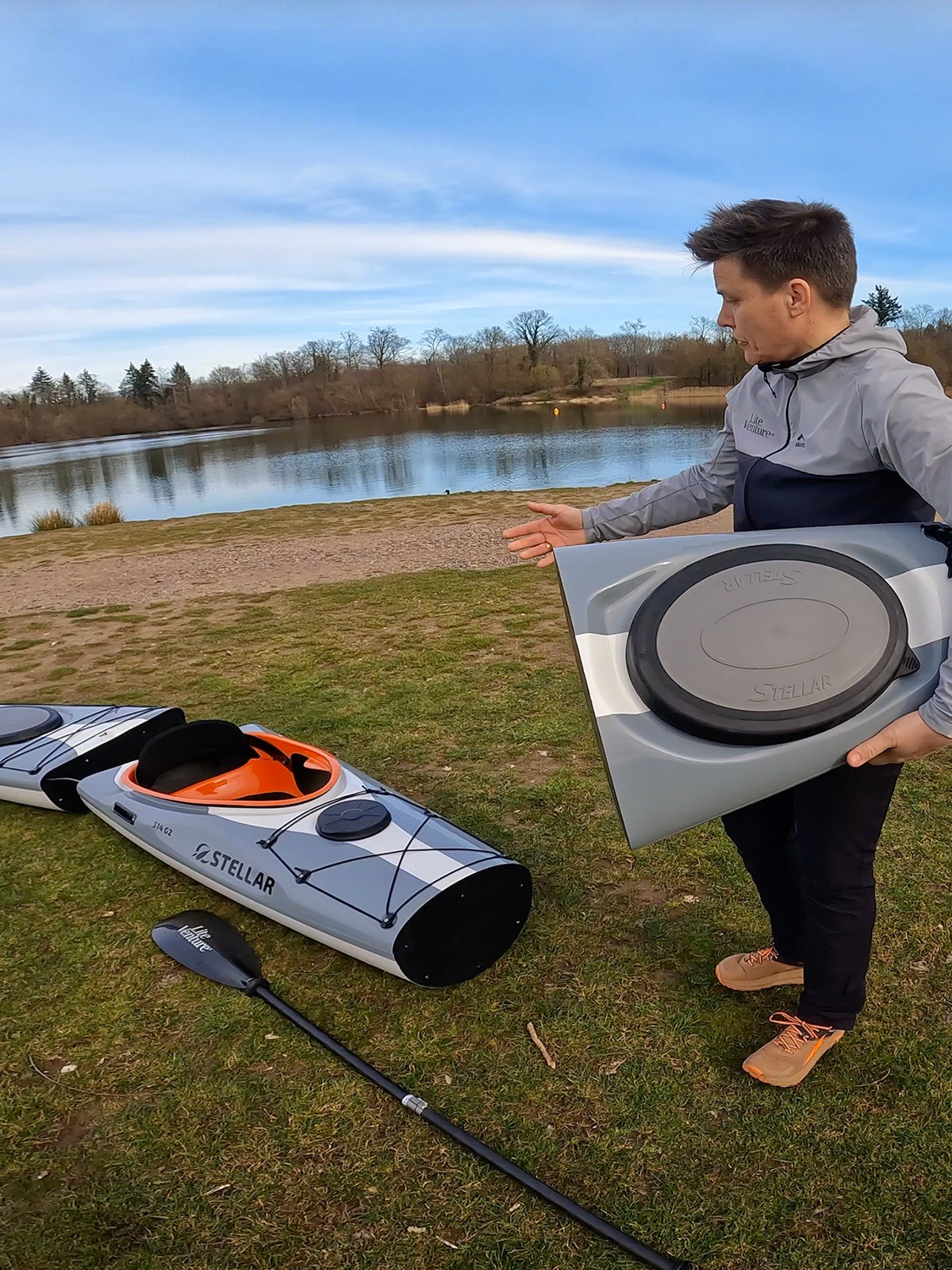 STELLAR S14 Kayak
Easy handling
Choose your desired model now
Divisible kayaks S14 G2 available
All S14 G2
The divisible kayak S14
With this kayak there is finally a solution for a 1) light 2) easy to transport and 3) very easy to paddle kayak: It paddles like a fixed kayak - because it is one:

This one The concept is immediately enthusiastic, because many solutions for kayaks that are to be transported without a roof rack or stored in an apartment represent compromises: an inflatable boat has to be inflated first and after paddling it is often annoying to handle the heavy, wet skin . Not to mention the performance on the water. Collapsible boats require skill in assembly and also handling of a wet hull after use.
This kayak is the perfect solution for those who want convenient transport and storage but don't want to compromise on the water: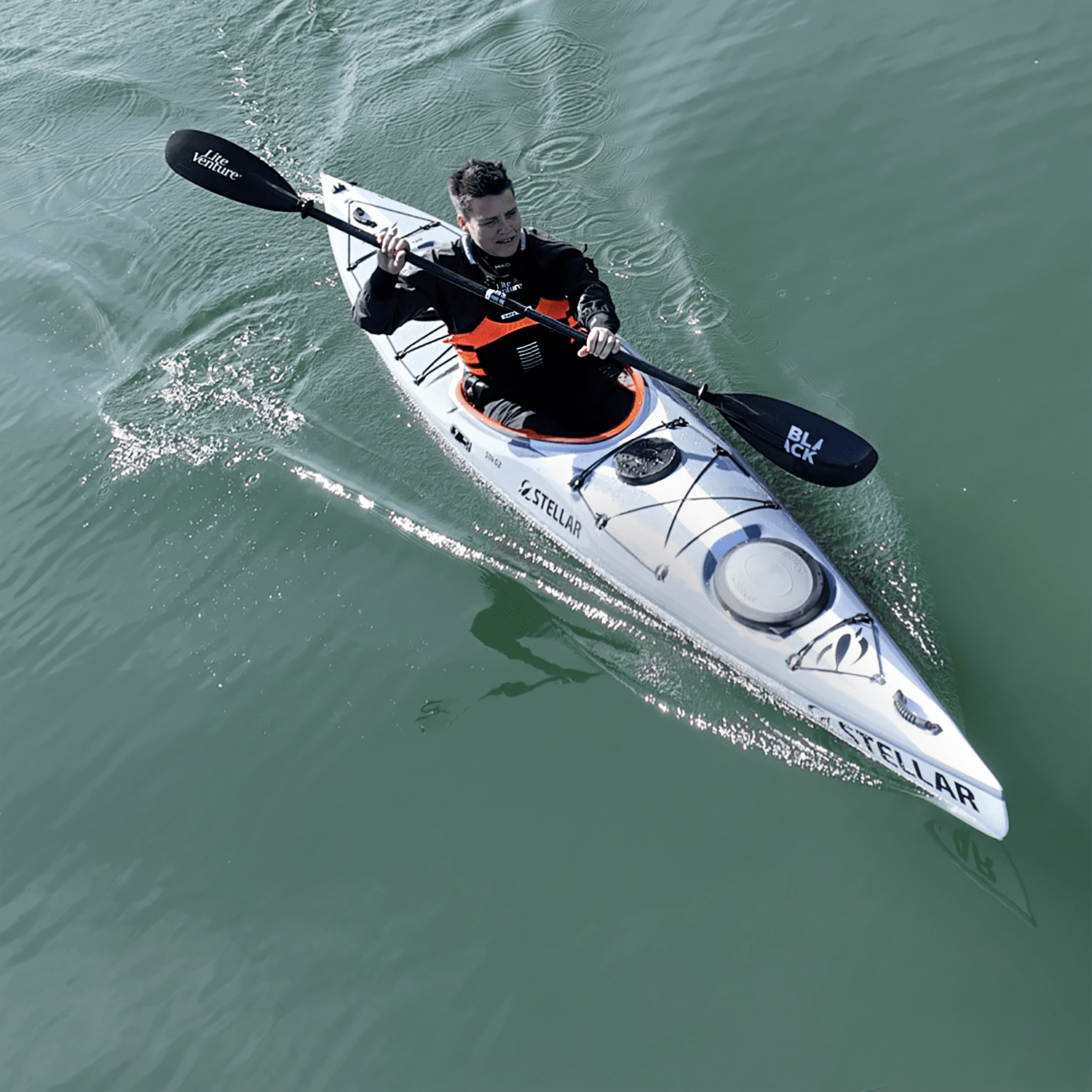 Suitable for
Paddler weight: 60-110 kg
Load: 155 kg
Lightweight: yes
Separable: yes
Beginners, recreational kayak, tours, multi-day tours
construction
Weight: 18.5 kg
Double bulkheaded
Construction: laminated
Layups: Advantage, Multisport
options
Advantage layup: 3,685.00 €
Multisport layup: 3,985.00 €
Optional rudder: 120.00 €
Keel strip ex works: 120.00 €
Transport bags: 345, – €
Options tandem
Advantage layup: 4,685.00 €
Multisport layup: 4,985.00 €
Optional rudder: 120.00 €
Keel strip ex works: 120.00 €
Transport bags: 445, – €
Pre-order now.
Available April 2024.
Dimensions
Length: 438 cm
Width: 62 cm
Seat hatch: 85 x 44 cm
Tail: 167 cm / 6 kg
Middle: 151 cm / 8.5 kg
Bow: 120 cm / 4 kg
The advantages of the divisible kayak Stellar S14
This is how the kayak splitting/joining works
Here we present the most important features of the divisible S14. You can find out more about the basic properties of the popular S14 touring kayak here:
To the model description of the S14
Uncompromisingly stiff
The division is not noticeable on the water! The S14 paddles just like its "normal" counterpart.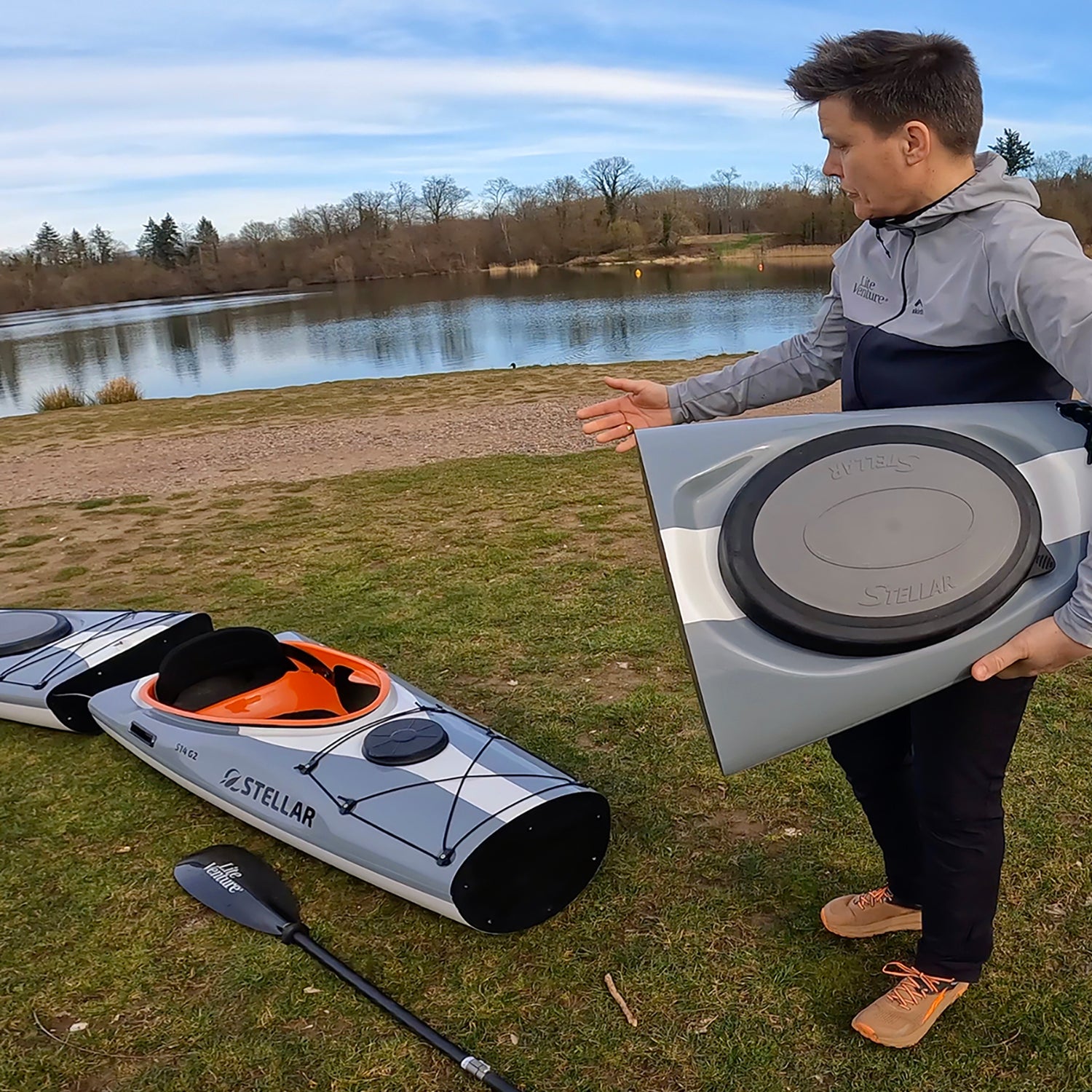 Compact individual parts
The lightest part weighs only 4 kg and measures 120 cm, the longest 167 cm with 6 kg. This makes it easy to store.
connection technology
A connection technology is used here that has proven itself in 8-10 m long rowing boats and high loads.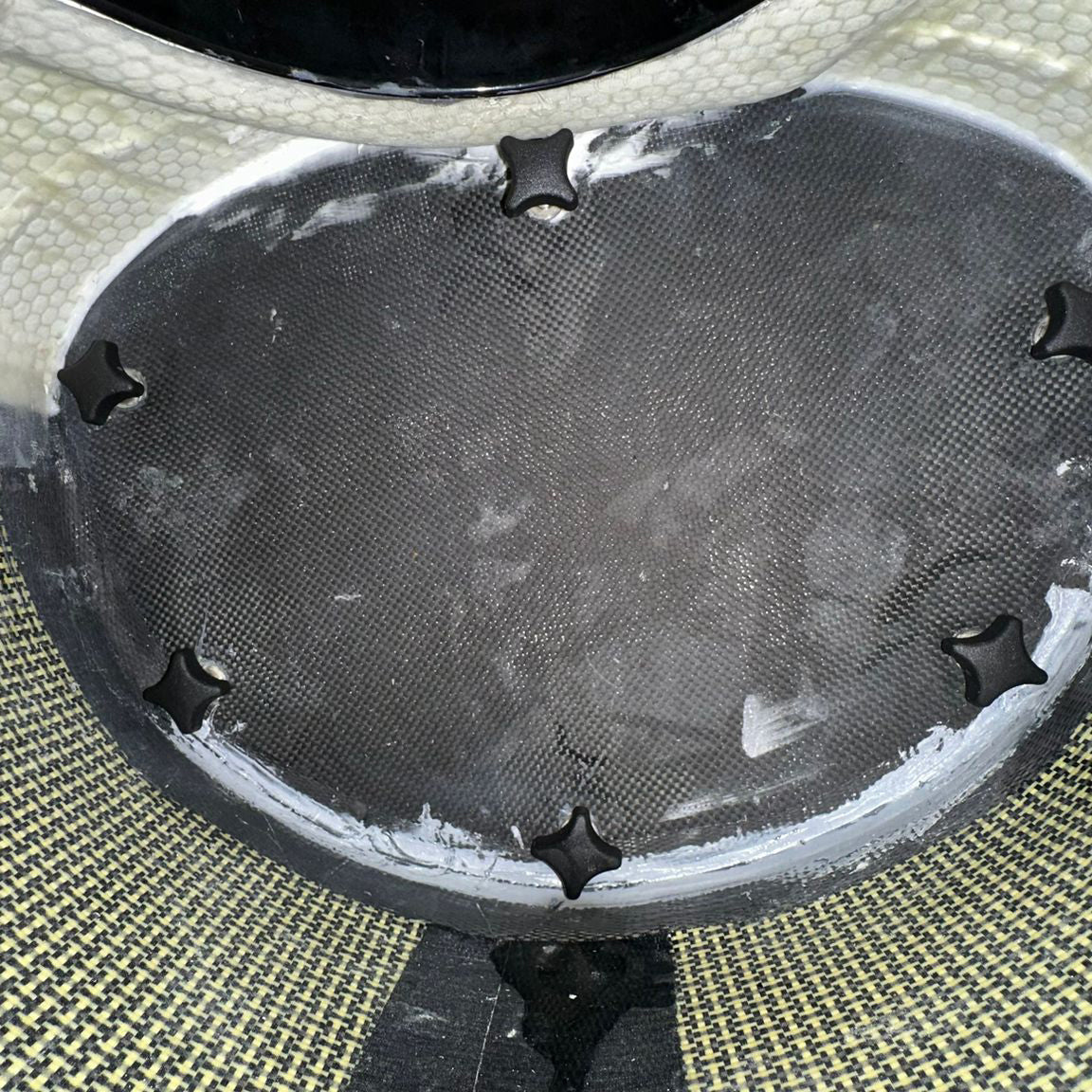 Simple screw connection
The parts are screwed together without tools using stainless steel screws, fitting tightly and without play. A total of 5 to 6 minutes is required.
total weight
The split and reinforced bulkheads make the modular S14 slightly heavier: 18.5 kg instead of 16.5 kg in the undivided version.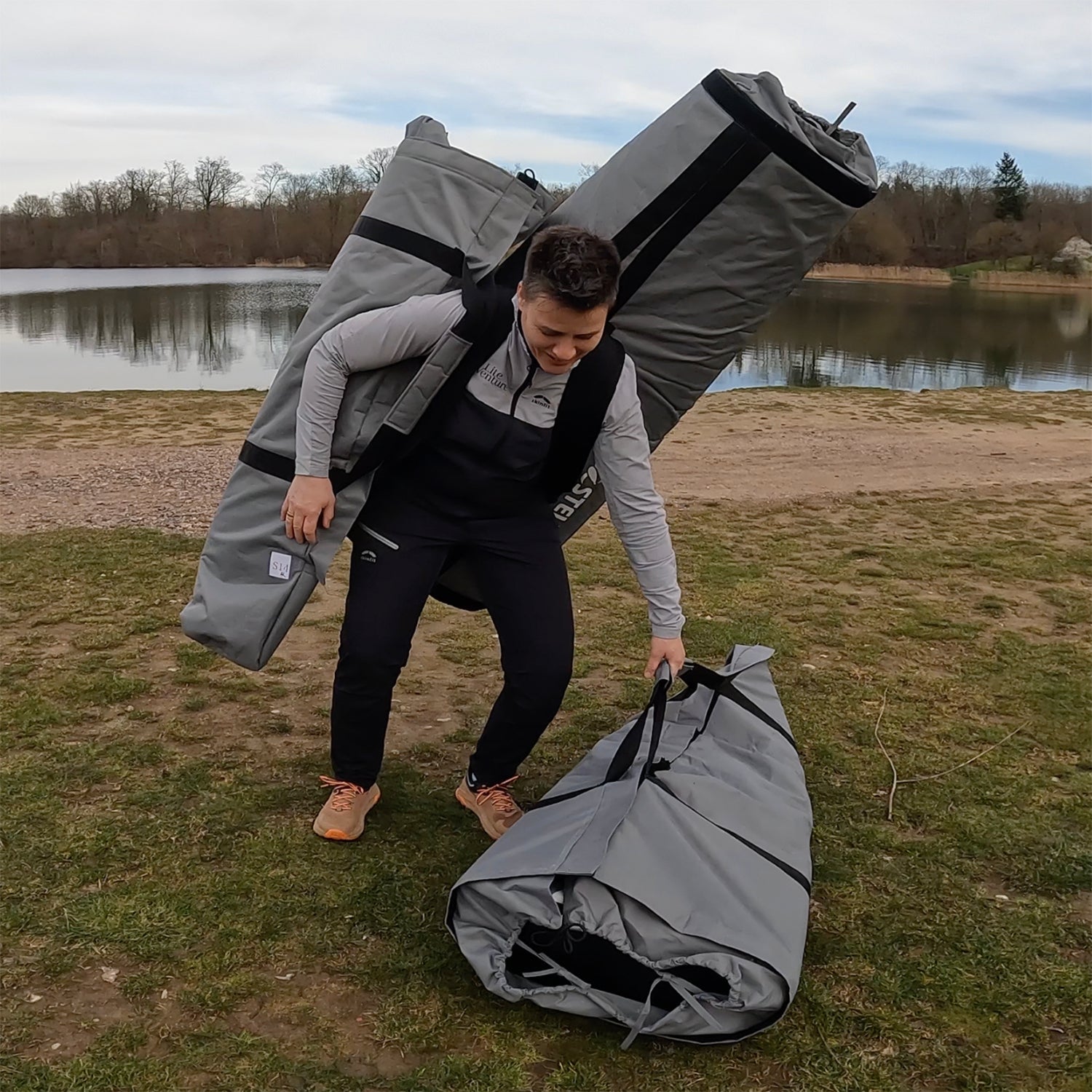 transport bags
Padded pockets are available as an option. They are so sophisticated that the connected kayak can also be completely encased.
The portable Stellar S14 explained in the video
Anne from Lite Venture presents the ingenious concept and shows details on the dimensions and weight, structure and handling on the water.
Conclusion from the presentation:
The solution for paddlers who have been waiting for a light touring kayak that can be easily transported and stored!
These points make the S14 special
Click the +crosses to get more information.


Heckruder: Optional
The S14 G2 comes standard with a Kayak Sport SKEG. If you want, you can also order a Smart Track tail rudder.
Large cockpit hatch and comfortable seat
The S14 G2 has a large, oval cockpit hatch (85 x 44 cm). This allows easy entry and exit.
Generous hatches
The S14 G2 is equipped with two large, oval luggage hatches. These offer enough space to use the S14 for multi-day tours.


SKEG
We equip the S14 G2 with Kayak Sport SKEG as standard. This is a better SKEG rig than what Stellar usually uses. The control unit for the SKEG is also located in the tail section.
day hatch
From model year 2023, we will no longer configure the day hatch with the screw cap but with kayak sport hatch covers. This offers more space in the day hatch, better handling and better watertightness.
Configure your own divisible dream kayak
From the colors to the layup, with individual options like keel stripes or rudders. Create your own kayak. If you have any questions, please contact us.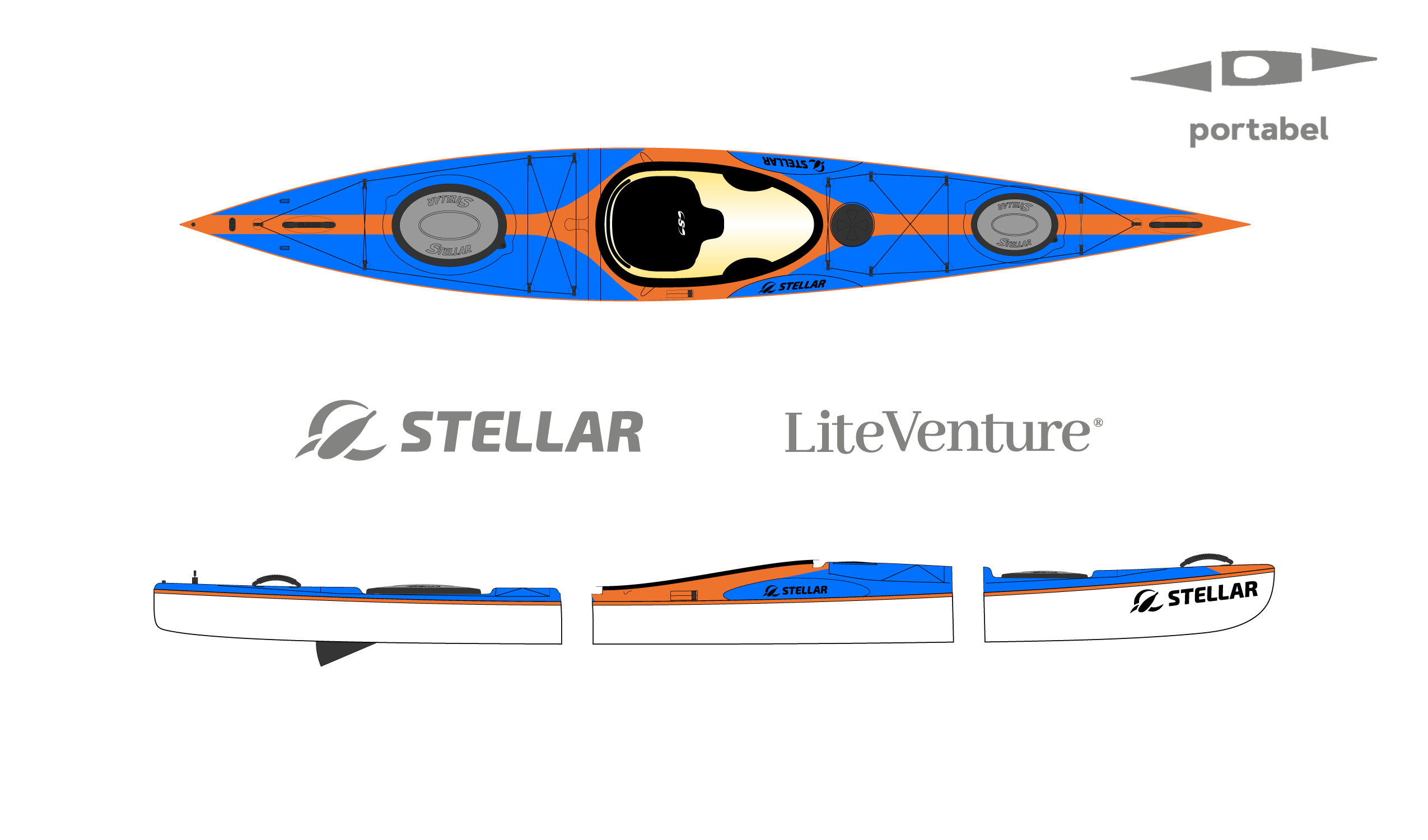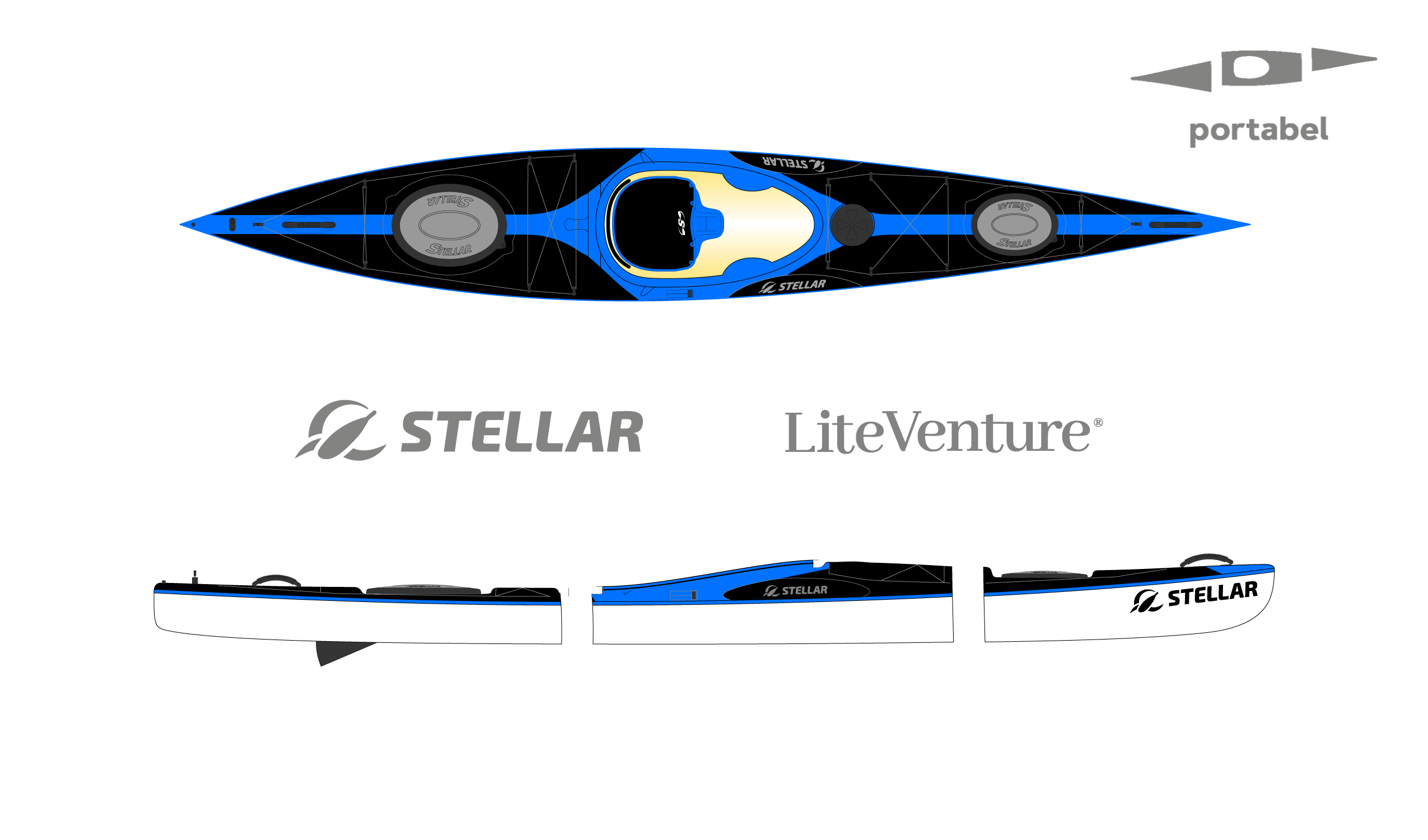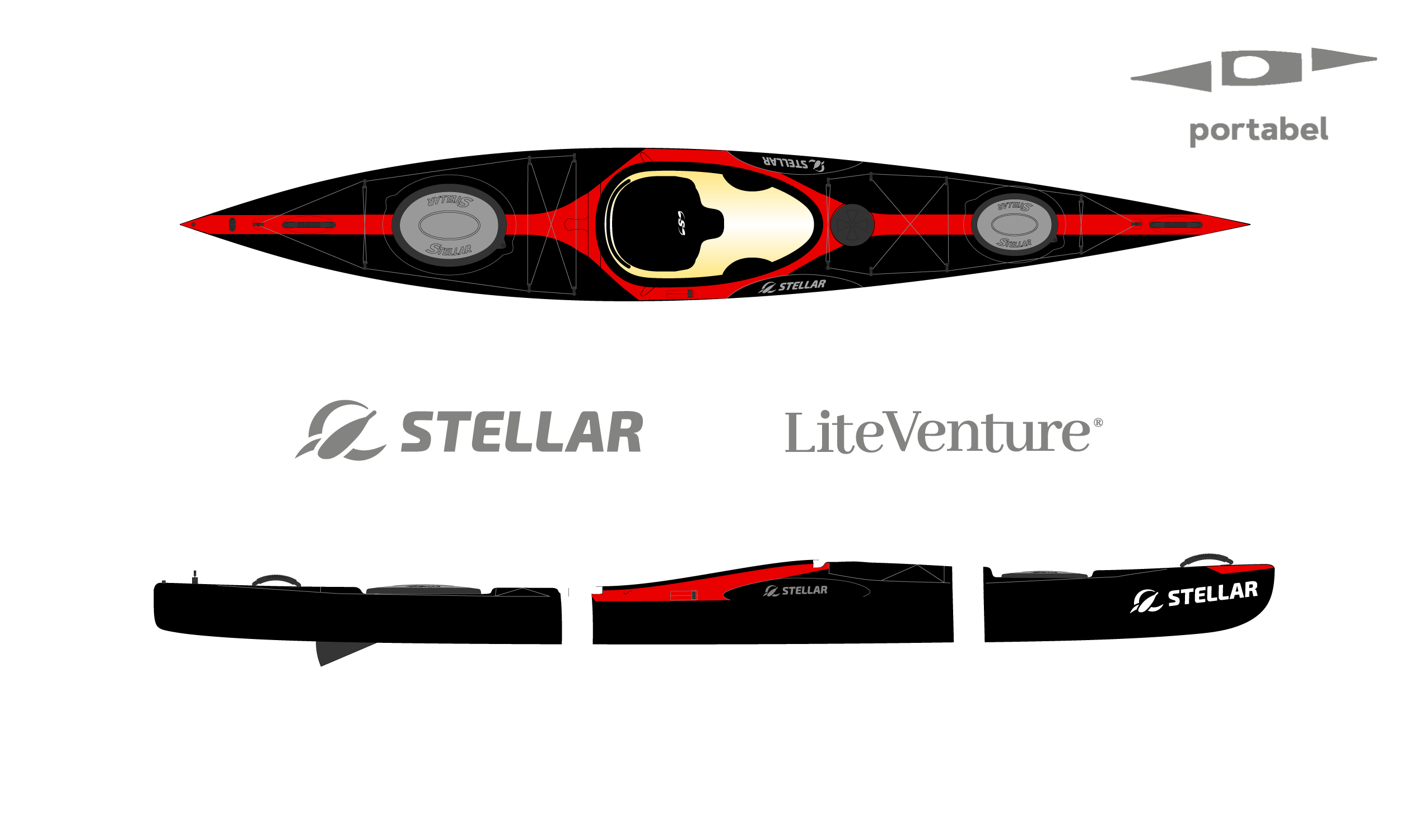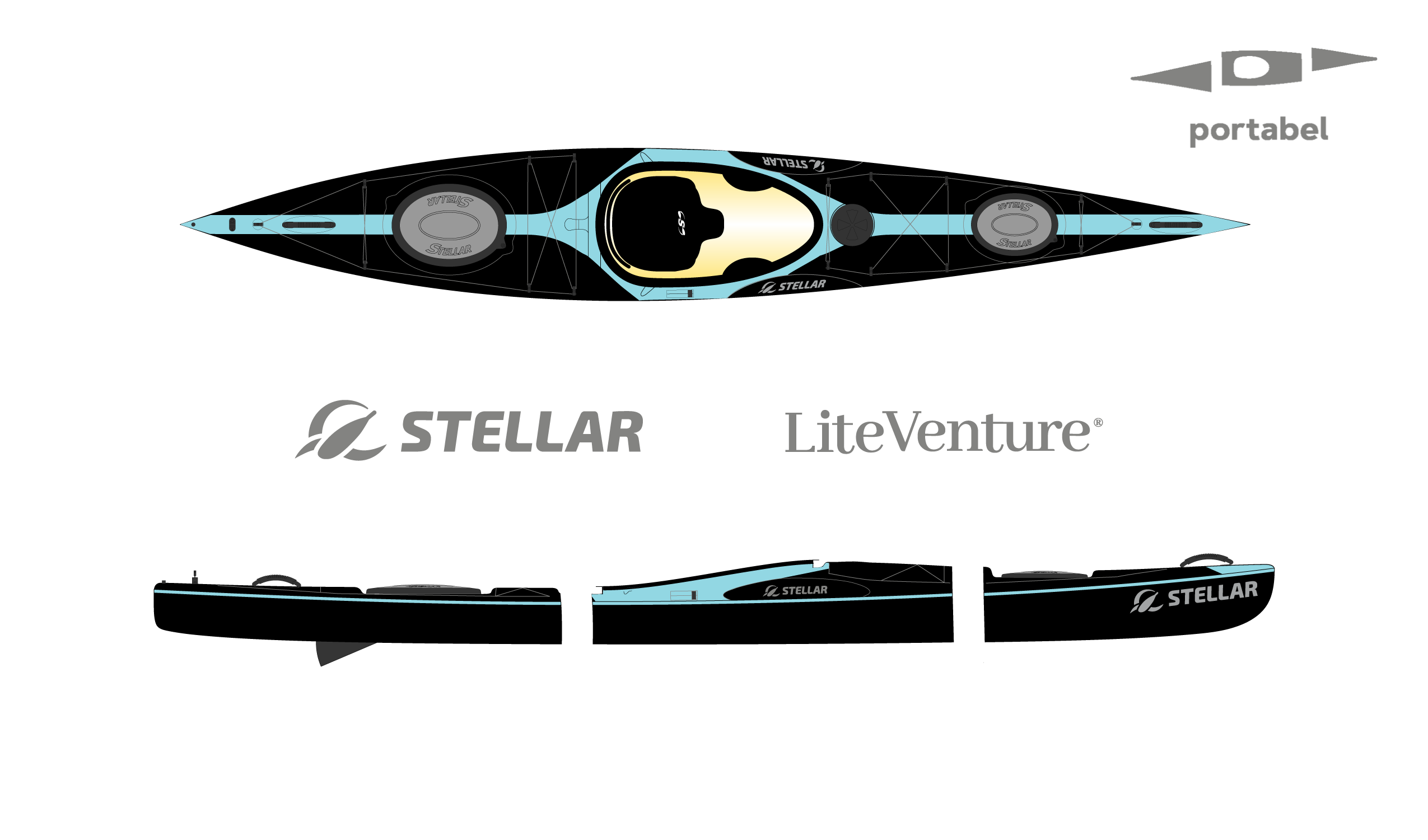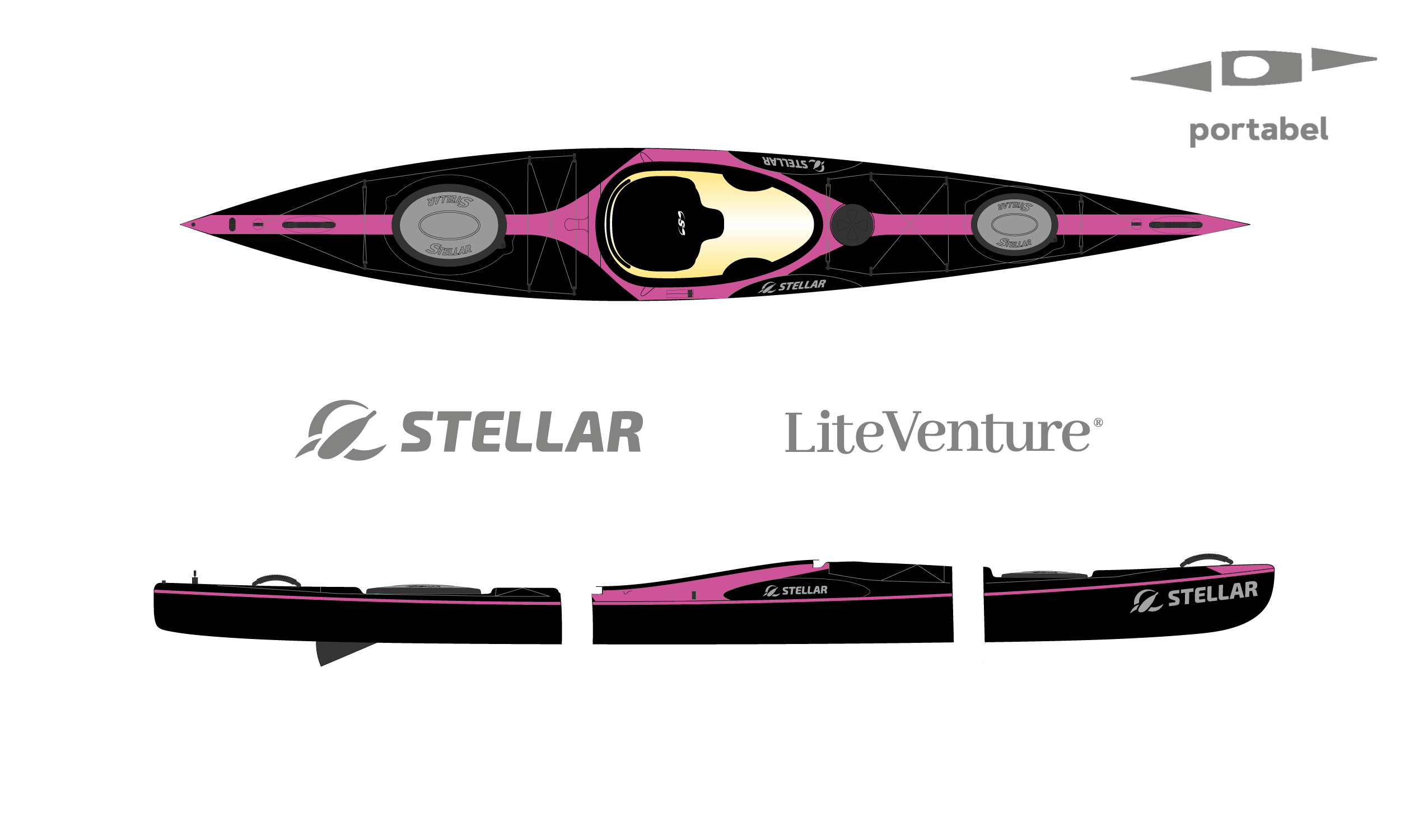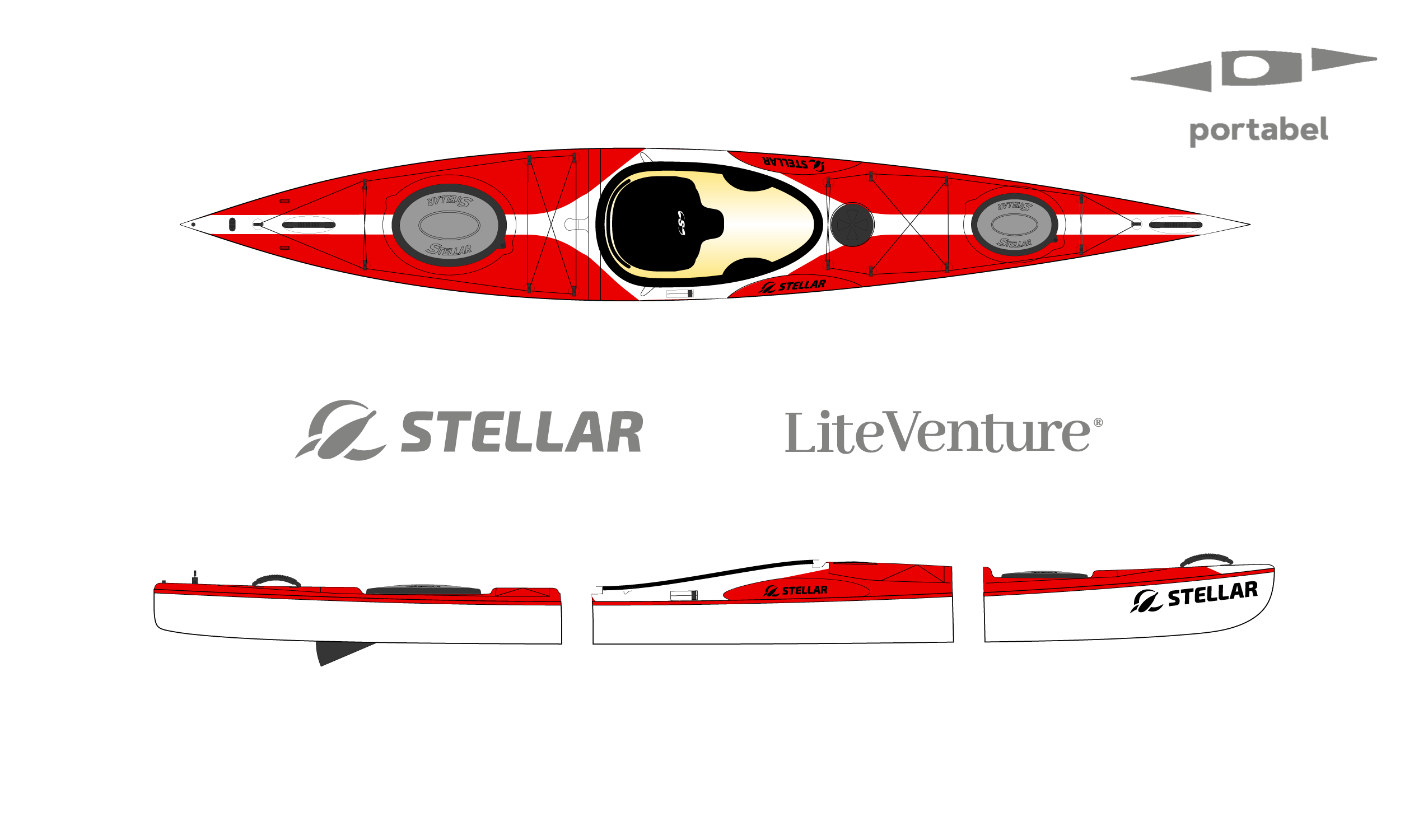 ---
The leisure kayak for easy transport and storage: divisible, light and uncomplicated to set up. Ideal for those who want the excellent features of a solid kayak and want to be mobile.
Delivery time: 12-16 weeks after order
The colours and layups shown here are suggestions.
You can configure this kayak according to your own wishes.
More about custom configuration

Just give us a call:
Phone: +49 (0)7634 / 3409871
Email: info@liteventure.de
Questions or requests to reserve an S14 kayak:
I am interested in the divisible kayak and would like to be contacted:
Alternatively send us an email or call us directly:
E-Mail: info@liteventure.de | Telephone: +49 7634/340 9871