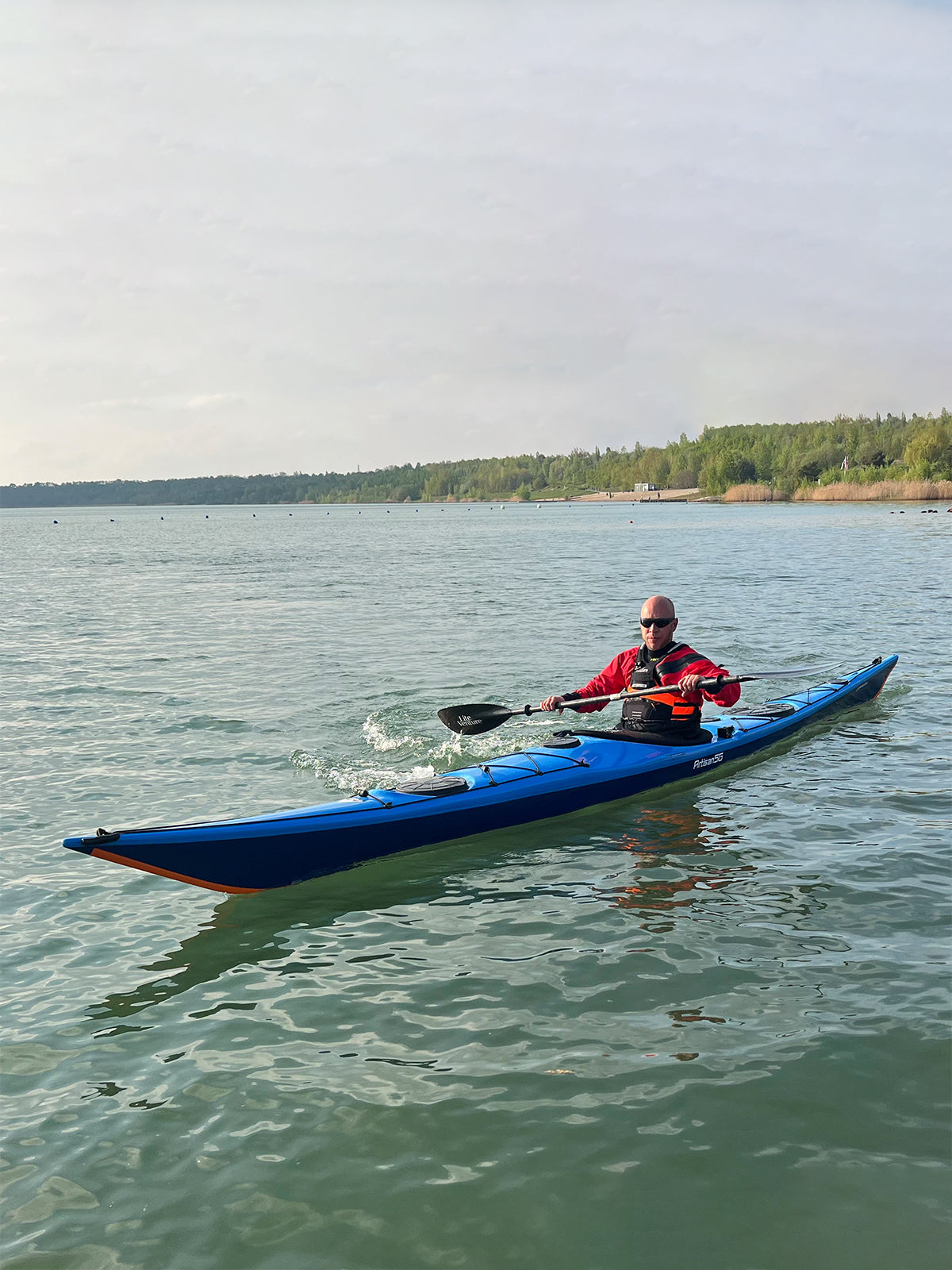 Skim Artisan 5G
The touring kayak for the sea
The classic
Skim Artisan 5G
The SKIM Allround series is a series of kayaks for paddlers of all ages and levels. They are easy to paddle and are suitable for day trips, multi-day trips and everything in between. All Allround series kayaks are based on original Finnish designs that have been on the market for many years and through customer feedback have evolved into the great kayaks they are today.
The Artisan 5G has become a Finnish legend with a long and successful history in Finnish kayak construction. The Artisan 5G is a true Scandinavian design with a fast and light hull and deck construction. The hull has a gently sloping V that allows for easy paddling and predictable behavior in rough seas. The Artisan 5G is easy to load, which is a big advantage compared to most other kayaks. The Artisan 5G is a great kayak for expeditions of a week or more.
Suitable for
Paddler weight: 70-105 kg
Separable: yes
Tours, multi-day tours, sea kayak, expedition
construction
Traditional Layup (TR): 25.0 kg
Extra-Rigid Layup (XR): 24.5 kg
Carbon Light Layup (CL): 22.5 kg
Construction: laminated
options
Traditional Layup (TR): from € 3,295.00
Extra-Rigid Layup (XR): from € 3,690.00
Carbon Light Layup (CL): from € 4,790.00
Laminated keel strip ex works: € 175
Three-piece kayak: € 1695
Individual colour: € 295
Dimensions
Seat hatch: 75 x 40 cm
Length: 555 cm
Width: 55 cm
Volume: 379 l
Volume front hatch: 104 l
Volume rear hatch: 75 l
Volume front day hatch: 5.2 l
Volume rear day hatch: 44 l
The advantages of the Artisan 5G
Features at a glance
tipping stability
In a long kayak, edging is essential. The Artisan 5G is good-natured and precise.
These points make the Artisan 5G special
Click the +crosses to get more information.


security toggles
Free-moving toggles on the front and back: carrying handles that don't twist your hand
Two day storage compartments
The Artisan has 2 generous daily storage compartments.
Large cockpit hatch and comfortable seat
The cockpit of the Artisan 5G measures 75 cm x 40 cm and offers enough space to sit comfortably.
Handle hatch
An additional opening to reach objects even at the last end of the hull.


Rescue Clamps
The rescue clamps behind the cockpit can be used to fix the paddle there. Supplemented by a paddle float, it makes re-entry easier.
Skeg
Built into every Skim sea kayak as standard. A rudder can also be attached individually.
Eike Köhler on the Artisan 5G in the video
Eike picked up his new Skim Artisan 5G from Alex at our test station in Hamburg and shows his first impressions of the kayak. An introduction to the kayak will probably follow when he has been able to paddle it a few nautical miles...