Choose your favorite now and decide whether you want it in a bundle with a light carbon paddle:
ULTRA Light: The ingenious, lightweight SUP
Save 296,00 €
Save 256,95 €
Lite Venture ULTRA Light Hightech SUP
Super light, yet resilient: The Lite Venture® ULTRA Light weighs only 8.3 kg and can also handle heavy loads. Finally a light touring board without compromises!
This is made possible by the use of high-quality materials. The board is based on a double-layer, laminated dropstitch fabric. The layers are thinner than on conventional boards, which results in the light weight. The fact that it is still stiff is due to the cross-woven interior with a very high thread density. Convince yourself of the features:
Suitable for:
Paddler weight 55-120 kg
Total load up to 140 kg
Tour orientation
Dimensions
12'2" x 30" or 372 x 76 cm
Volume: 320 l
Weight: 8.3 kg
Material
X-Woven Laminated Dropstitch
Double Layer
TPU (Rucksack)
Accesories
waterproof backpack
double action pump
leash, fin, repair kit
Features at a glance
The advantages of the Lite Venture ULTRA Light Standup Paddle Board
Unlike most very light inflatable boards, the ULTRA Light 12'2" x 30" is a super stable inflatable. Thanks to its technical fabric, it does not lose rigidity despite its lightweight construction. The board remains a board even with a higher load! This gives you an outstanding touring board that will accompany you reliably on all your adventures: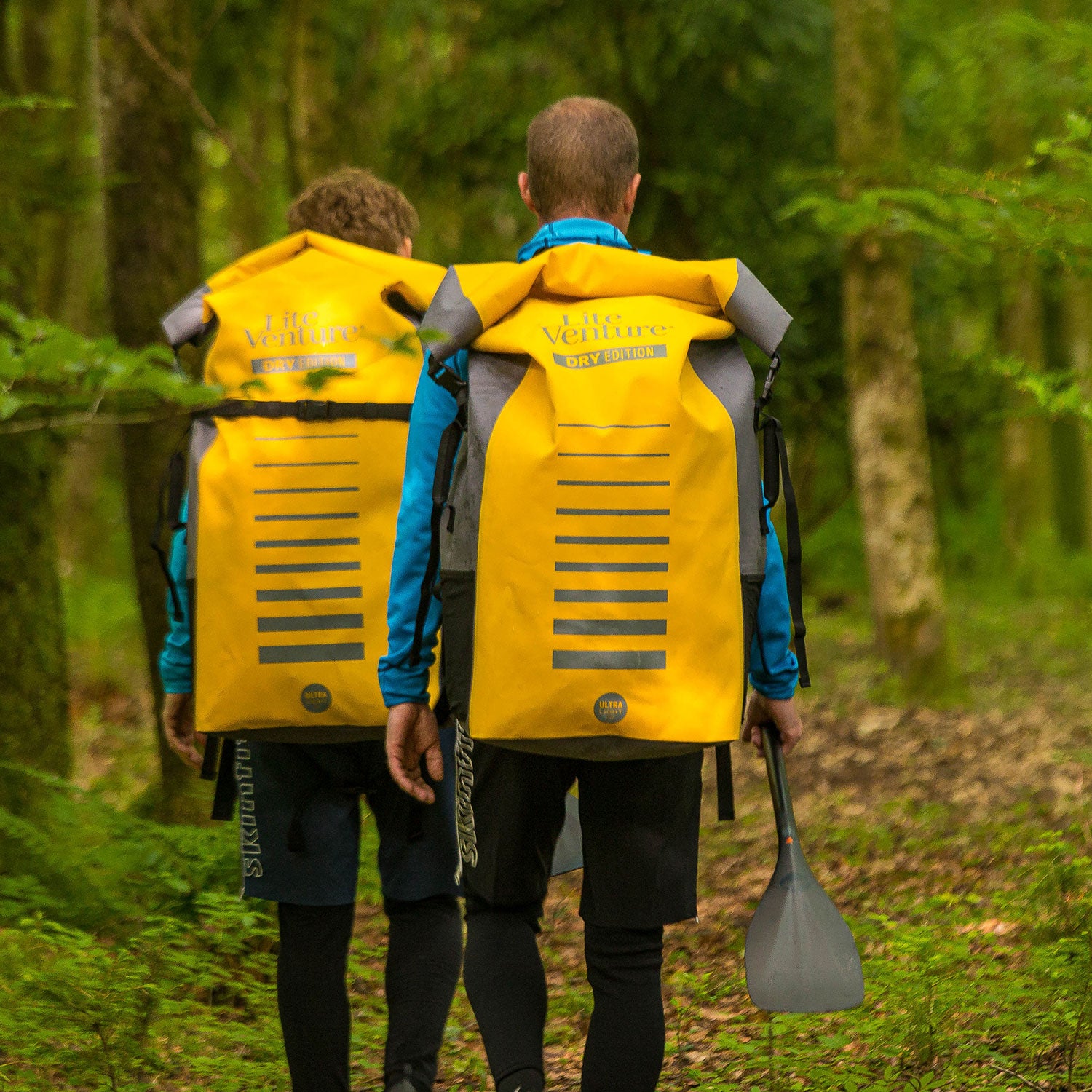 The backpack
The board comes in a practical backpack with back padding and hip belt. This allows you to transport the set to the start of your tour without a car.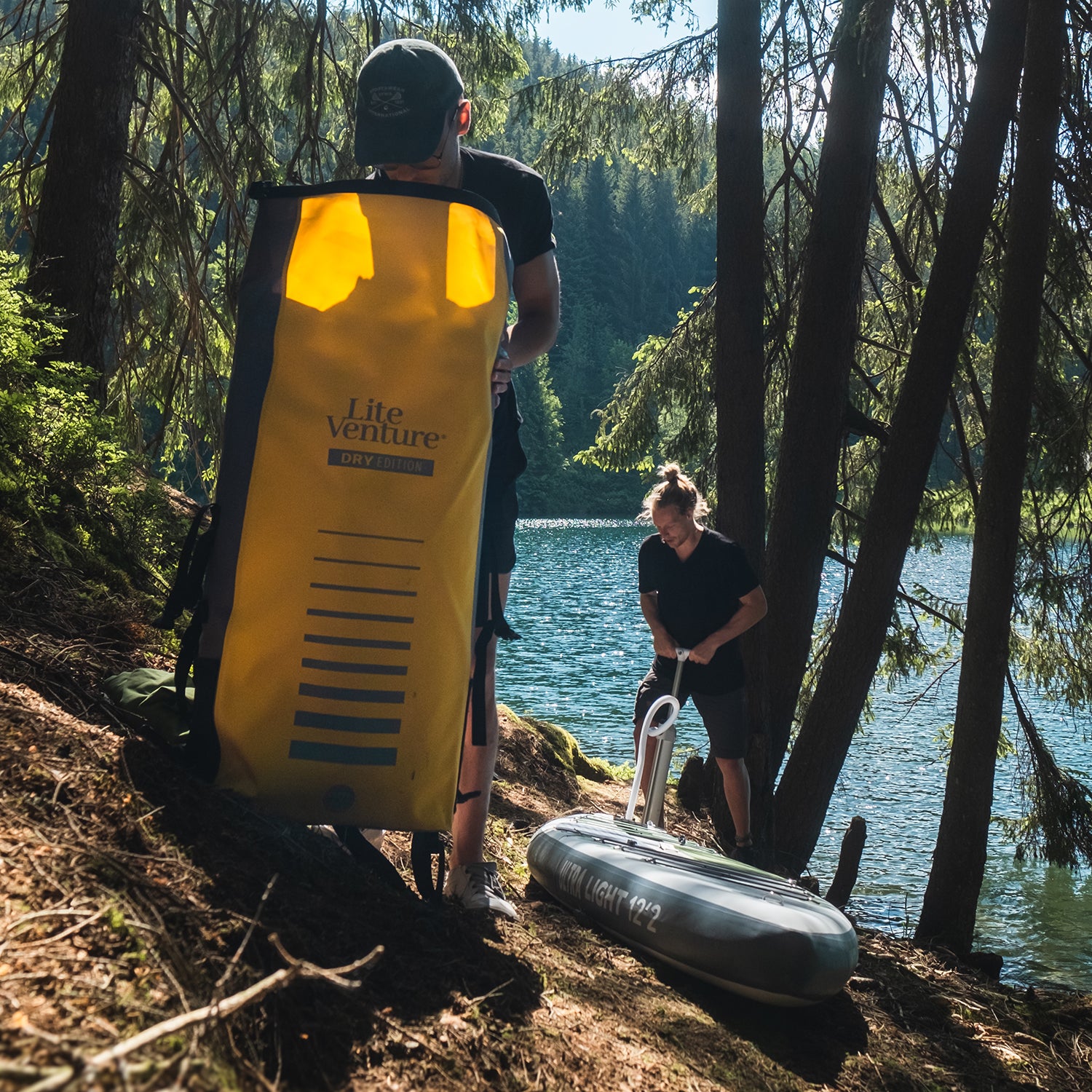 Waterproof bag
After inflating the board, the pump, clothing and valuables go into the waterproof backpack. So nothing is left behind and you are independent.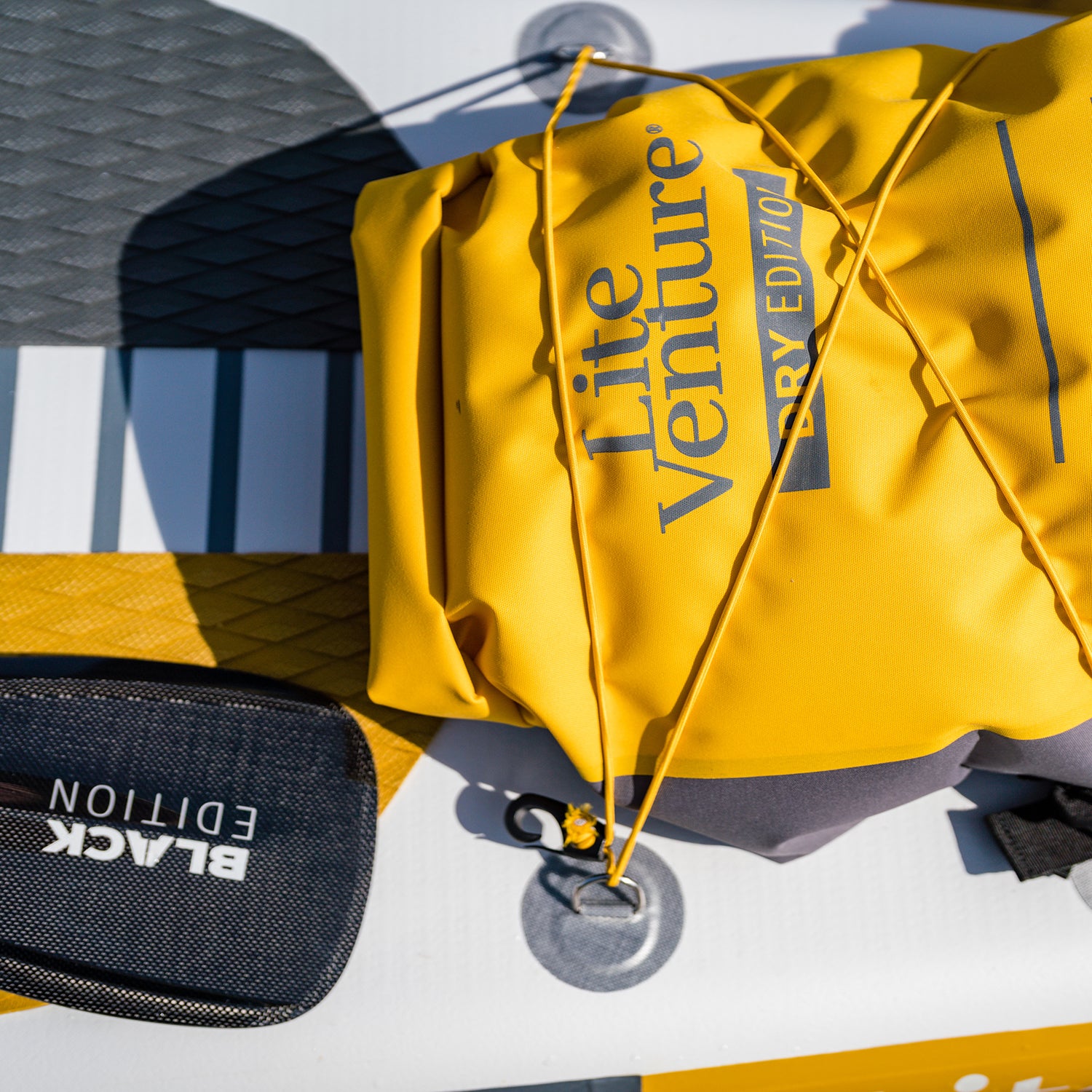 Everything on board!
The sack goes on the back of the board. The ULTRA Light has 6 D-rings on the back and 8 on the front for attaching luggage – also ideal for luggage on multi-day tours.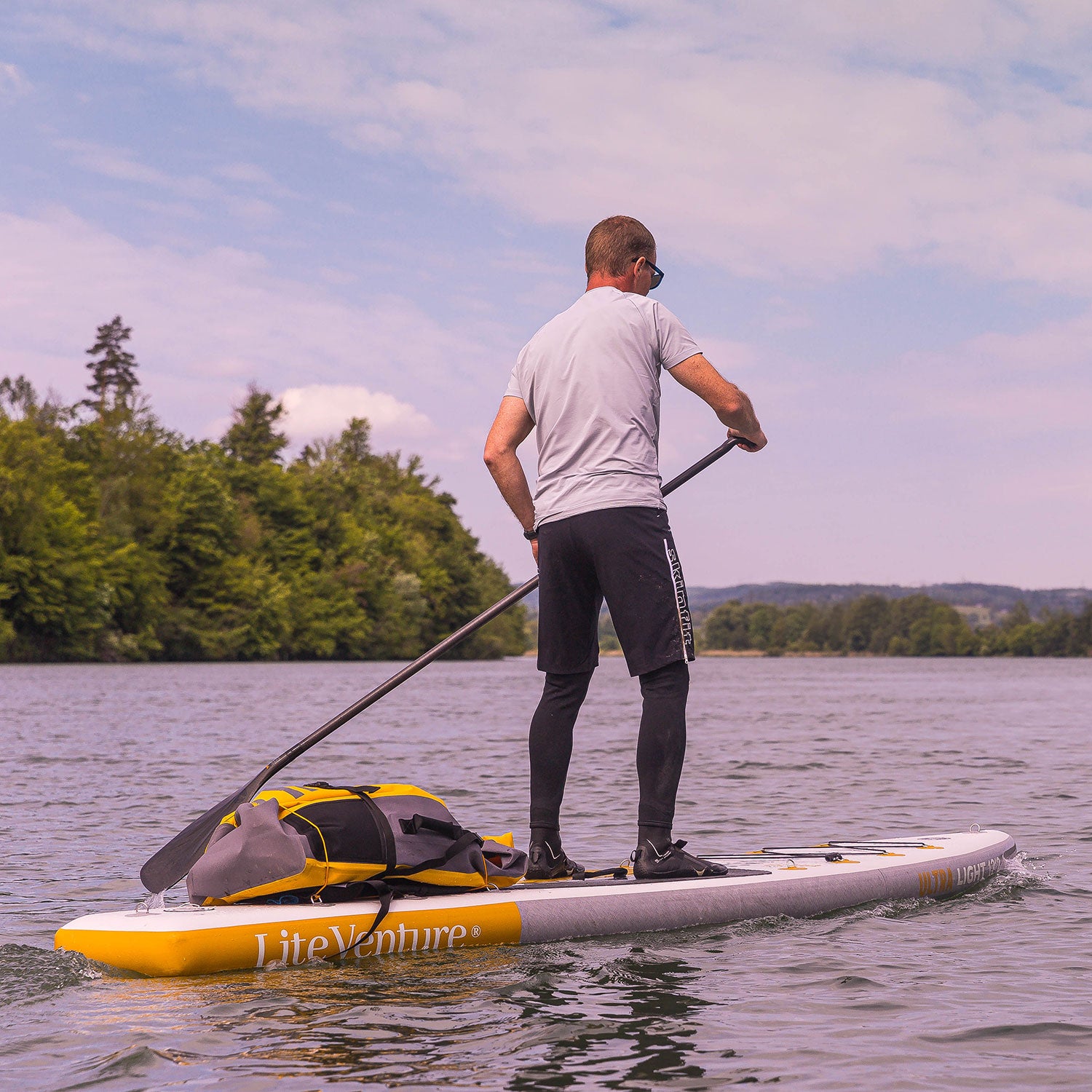 Top Performance
The ULTRA Light paddles up very quickly and quickly picks up speed. It's easy to stay on track because it uses the full length on the water.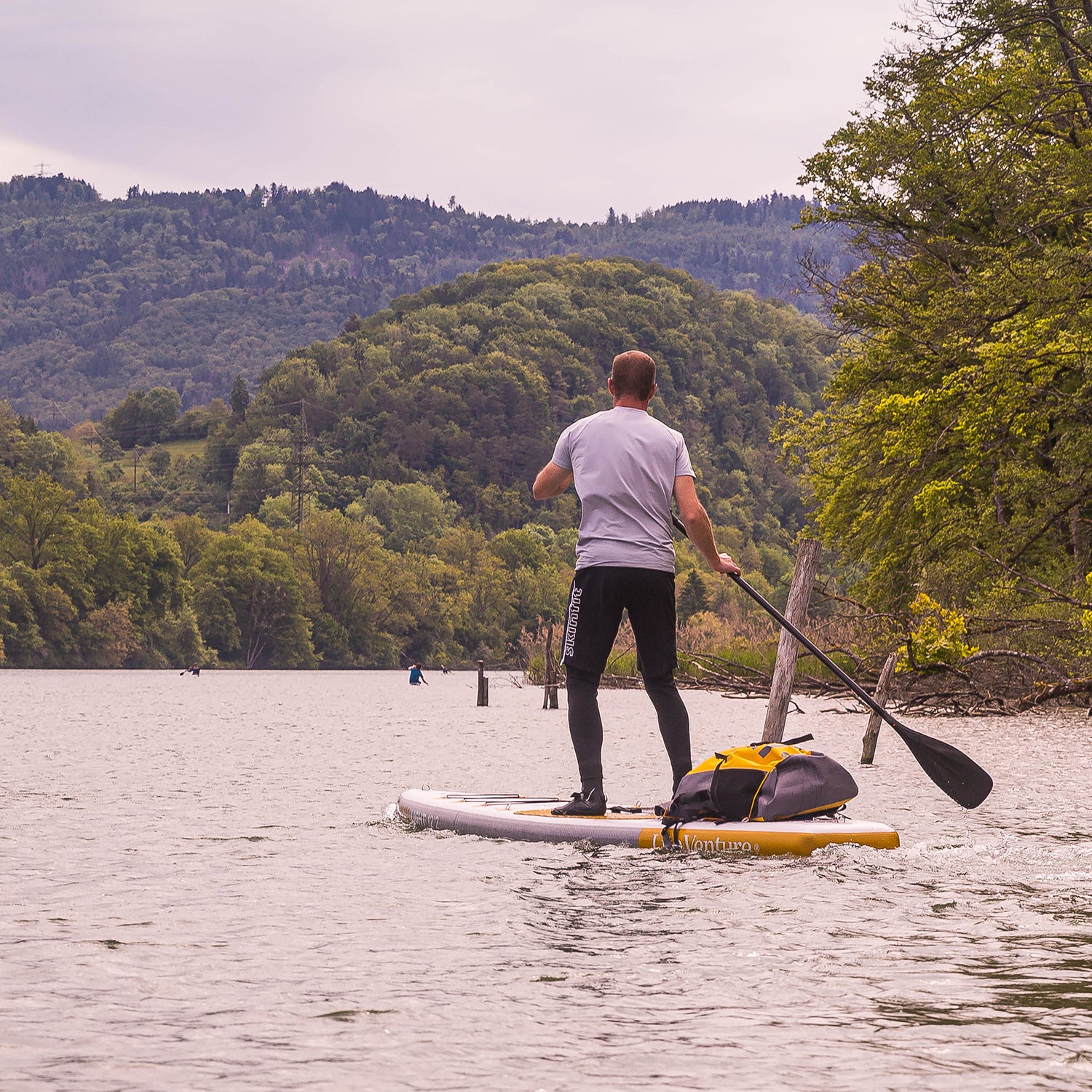 stability
Due to the slightly wider rear, it has high stability reserves. This is noticeable with higher luggage loads and in choppy water.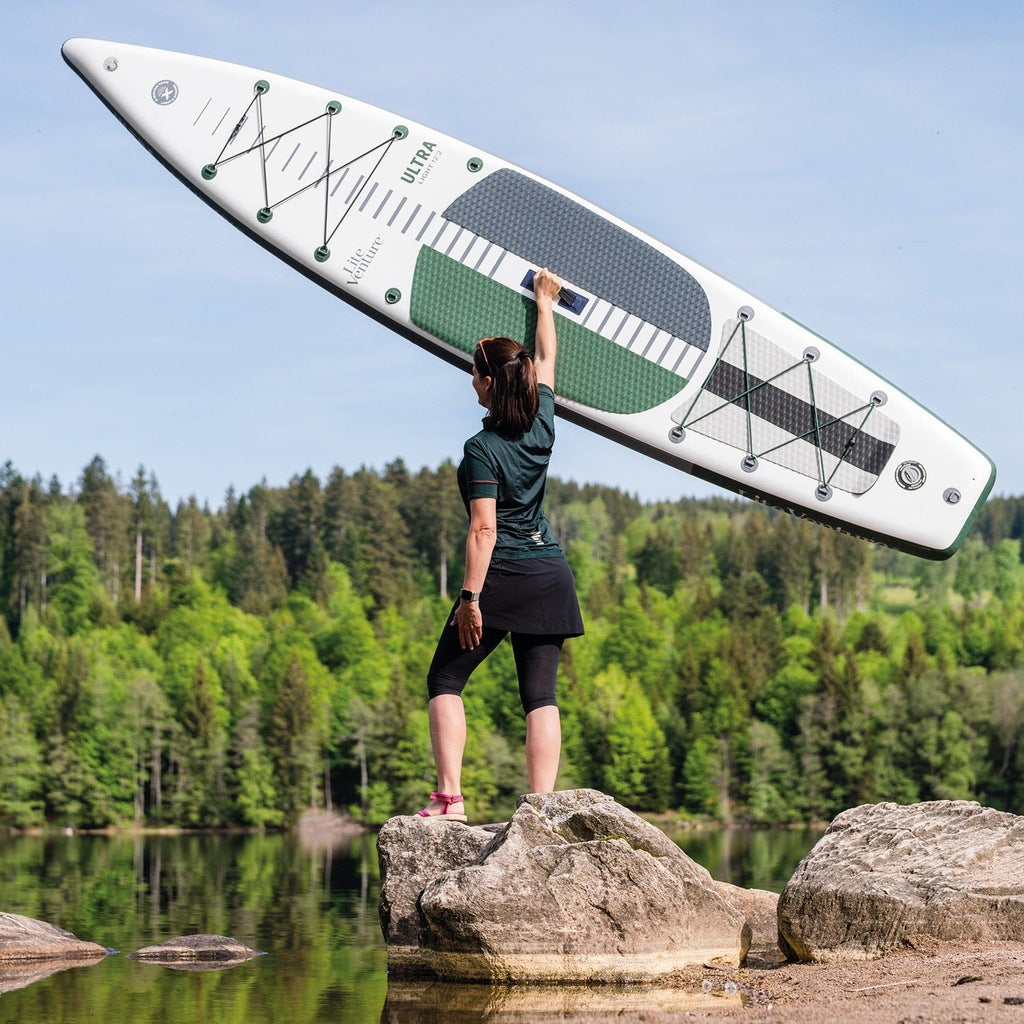 lightweight
The cause of the light weight also requires a small pack size. This makes it ideal for carefree transport and compact storage.
Kickpad
The ULTRA Light is equipped with a non-slip kick pad at the rear.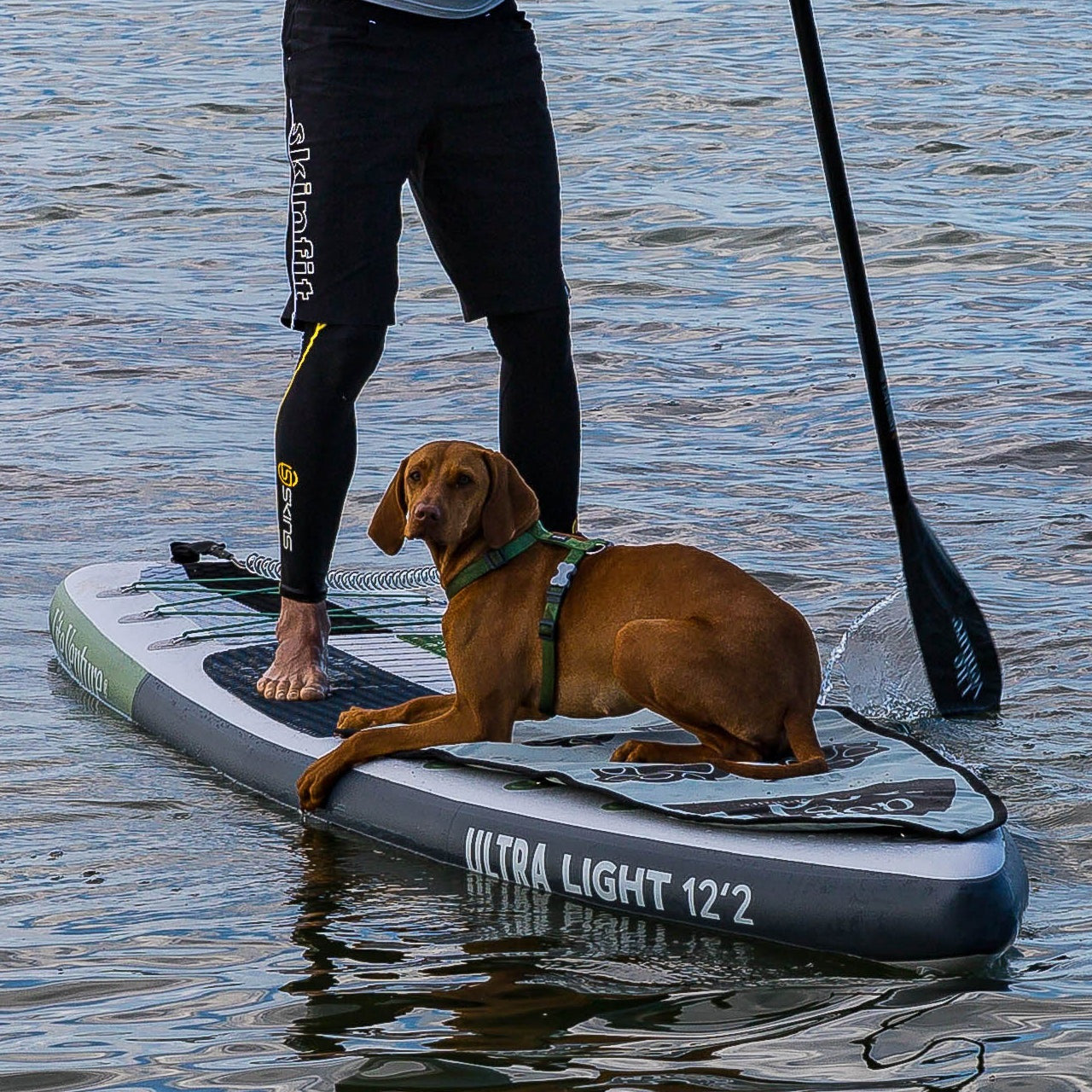 Dogpad
Also suitable for SUP with dog and compatible with Lite Venture DogPad.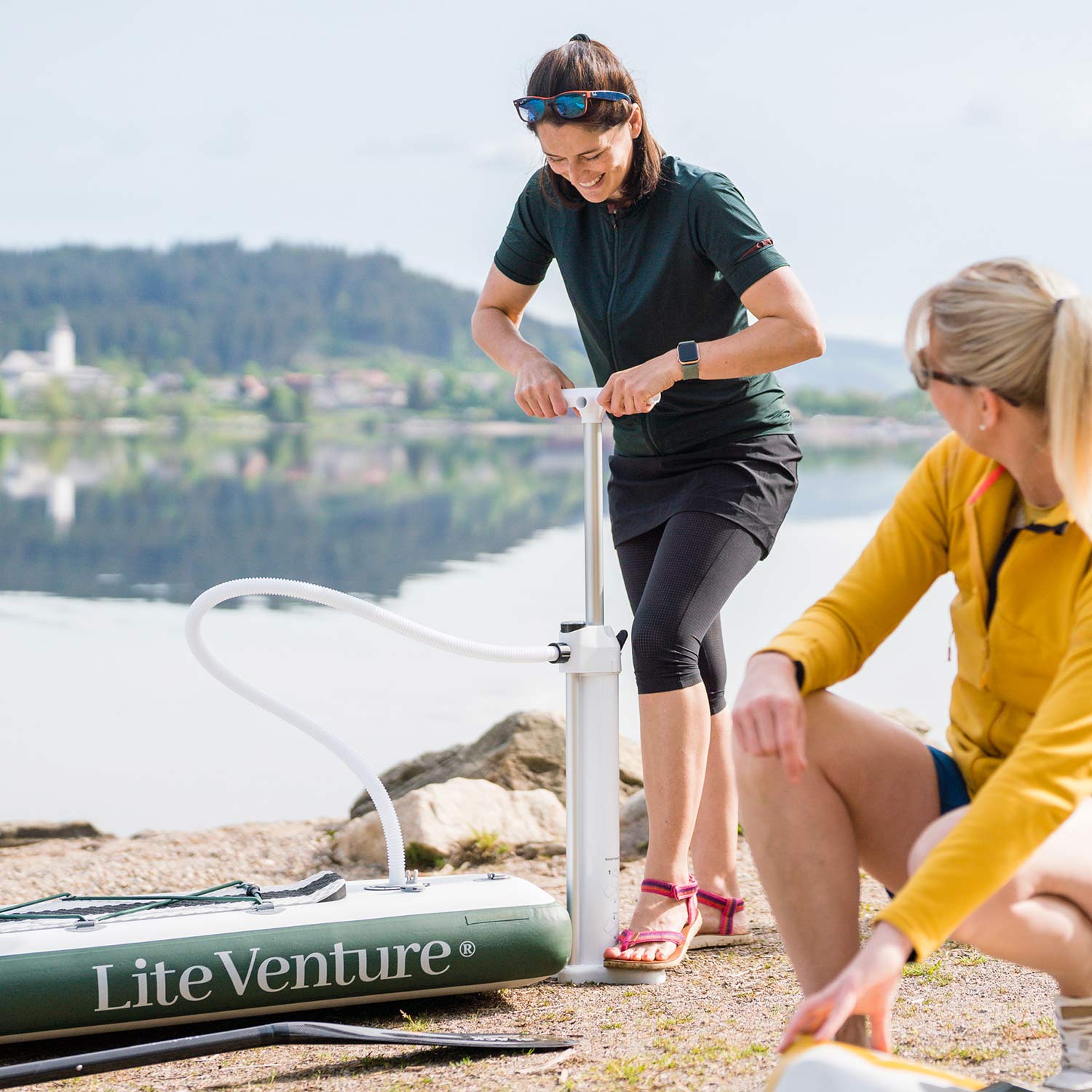 Smooth pump
The included pump is light, has a small pack size and works very effectively.
This is what customers say about the Lite Venture® Ultra Light
Do you also have a ULTRA Light? Give us your opinion on it here
"It's just great 🤩 ! I inaugurated it yesterday on Lake Chiemsee and paddled 16 km straight away. The board lies perfectly on the water and it already feels good after a short time. The paddle is super comfortable in the hand. In short: I will ...
"Actually, I train on race hardboards, but since I sometimes paddle after work on various sections of the Ruhr or the Rhine-Herne Canal, I find the concept very interesting: The unusual packsack is a drybag, comfortable to wear and ideal for us...
"The board is perfect for my needs, the accessories are also very high quality and it's always fun to go to the nearest water inlet with the backpack. UltraLight isn't just a marketing name here, it lives up to its name . The board is inflated ...
"I'm very happy with the Ultralight. The criteria, weight and stability were very important to me. I wanted a board that was light so I could carry it anywhere by myself. That's how I'm independent. My dog ​​also has enough space and can go wit...
"Recently at Lake Millstatt in Carinthia: in front of me a SUPer, technically at best mediocre paddling technique (I dare say it after 10 years on different SUPs and many hours on the water with a friend who also SUP-Tainer is), but fast!!! I'l...
"I love my board...I would call it the perfect 'lady' board...because it's sooooooo much lighter than my husband's board. It is very good on the water and is perfect for touring and yet sporty!"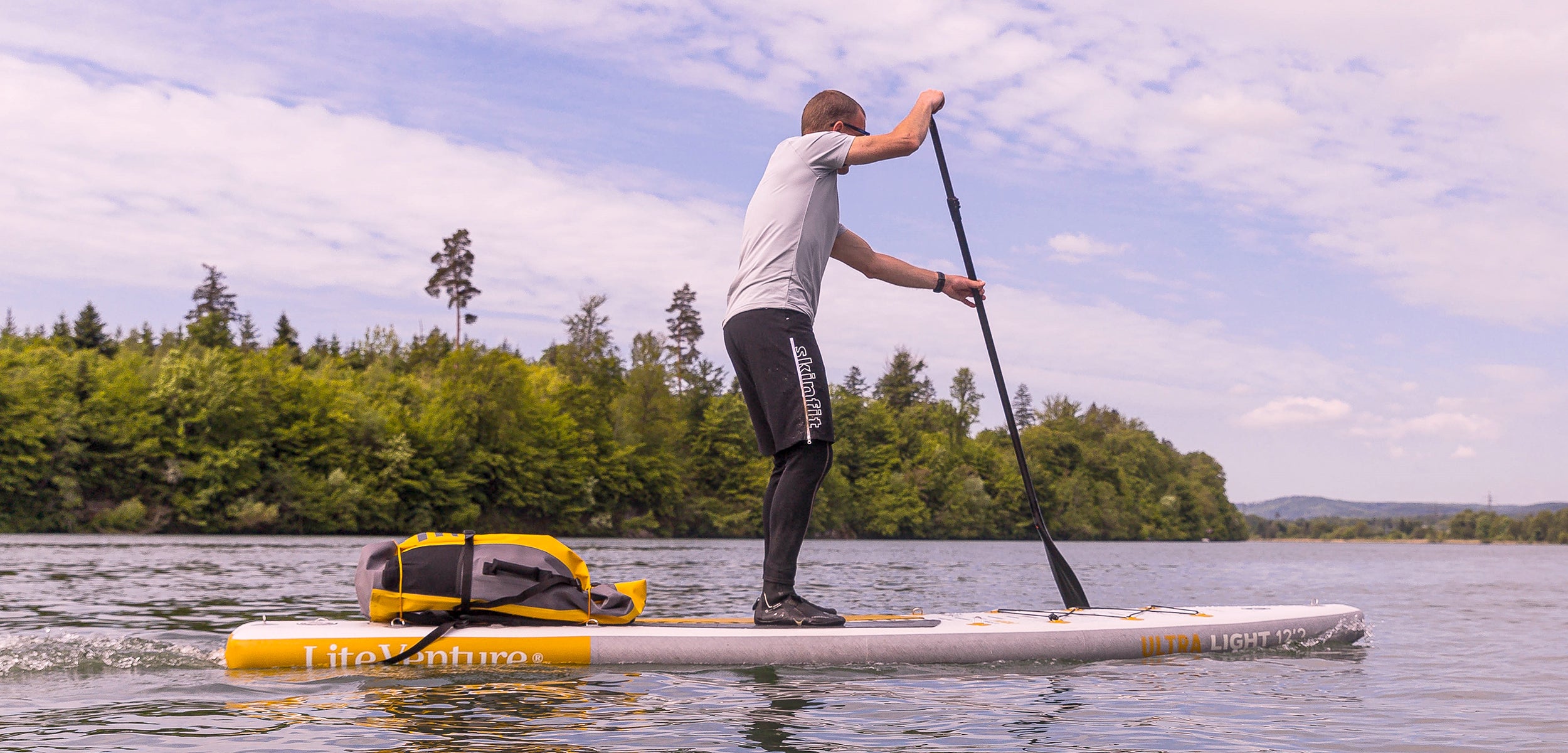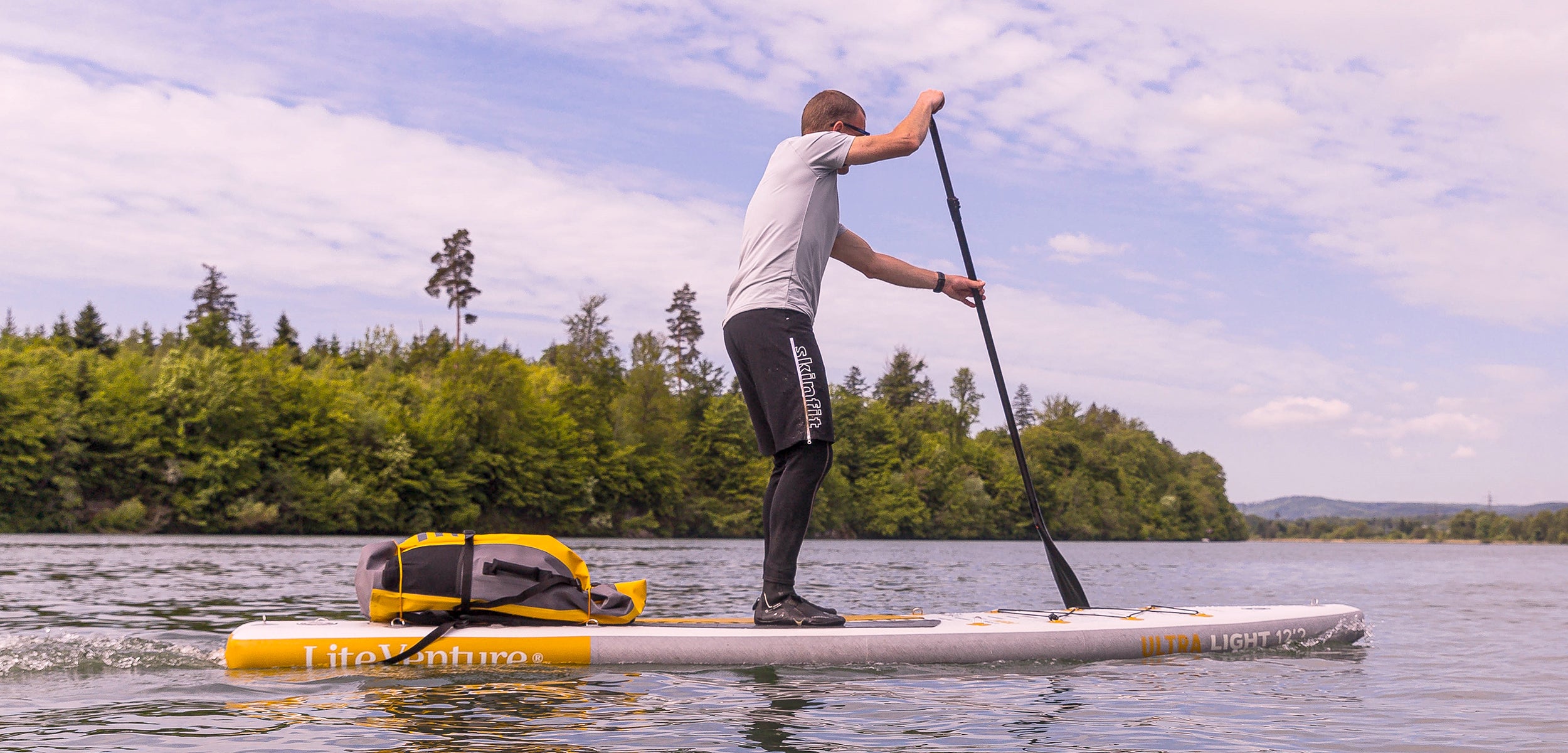 Wide stern
The shape of the rear provides high stability even with a higher load or difficult conditions.
Waterproof backpack
Ingenious concept: The backpack is included in the set and expands your radius of action enormously.
rigidity
Thanks to the high-tech fabric, the board stays as stiff as a board up to 120 kilos point load!
Carbon paddle optional in set
Complement the set with a light carbon paddle and use it to exploit the full potential of this board at a set price!
Flat rocker
The board uses its full length on the water, which gives it speed and high directional stability.
Without a car to the SUP tour
With the ULTRA Light SUP you can paddle off the beaten track: discover new tours, choose where you want to start and end your tour completely independently, because you have everything you need with you.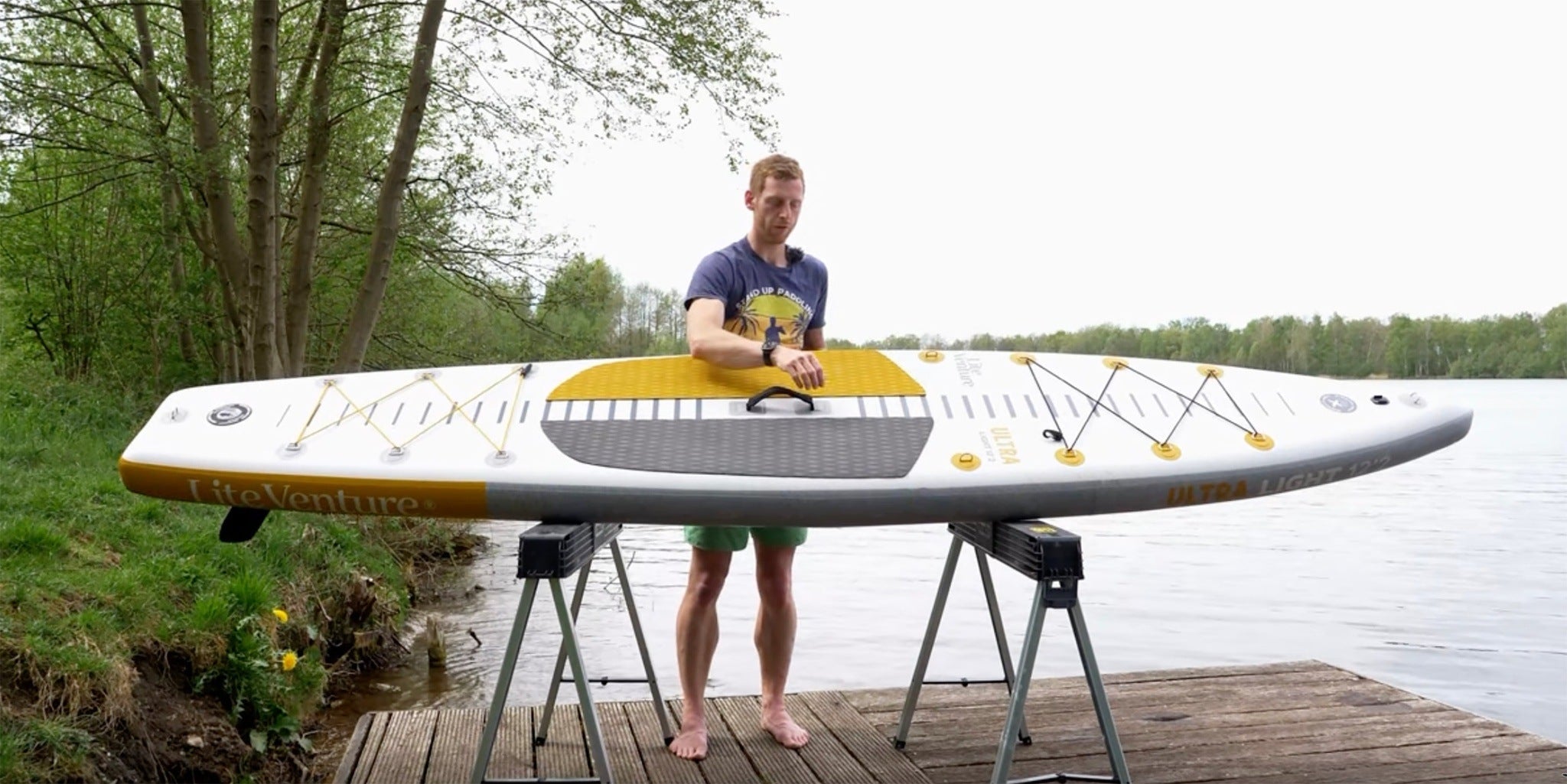 ULTRA Light in the SUP TV Test
The detailed test. Conclusion: "Extremely light!" "The perfect touring board!"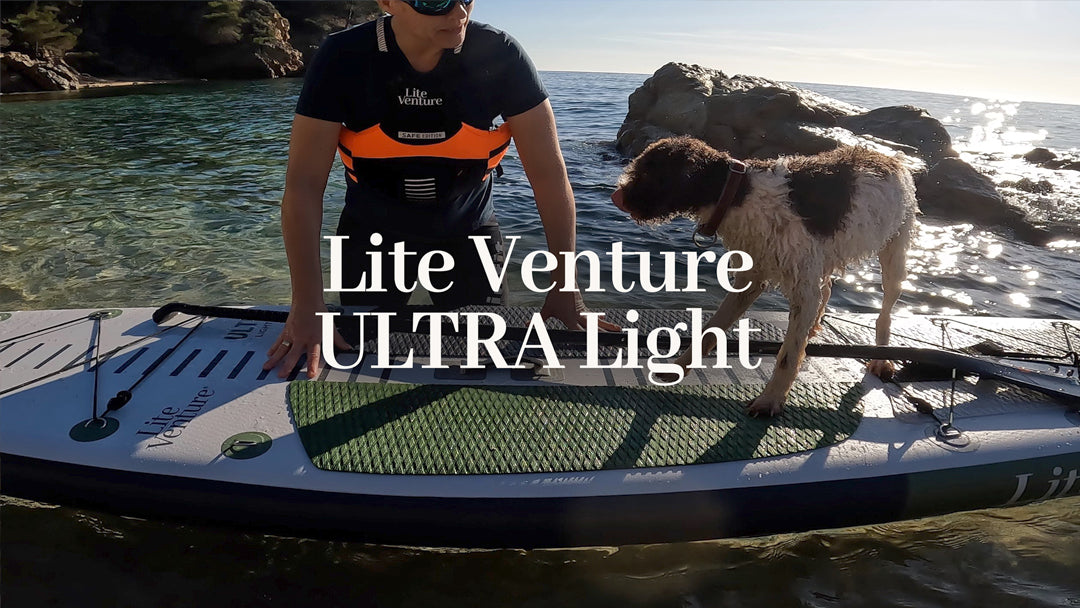 The most important features
What are the key features of the ULTRA Light SUP board? Compact summarized in 7 minutes.
The Lite Venture® FUSE Series
You might also be interested in this
Save 251,00 €
Save 251,00 €
Lite Venture Dry Edition Linie
The waterproof backpack is part of the ingenious concept behind the ULTRA Light board. It is made of PVC-free material (TPU). This is much more environmentally friendly in production and disposal - and also has a pleasant, noble-rough feel. We also offer a line with 28 liter drybags and a practical 30 liter backpack suitable for everyday use made of this material.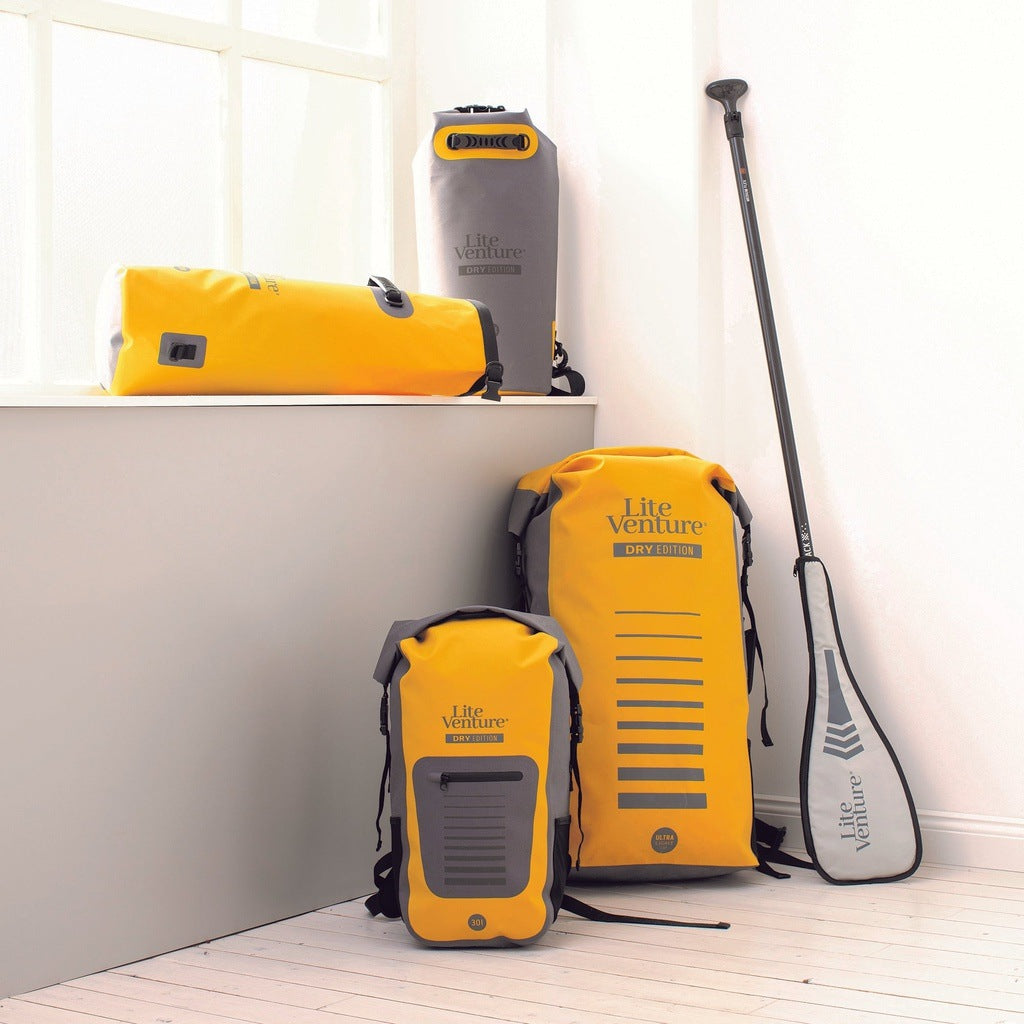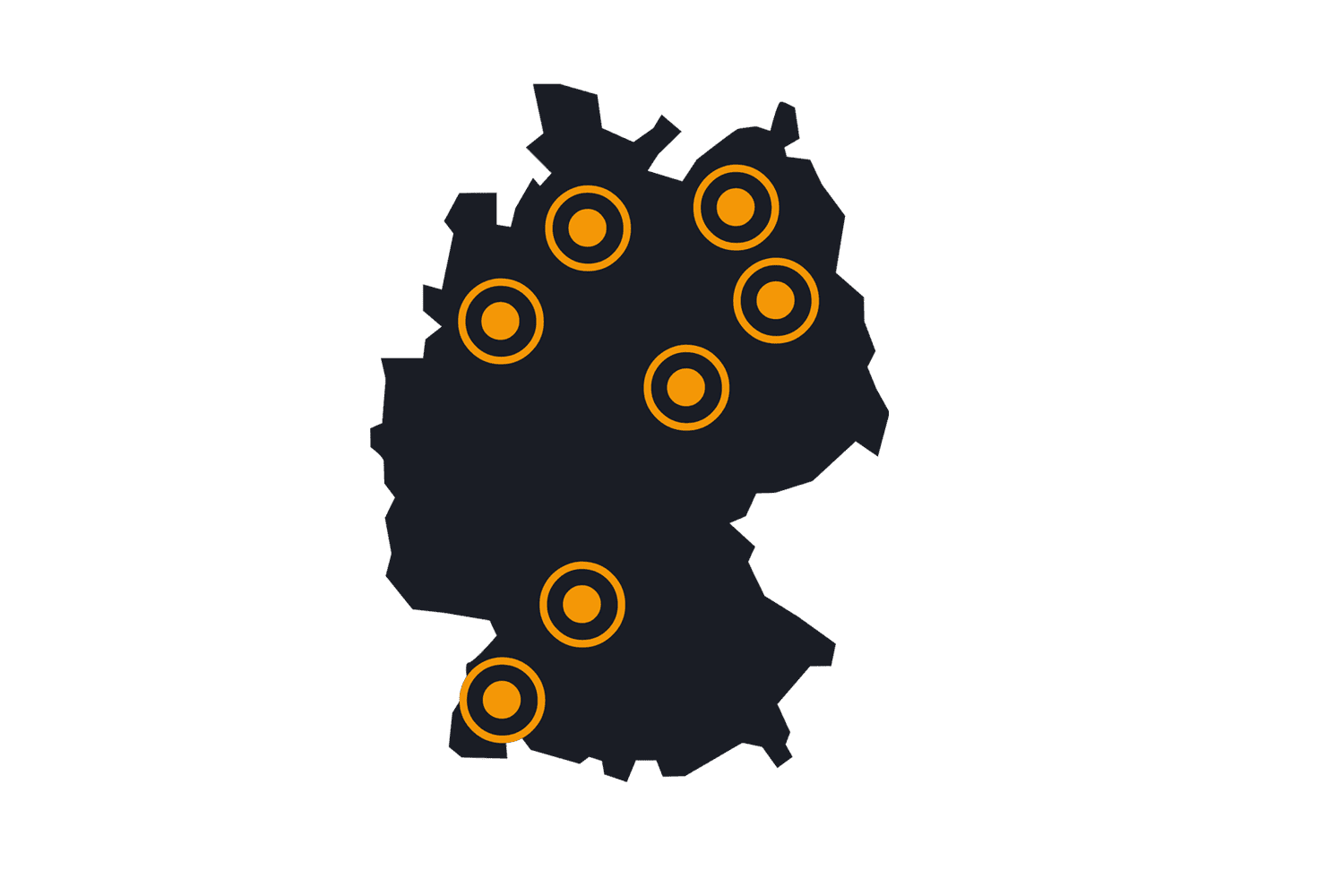 Try this board near you:
Just contact the location of your choice and make an appointment. Test the board you want. The board will be sent directly to you and your desired address when you place your order. When ordering, please let us know which station you tested it at.