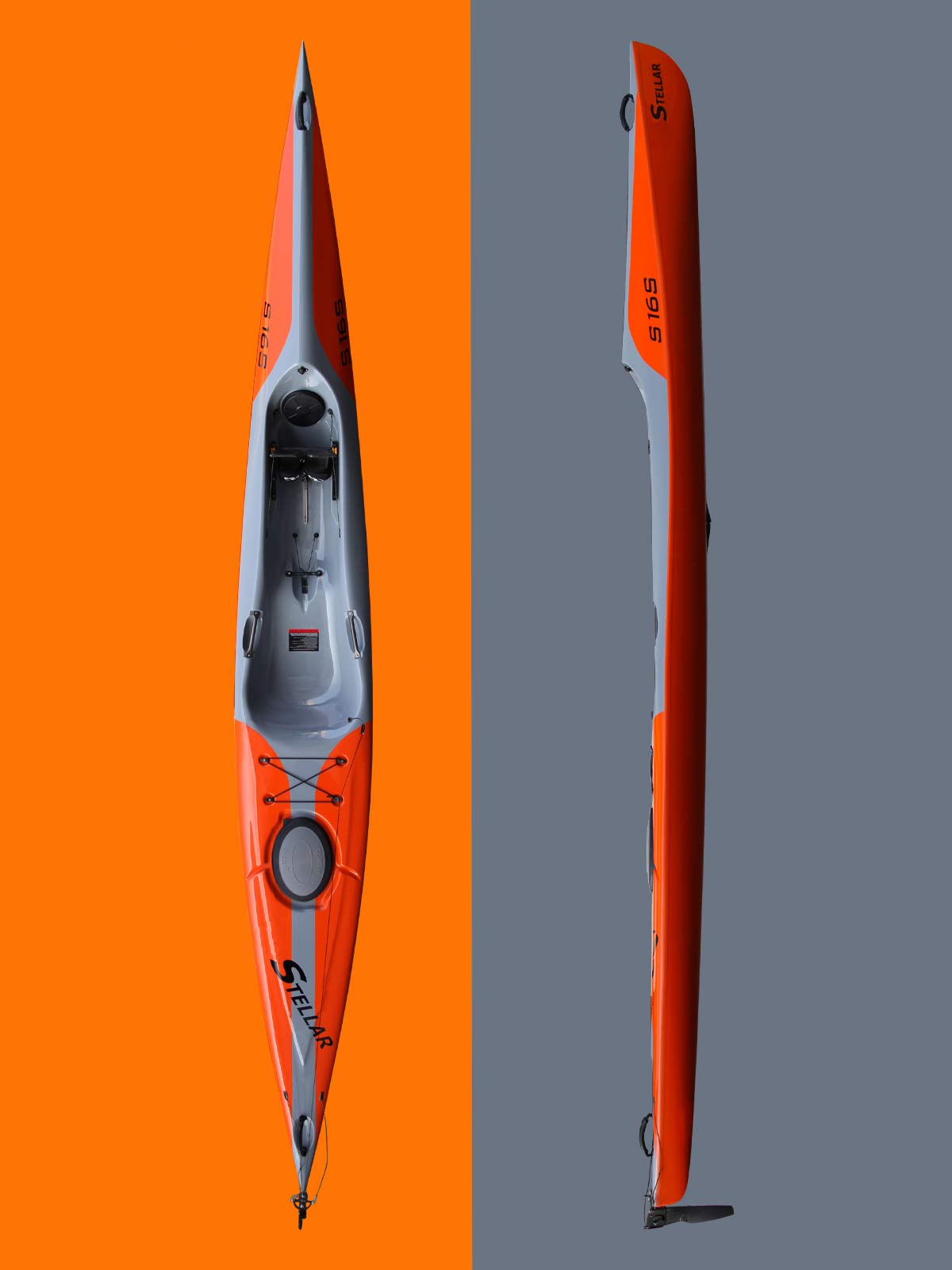 Stellar S16S
Sit-on-Top / Surfski
The fast Fitness SOT kayak
Stellar S16S G2 Sit-on-Top
The Stellar S16S is an advanced sit-on-top that's fast enough for fitness training. It offers a very high level of stability.
Two loading hatches offer sufficient capacity for day trips or luggage trips. At sea, the S16S surfs the waves effortlessly. With a length of 4.88 m, the surf ski is still very compact and easy to transport thanks to its low weight.
Suitable for
Paddler weight: 60-90 kg
Load: 145 kg
Light weight: yes
Sit-on-Top, tours, beginners
construction
Advantage layup: 16 kg
Multisport layup: 16 kg
Construction: laminated
Layup variants: Advantage, multisport
options
Advantage Layup: from €2,990.00
Multisport Layup: from €3,290.00
Dimensions
Length: 488 cm
Width: 58 cm
Rear hatch volume: 86 l
Front day hatch volume: 30 l
Subheading
These points make the S16S special
Click the +crosses to get more information.


Rear windows
The S16S comes standard with a rudder. Alternatively, an understern rudder can also be mounted.
Seat recess
Stellar Surfskis are known for their ergonomic shape of the seat. This allows for ideal rotation.
luggage hatch
All S16S have a luggage hatch in the rear and an additional day storage compartment on the front side of the seat hatch.
4 carrying handles
The S16S has sturdy carrying handles at the front, rear and on both sides of the seat pan.


Understern rudder
Standard is the stern rudder on the S16S. But an understern rudder can also be mounted.
day hatch
There is a day hatch on the front side of the seat recess.
Long waterline
The steep bow and stern shape makes it possible to use almost the entire length of the boat as a waterline. This and the optimized hull shape make all Stellar faster than average in relation to the overall length.