Black Edition Carbon kayak paddle
The outstanding carbon paddles of the Lite Venture BLACK Edition are made for kayak touring and adventure. Choose your favourite made of 100% 3K carbon now!
Lite Venture® kayak carbon paddle
The Lite Venture® BlackEdition paddles are full carbon paddles, designed for touring with a light flex and efficient blade shapes. The Lite Venture® Black Edition paddles inspire on tour, expedition and training! This is #purepaddling.
Which paddle is right for me?
The touring paddles are suitable for touring and sea kayak tours. Those who experience wrist pain during prolonged paddling can find relief thanks to the posture correction in the curved shaft of the Ergopaddle. The wing paddles are ideal for training and fitness in surf skis or marathon racers. And the shape of the Greenland paddle means it is hardly susceptible to wind and provides relief.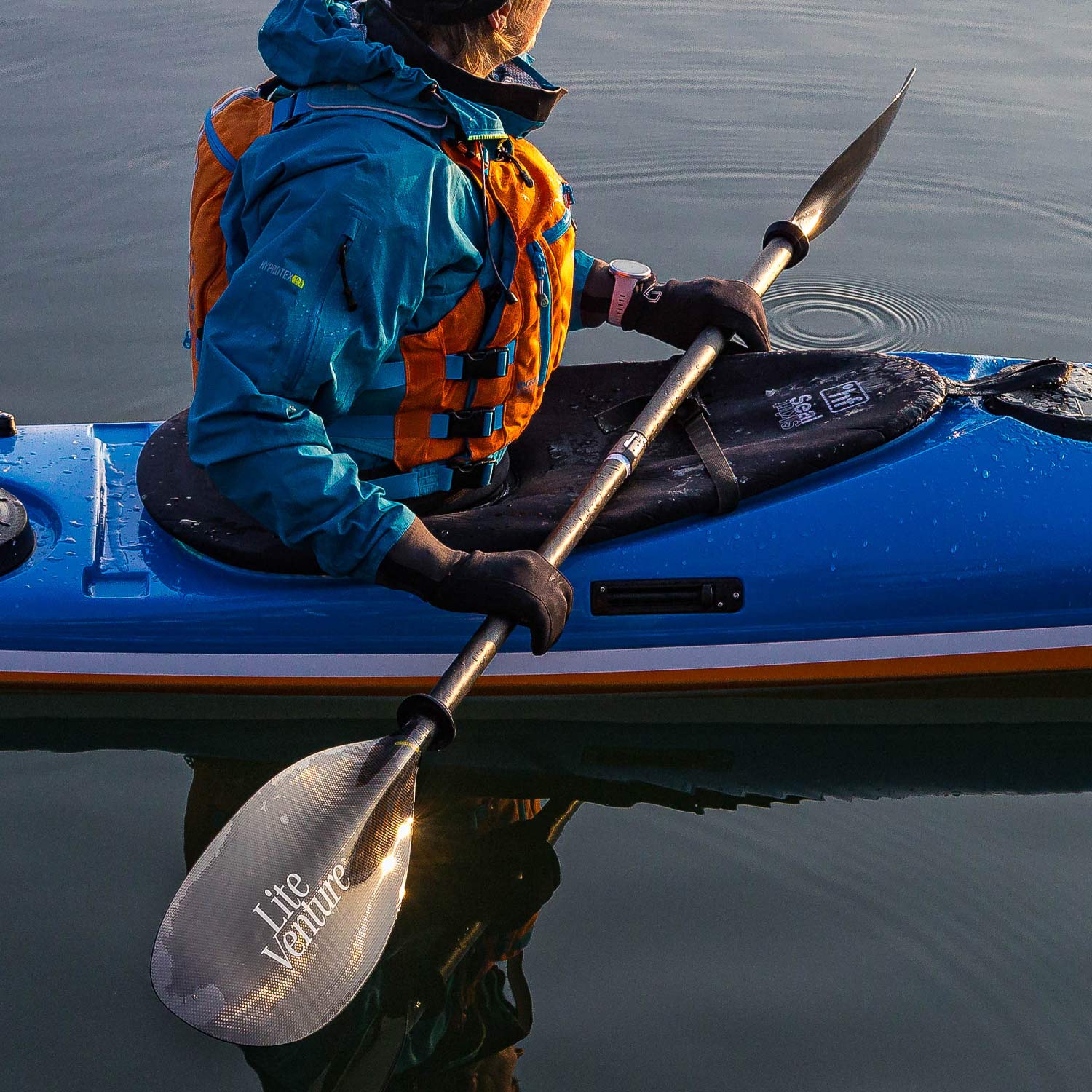 Kayak touring paddle
The ultimate carbon paddle for kayak or sea kayak tours. The blade shape supports endurance paddling without high peak loads. It is easy on the musculoskeletal system and helps you to manage your strength. But don't underestimate it: With this blade, you can work precisely, without fluttering and build up pressure at a high frequency.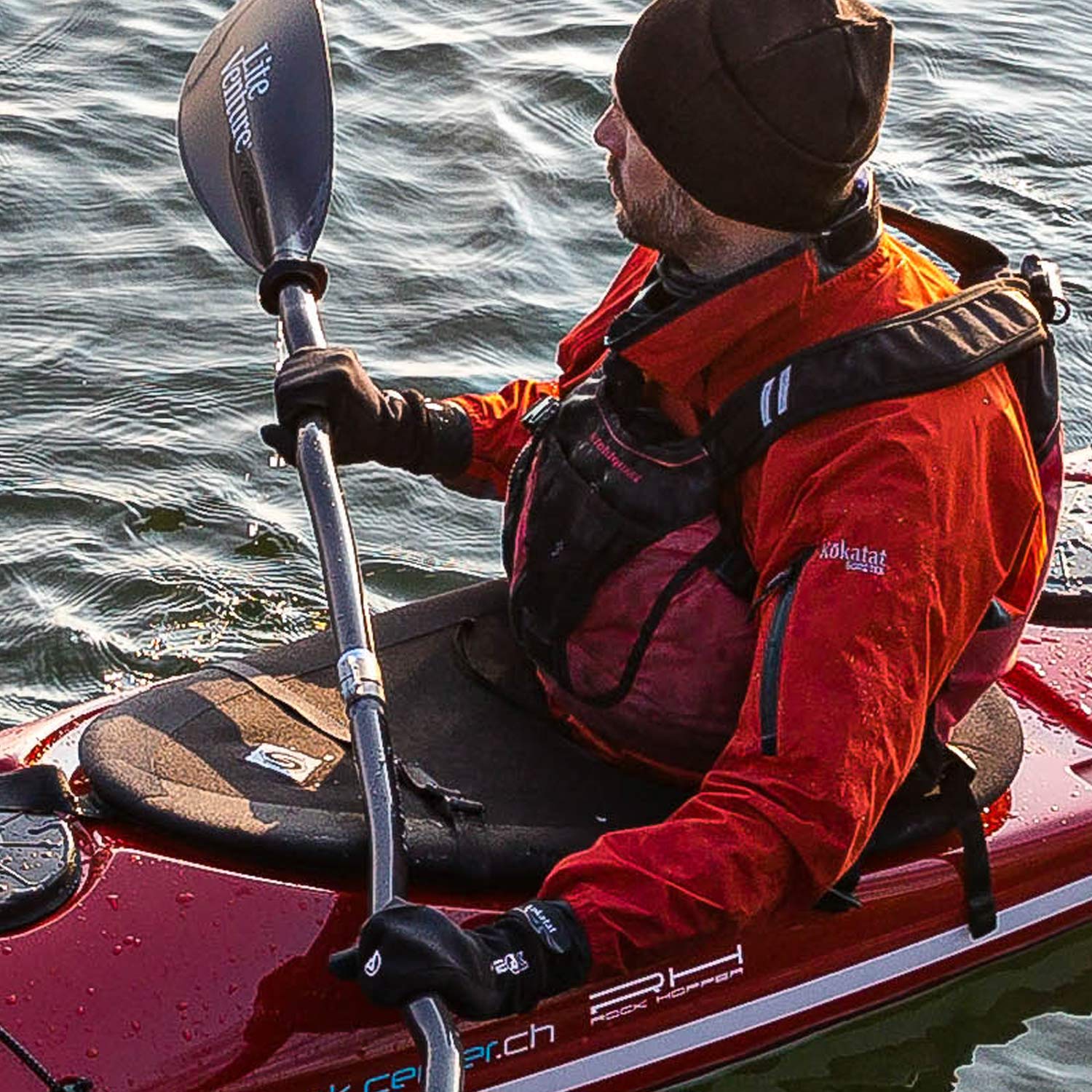 Kayak Ergo touring paddle
The blade corresponds to the blade shape of the kayak paddle with a straight shaft, but the shaft is ergonomically shaped and has a slightly thicker diameter. Choose the Ergo paddle if you have already experienced wrist problems on long tours. The angle at the gripping position can provide relief.
Surfski / Kajak Wingpaddel
If you have a fast kayak or surf ski, your boat will glide light-footedly - ideal for combining with a paddle, with which you can achieve a strong pull and therefore high speeds. For the wing paddle, you should have a clean paddling technique and a suitable kayak that is not too wide.
Buy now
Sea kayak Greenland paddle
Paddlers who paddle long distances in the wind will appreciate the characteristics of this paddle: The slim, less wind-prone shape enables effortless paddling even in uncomfortable conditions. The lightweight paddle is also easy on the musculoskeletal system.
Which paddle length is right for me?
The right length depends on your body size and paddling style. For an active, steep paddling style, where the paddle is angled and close to the kayak, the paddle can be shorter. Those who paddle "flat" will find more length more comfortable. The Lite Venture kayak paddles are all adjustable by 10 cm. We recommend the 208 - 218 cm length for smaller people up to 170 cm. The length of 214 - 224 cm for medium sized people from 165 to 180 cm and the 220 - 230 cm for taller paddlers from 185 cm in length. If you are unsure which size is right for you, we will be happy to advise you by phone or in person at our test locations in Hamburg, Krakow am See, Halle/Saale and Eschbach.
Is a carbon paddle sensitive?
The Lite Venture carbon paddles are all designed to be light, but not at the limit of what is possible in terms of material thickness. They are designed to be reliable companions on long tours. We offer robust shafts and durable blades.
Can I use it for the paddle bridge?
Yes, they are suitable for this. Depending on the surface and contact with the blade, scratches cannot be ruled out, of course.
Do the paddles float?
Yes, their buoyancy ensures that they stay on the surface. In rough conditions, we recommend using a paddle leash to avoid losing the paddle in the event of a capsize.