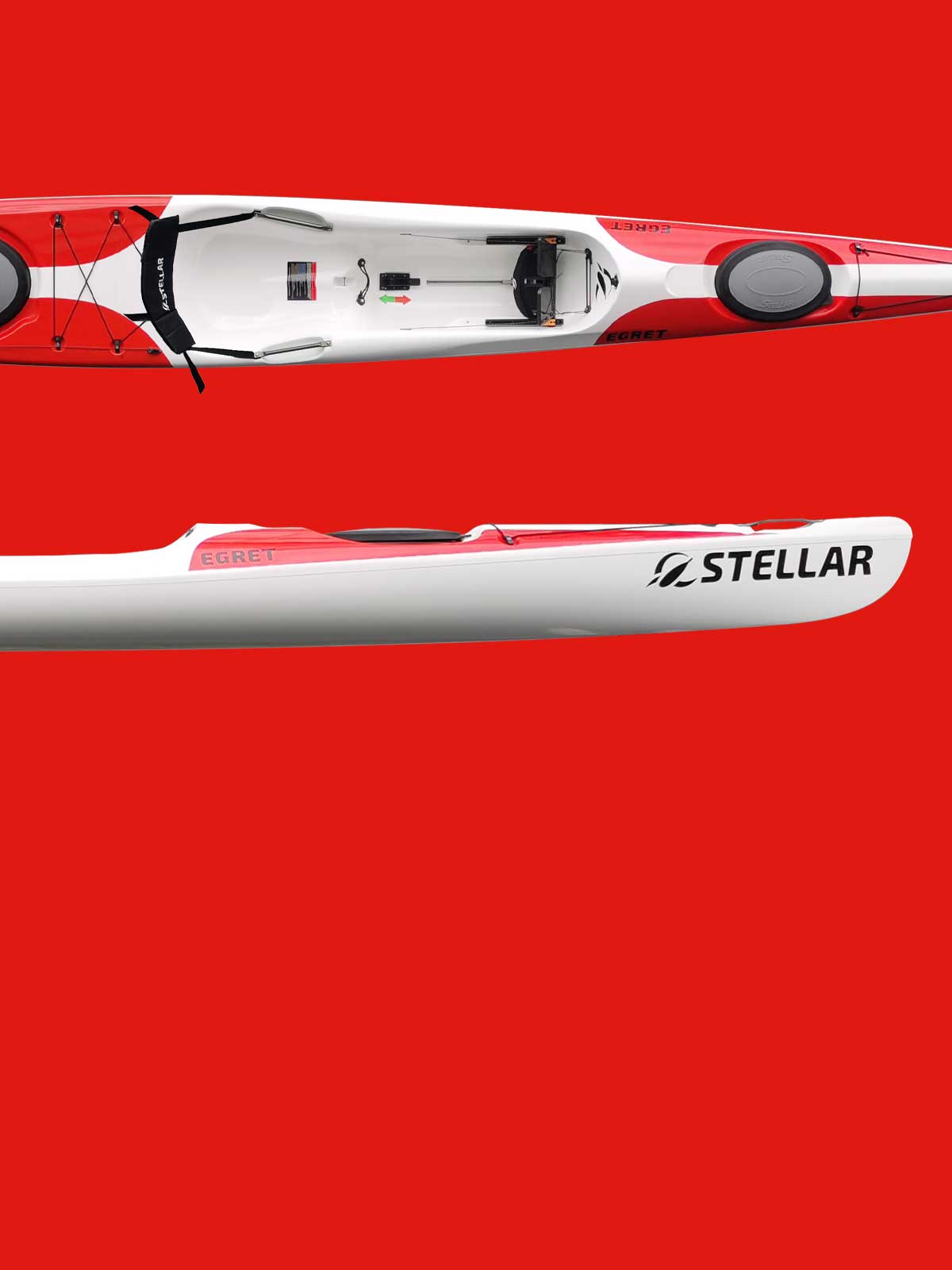 The sit-on-top for long tours
The SOT for Tour & Training
The sit-on-top for expeditions and multi-day adventures
Stellar Egret Sit-on-Top
The Egret is an efficient touring sit-on-top with a very stable underbody. The hull is the same as that of the S18 Expedition G2 touring kayak.
This stable platform offers easily accessible storage space for adventures. If you're looking to upgrade from a sit-on-top kayak to a comfortable but fast sit-on-top style kayak, the Stellar Egret offers familiar features like deck rigging, compass mounts and oval storage hatches. The comfort of the bucket seat and easy entry and exit are big advantages. With the precise steering of the surf ski stem and kick-up rudder, you'll always get where you want to go.
Suitable for
Paddler weight: 60-105 kg
Paddling load: 130 kg
Lightweight: yes
Tours, fitness, training
Dimensions
Length: 548 cm
Width: 55.7 cm
Rear hatch volume: 89.6 l
Front day hatch volume: 39 l
Construction
Advantage layup: 16.3 kg
Multisport layup: 16.0 kg
Excel layup: 13.0 kg
Construction: laminated
Layup variants: Advantage, Multisport, Excel
Options
Advantage Layup: on request
Multisport Layup: 3.490,00 €
Excel Layup: on request
Control fin: 70 €
Tail rudder: 120 €
Features of this surf ski at a glance:
The Egret Sit-on-Top has these advantages
The Stellar Egret has a boat concept that combines the advantages of a surf ski with those of a touring kayak: the open seating allows different seating positions and quick entry and exit. The luggage hatches make it possible to carry luggage for tours lasting several weeks.
Wet Sanded
This model is an example of the colour combination of matt grey ("wet sanded") and red. The underside is matt, but has a smooth feel.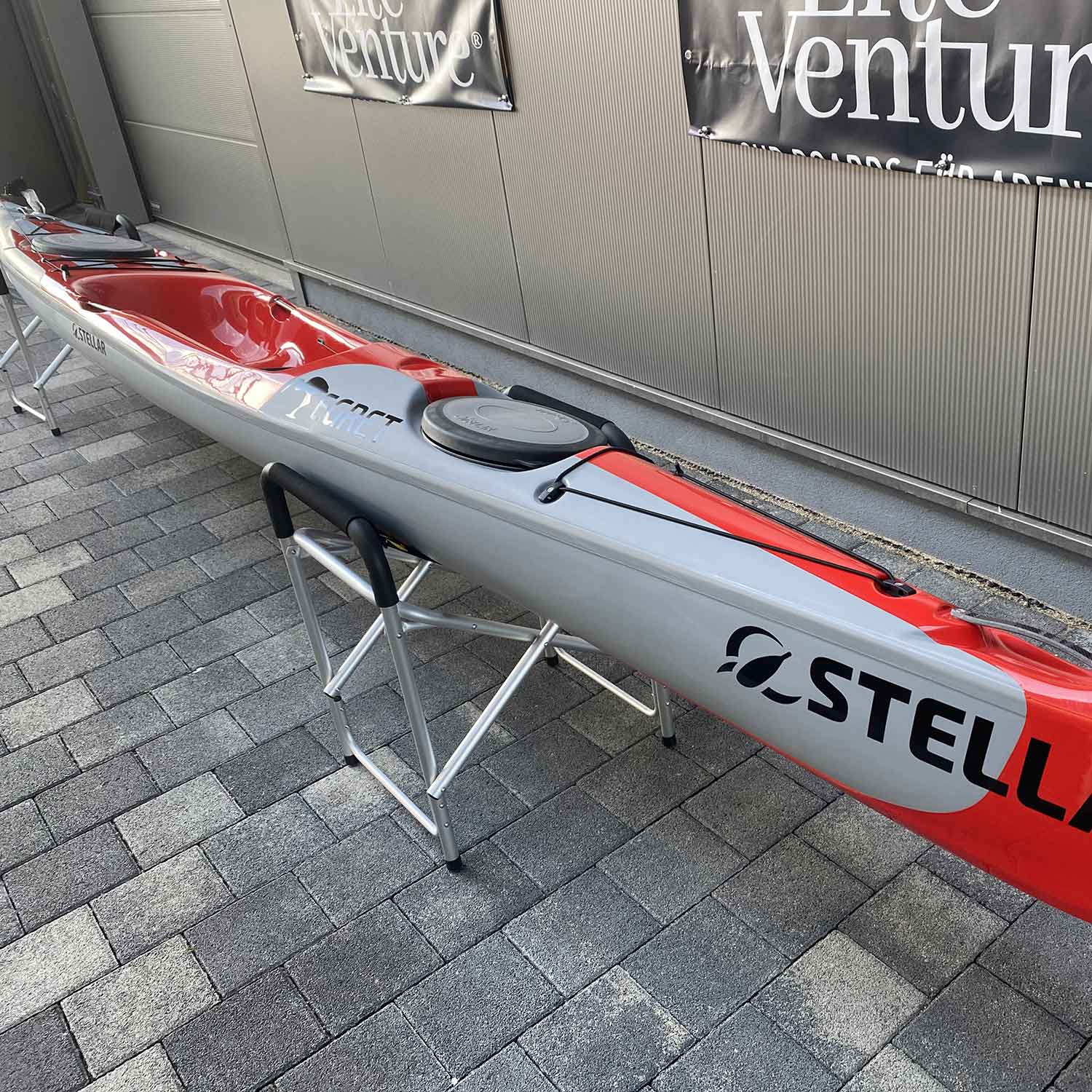 Undership from the S18 Exp G2
The lower hull is exactly that of the fast S18 Expedition touring kayak, delivering a brisk to paddle but very stable SOT kayak.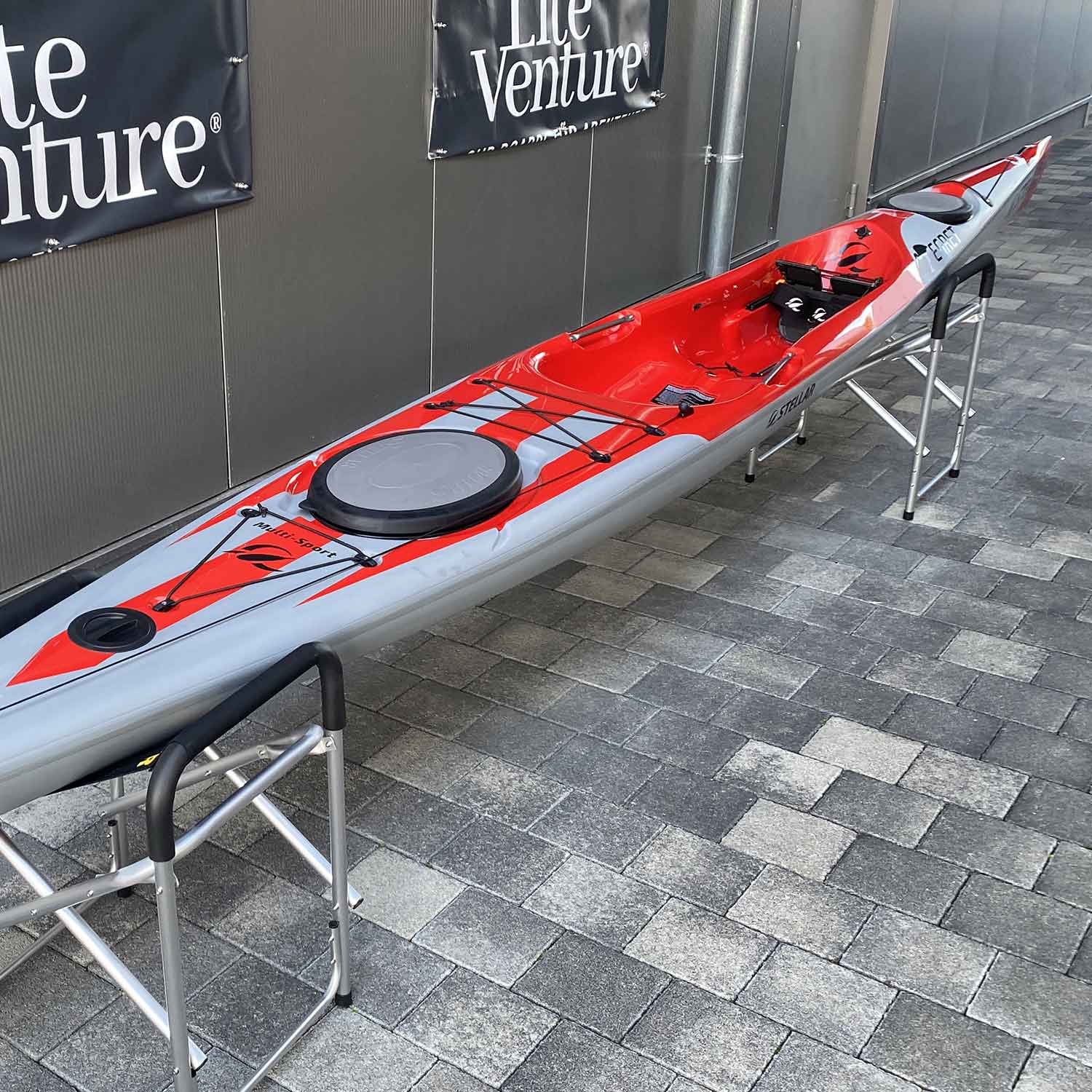 Deck fencing
The lines provide additional capacity for carrying equipment.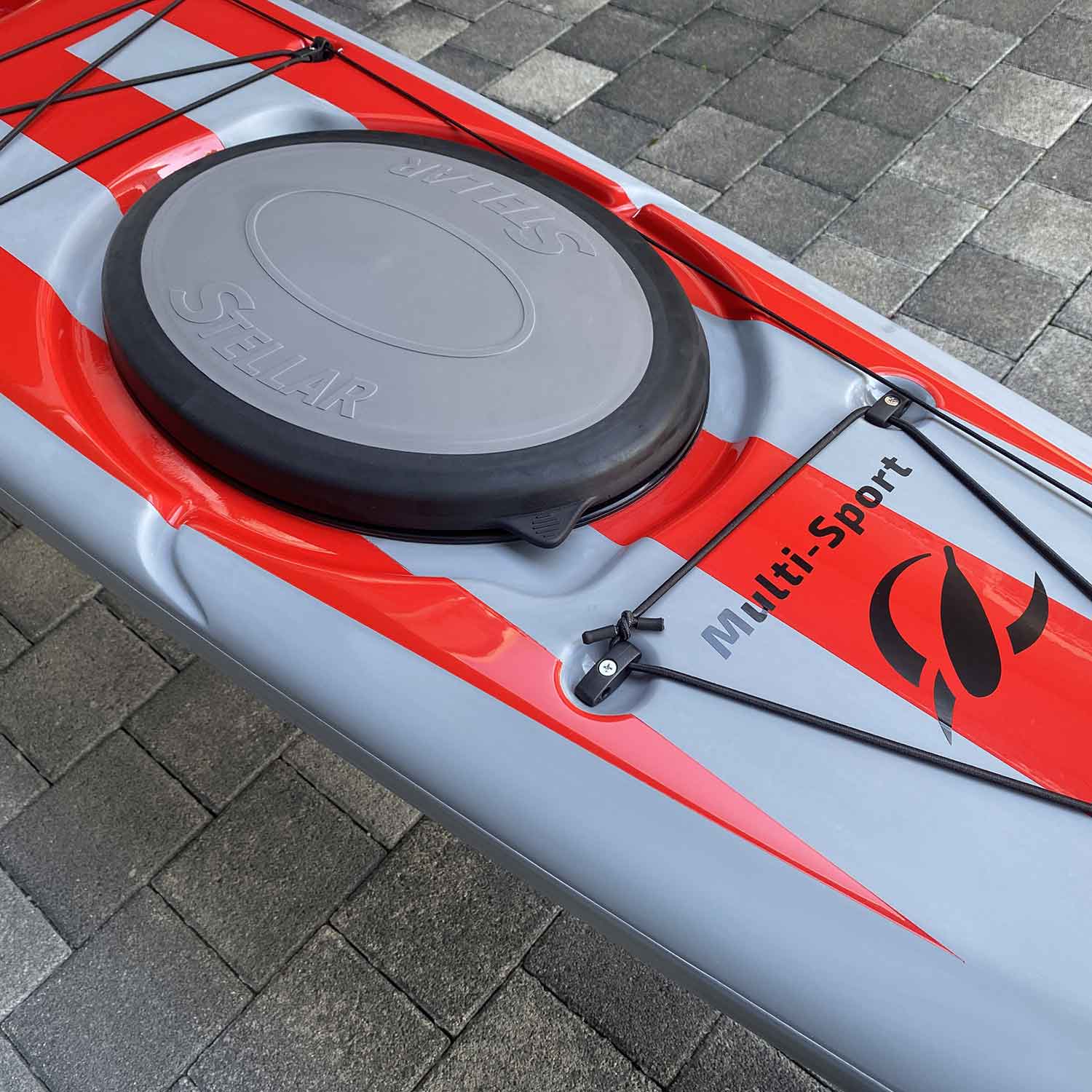 Rear luggage hatch
The hatches make the large-volume lower hull accessible for cargo.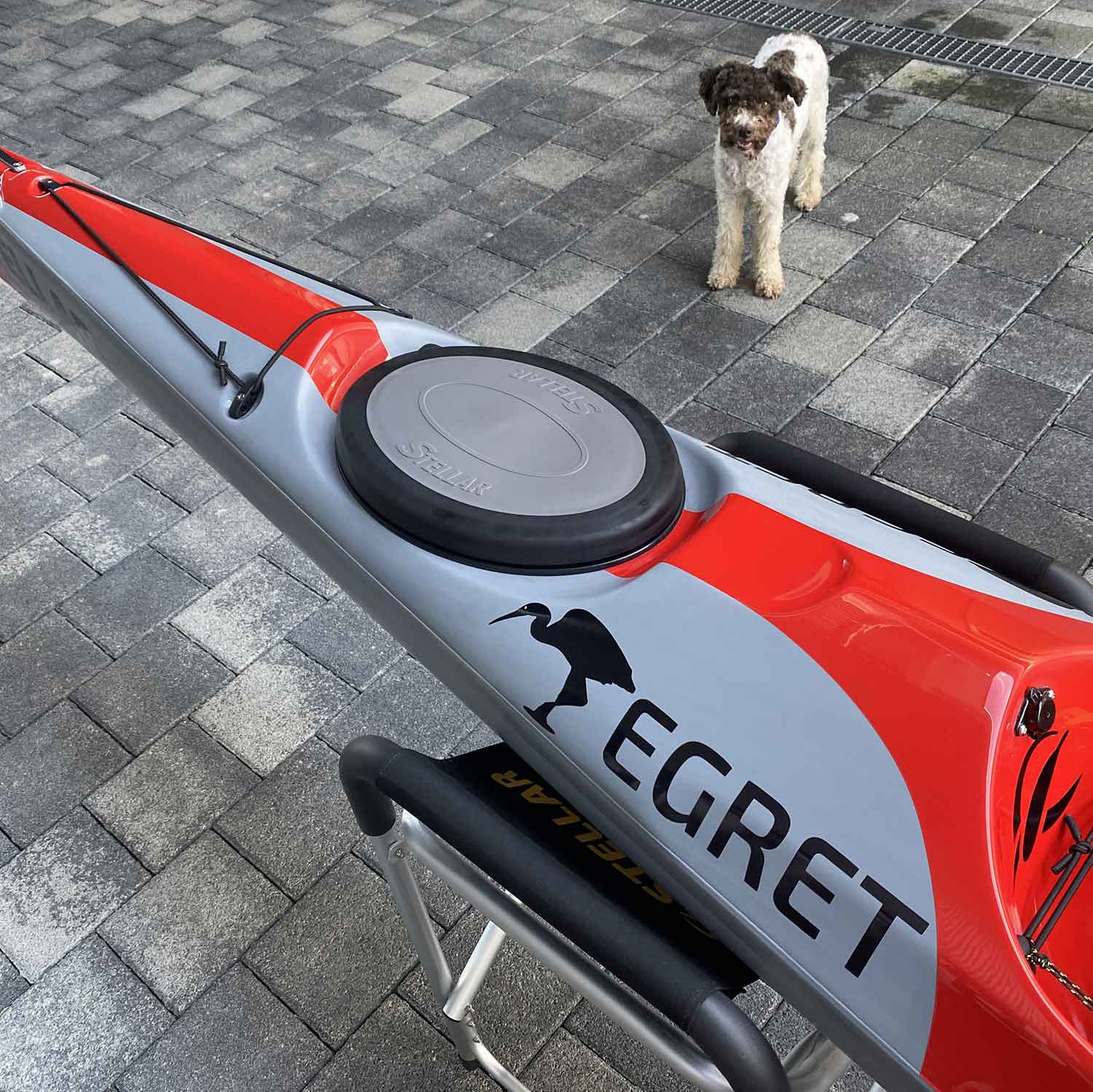 Front luggage hatch
The hatches make the large-volume lower hull accessible for cargo.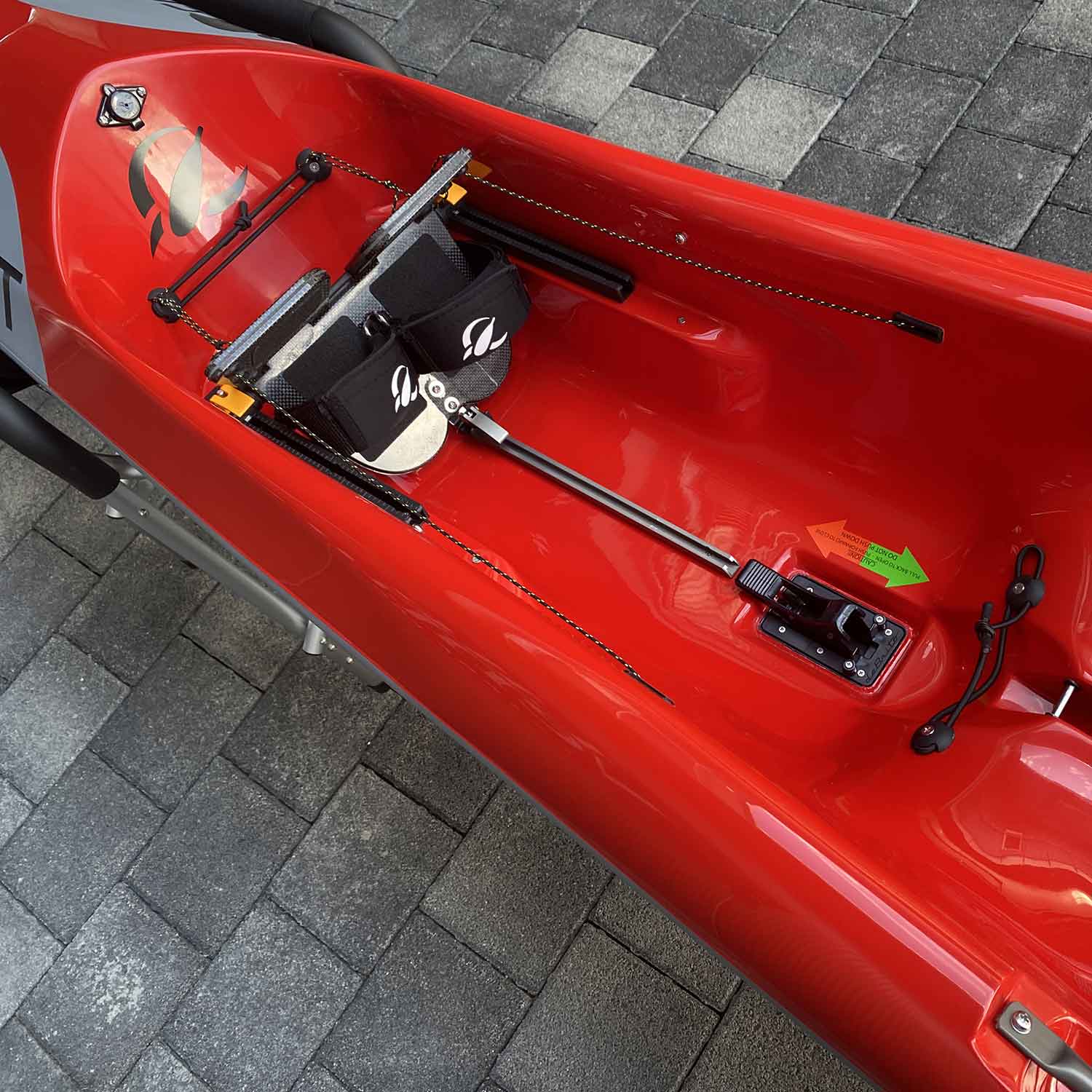 Stem board from surf ski
The seat shell and footrests from the surf ski allow flexible adjustment and a posture that enables optimal power transmission.
These points make the Egret Sit-on-Top special
Click the +crosses to get more information.


Steering line
Highly durable Dyneema steering line. No rusting and low stretch for instant response. Easy to repair.
Seats
Ergonomic 4th generation seat with backrest and low seat bump. For added comfort, you can choose to install high or low folding seats.
Hatches
Two large-volume, watertight storage compartments with bulkhead and easy access for unloading.
Footrest
The 3-point footrest allows for powerful leg use and smooth steering with toe pedals.
Profiled forecastle
Increased volume to drain water and keep the cockpit drier. At the same time, it remains easy to paddle
.
Control
Standard Smarttrak "Ski" rudder, or an optional underwater rudder for more power in rough seas.
Cockpit
Longer handles to improve carrying the boat when tilted. Attachments for optional tie-down straps to make the boat rollable.
Paddling
This brand new hull emphasises the ease of paddling with a blend of efficiency and stability. It is a true pleasure for paddlers.