An unusual visit from Romania at the Stellar Headquarters Europe
On July 6th this year, we received an unusual visitor at the Lite Venture headquarters in southwest Germany: Marin Chirazi and Alin Vorniceanu, two Romanian athletes, stopped by to pick up their pre-ordered Stellar S16 touring kayaks. They came straight from Romania to start their ambitious project near Ulm: Along the Danube to the Black Sea in 26 days – with a route length of 2,600 km, an average of 100 kilometers a day. You cross 8 countries (Germany, Austria, Slovakia, Hungary, Croatia, Serbia, Bulgaria, Romania) and pass 4 capitals (Vienna, Bratislava, Budapest, Belgrade):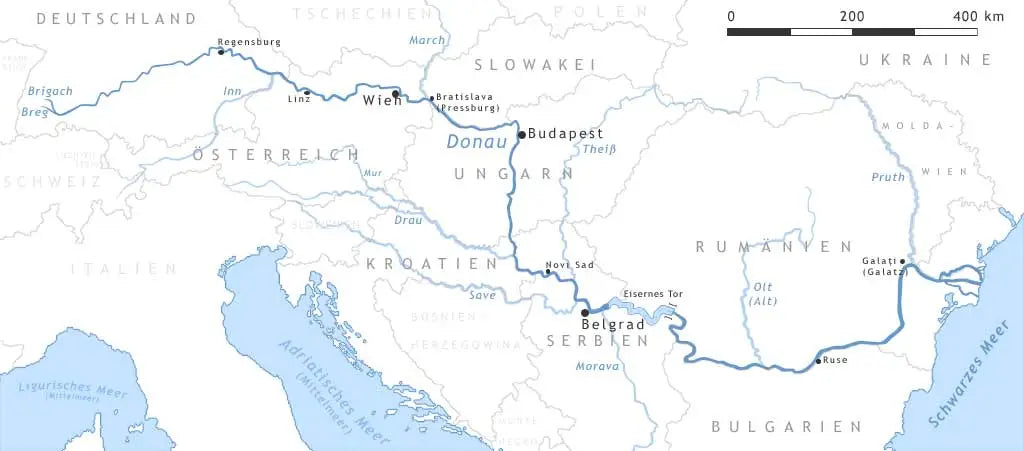 Along the entire Danube in 26 days
The two completed this long distance in 2012 and needed 30 days with their PE kayaks. With a bit of training and also with faster, lighter kayaks, they now want to push their own limit a whopping 4 days. Marin and Alin are enthusiastic athletes and work professionally in the field of education. You want to be an example and role model for young people and for other athletes. It's about showing them that you can find and expand your own limits - that's the motivation for their project.
They don't yet know that they can do it with the new S16 Stellar kayaks and their experience not be able to do it in 26 days, but even faster in 24 days! They documented their trip and we want to share their impressions:
Collection of the kayaks and transport to the start in Ulm
"One day before the big departure: We flew from Bucharest to Stuttgart with our luggage and equipment and from there we took the train to Eschbach in south-west Germany to pick up the kayaks. There at Lite Venture we pick up the kayaks that we have chosen for the tour. We are very excited about the boats and hope we made the right choice.
We chose two S16 touring kayaks from Stellar for the project. The reason for this was that we knew from our first tour in 2012 that we need lighter and also narrower kayaks to be faster. Nevertheless, they should offer stability - there are many large ships on the Danube, freighters and cruise ships, whose wake creates strong waves. And sufficient loading volume for equipment and food is also important for the long tour.
The first impression of the boats was good! We received a very good explanation and instruction when we were handed over and were excited to finally get started!
A friend then picked us up at the shop and took us with the kayaks and luggage to the starting point in Ulm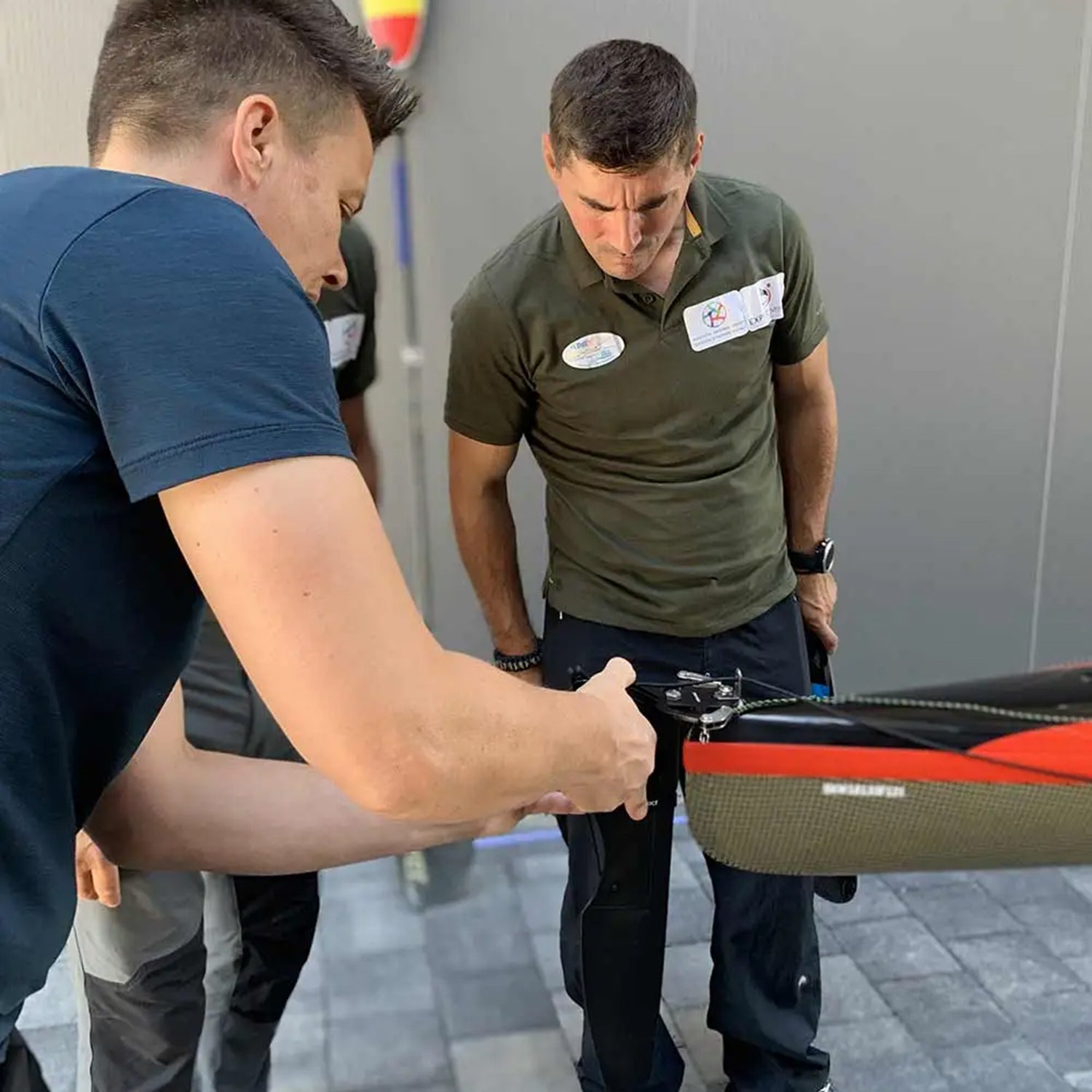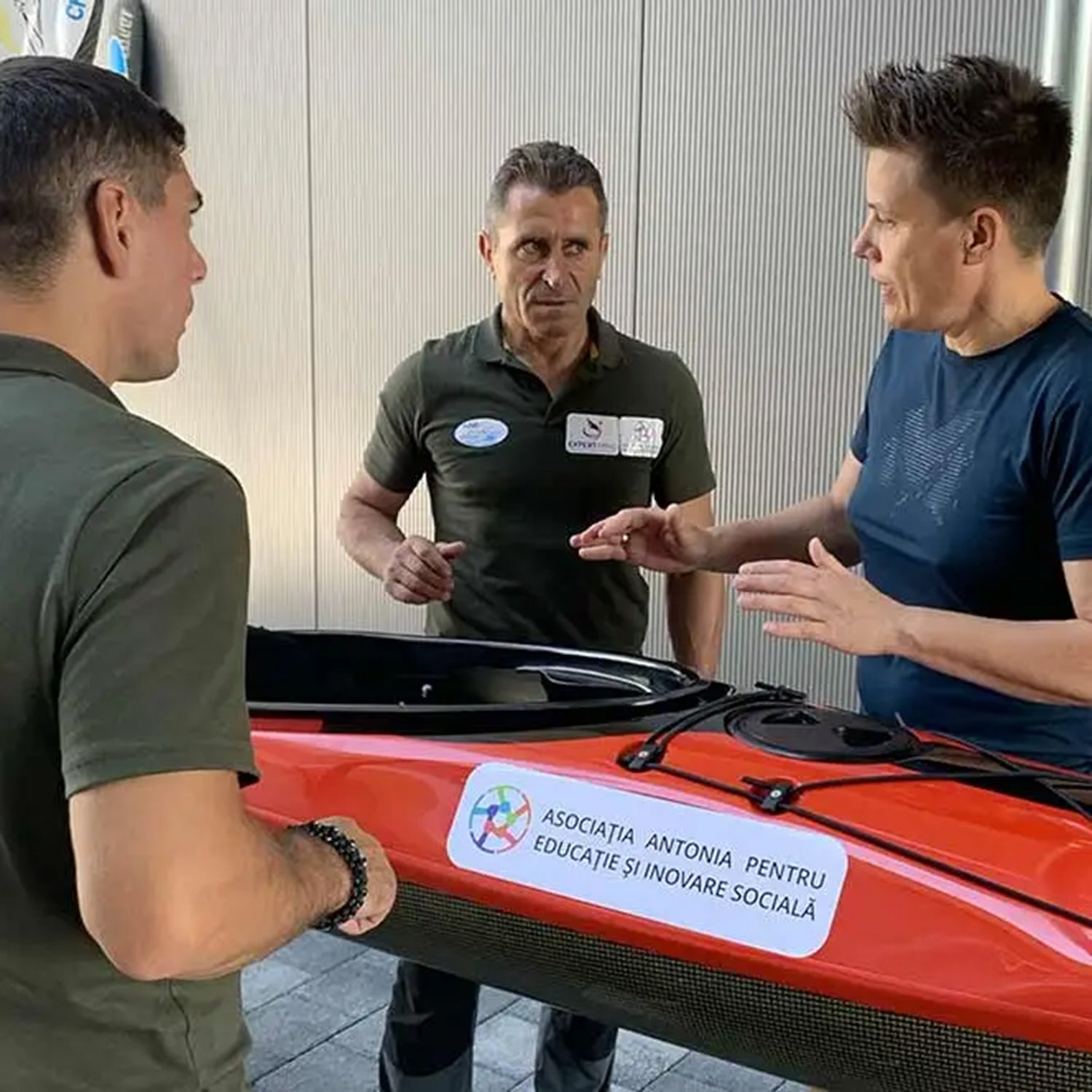 Day 1: Finally it starts!
1. Day's stage from Ulm to Donauwörth: The boats are loaded, we're in top form and we're excited to finally start paddling! The kayaks feel very good, after a short period of getting used to them we feel quick and well equipped. Status of Alin on the evening of the day home: "Hello from Germany! I've set up camp, everything's fine. We passed 11 barrages and therefore needed a lot of time, but we are on schedule!"
Note: In the area of ​​this stage, the Danube is an economically and industrially shaped river with many power plants. At a distance of 5 Kilometers there is a power plant with a barrage, which makes this section a bit tough.
2nd daily stage from Donauwörth to Kelheim:
We did 95 km today and passed 5 barrages. Unfortunately it rained heavily, but the route becomes more scenic. The picture of the Danube Gorge near Kelheim says it all! 💚 This section is very enjoyable and makes you want more! Unfortunately, it rained a lot and sometimes heavily, but that can't spoil our mood and our desire for adventure.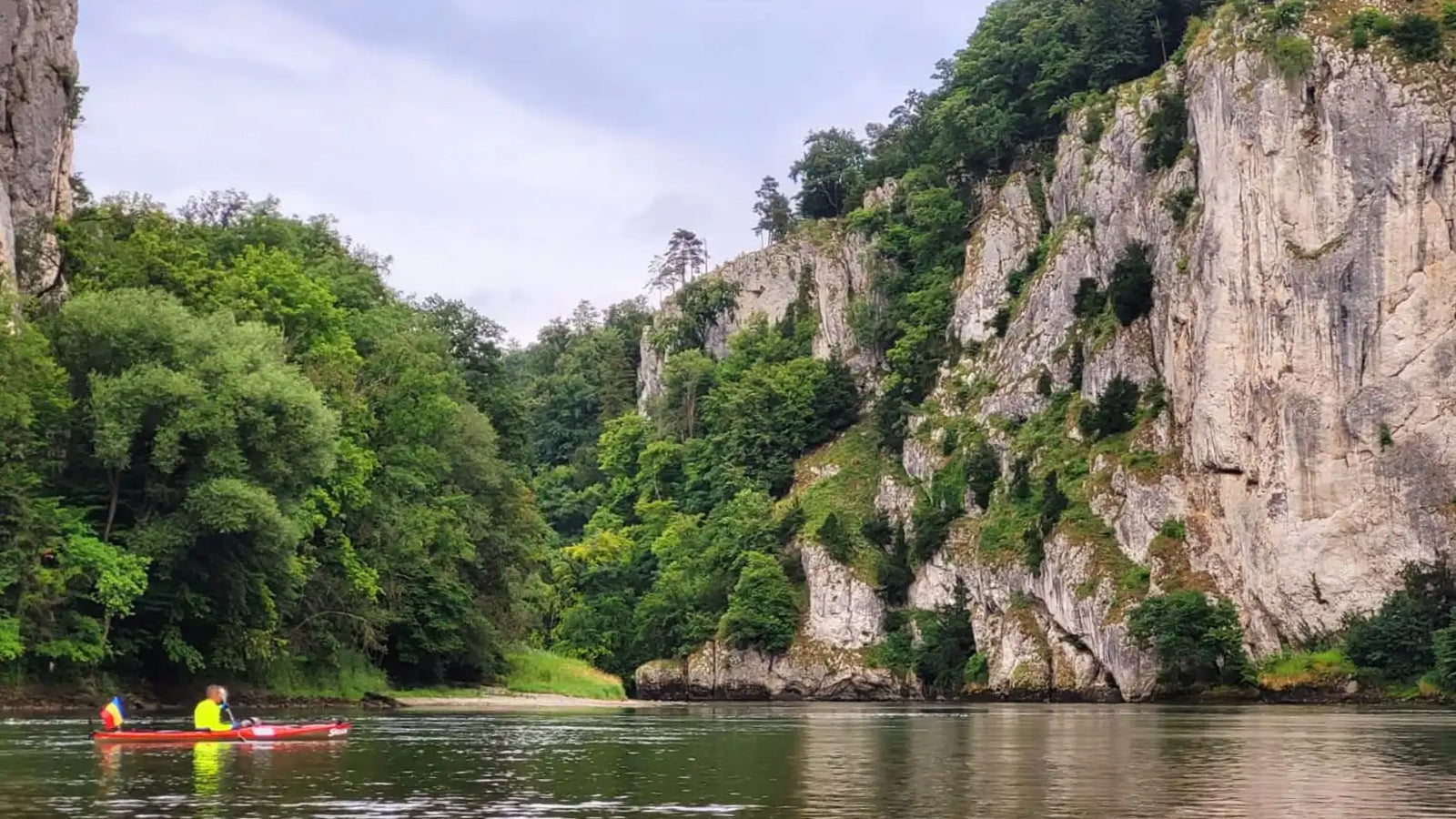 3rd stage from Kelheim to Parkstetten:
"Today we rode 103km, we're fine," Alin told us. "We're a bit behind on updates for you guys, but we're catching up 😉  Taking a well-deserved break to gear up dry because it rained heavily yesterday."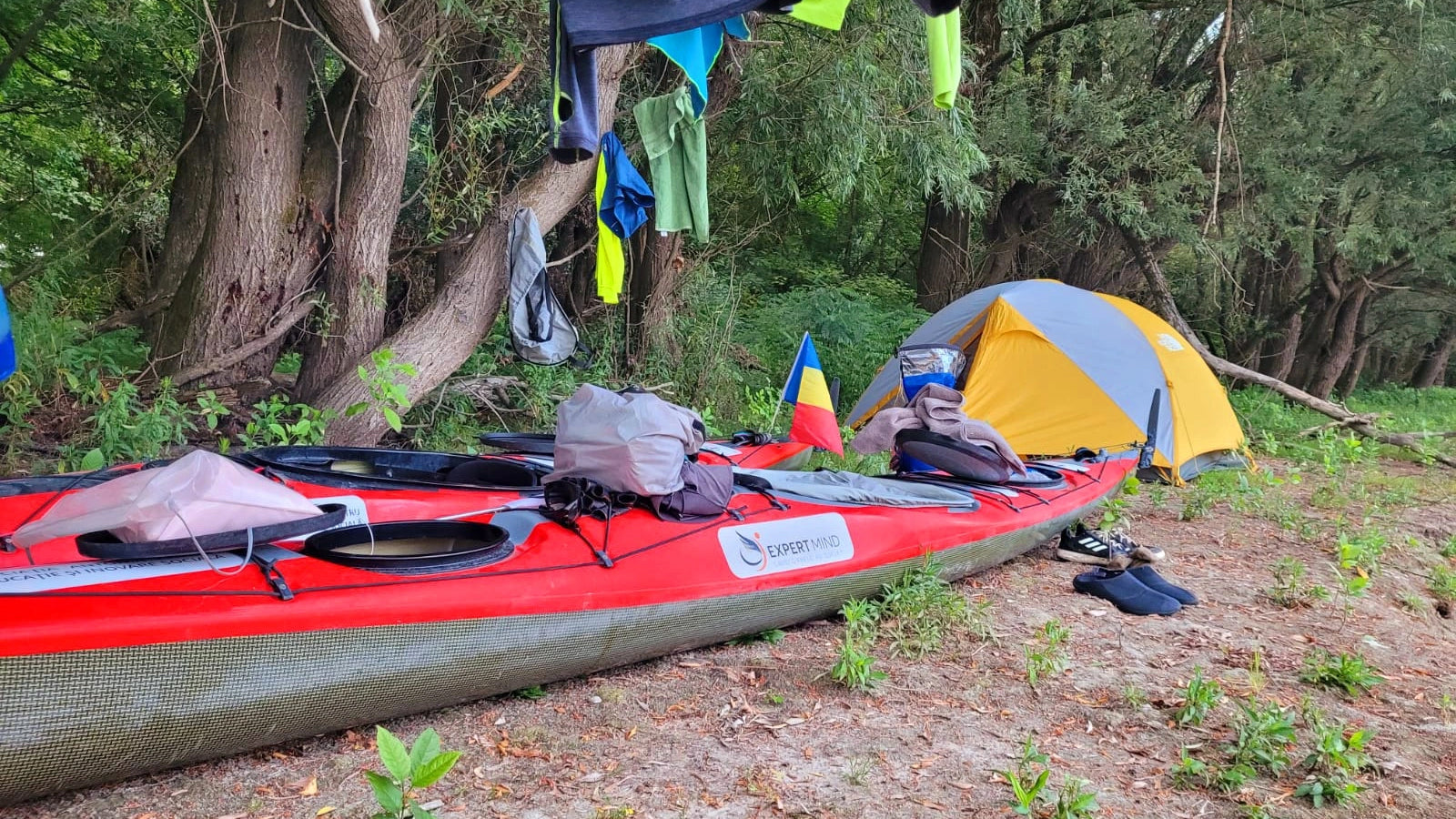 Note: From Kelheim, the Danube is a federal waterway and is used by cargo and motor ships. You should be accordingly careful on your way, especially the cargo ships coming from behind can surprise you and cause dangerous situations with their strong wake.
4th stage from Parkstetten 🇩🇪 to Esternberg 🇦🇹:
The fourth stage takes you out of Germany and into Austria. After 106 km we spend the night in Esternberg after passing the city of Passau. There are a lot of cruise ships here, you have to be careful.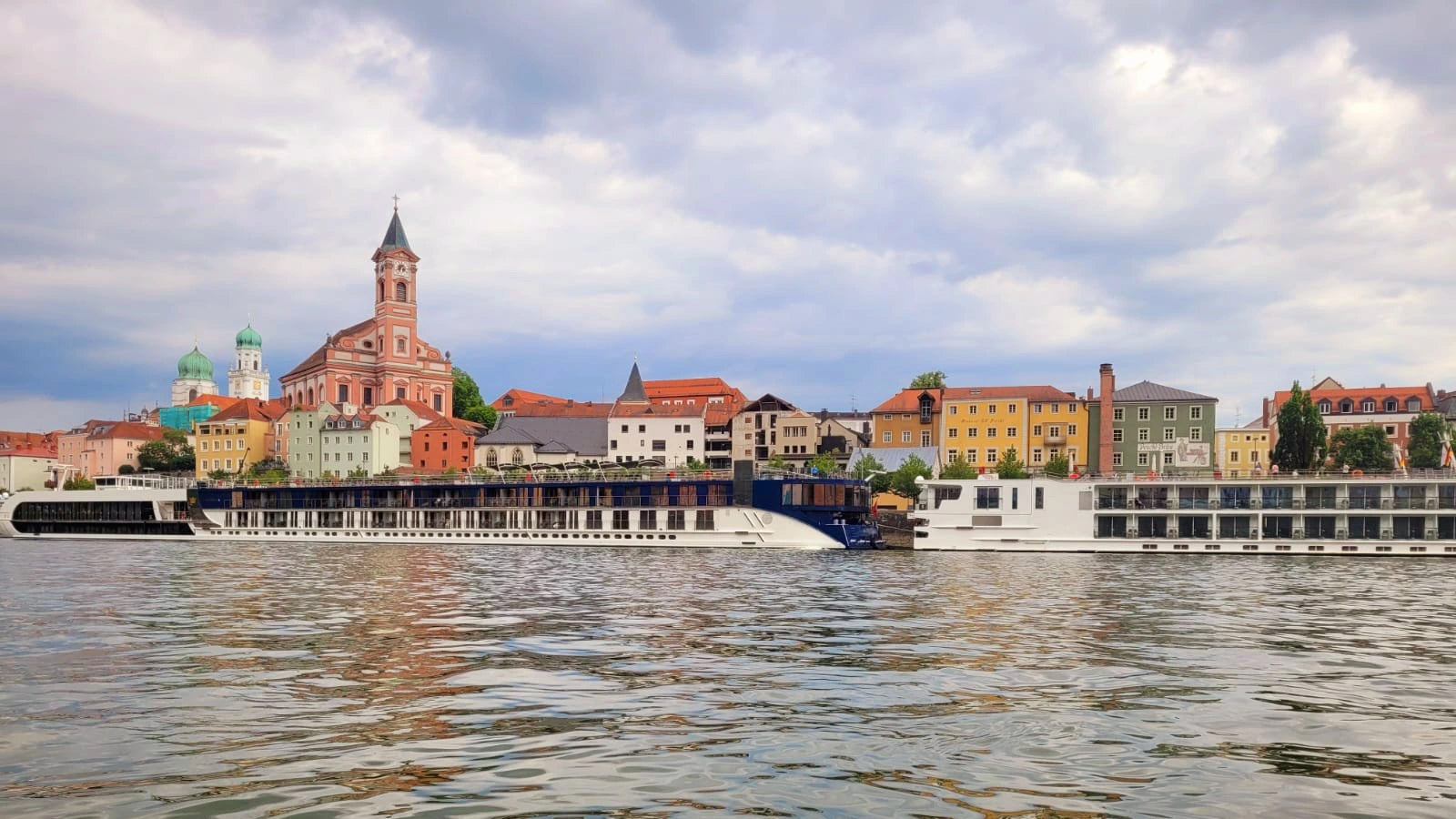 5. Day stage Esternberg to Linz:
Did 90 km, 5 barrages, it was tough, and it rained an incredible amount again. But we still came through well and remain positive.
6th stage from Linz to Dürnstein:
Alin says about yesterday: "We covered 111 km, we passed the city of Melk and we are now driving towards Vienna."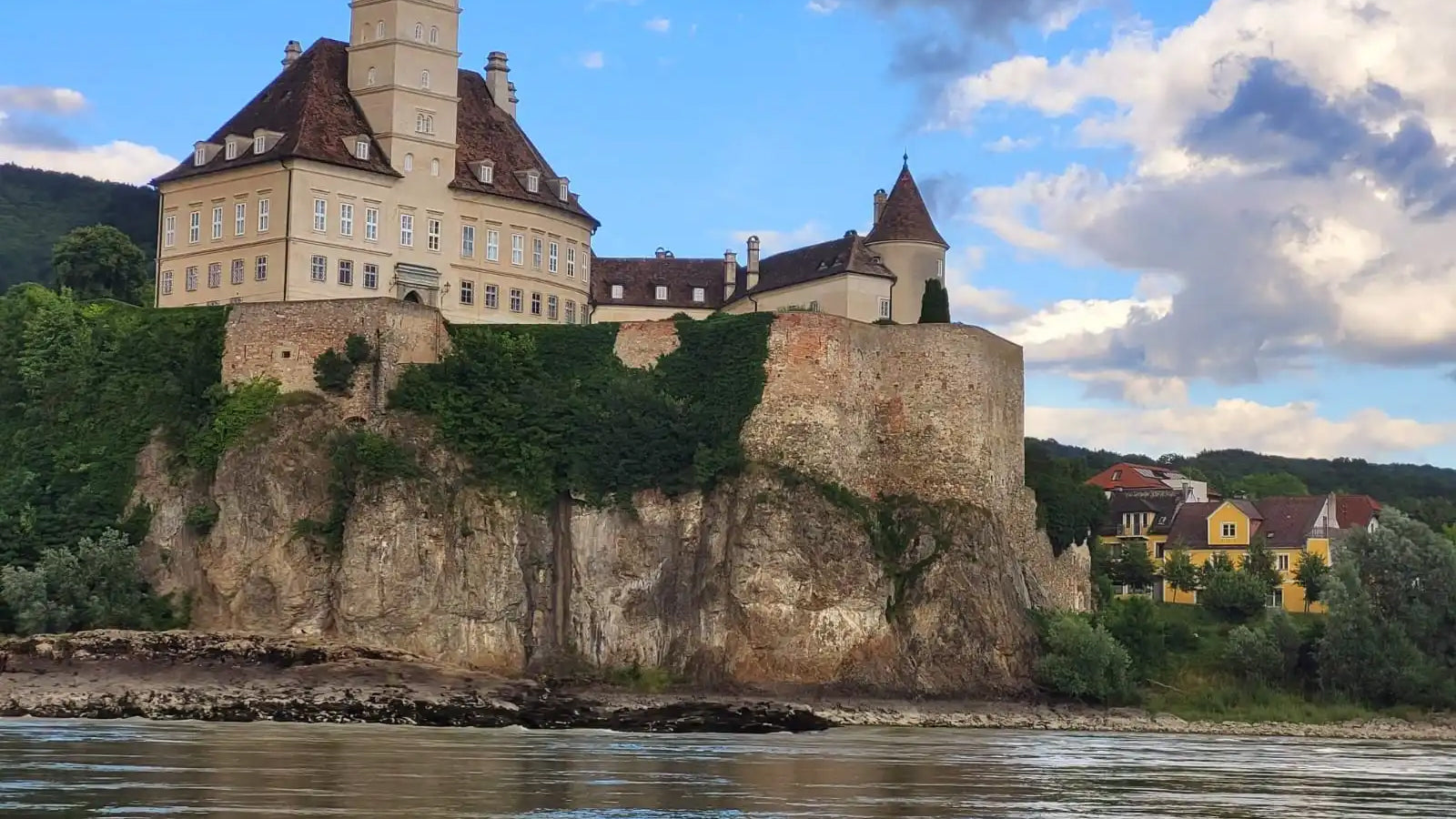 7th stage from Dürnstein to Mannsdorf:
Status at the end of yesterday: "101 km covered, 3 barrages. We've passed Vienna!"
8. Tagesetappe von Mannsdorf 🇦🇹 to Zlatná na Ostrov 🇸🇰
Today we crossed the border into Slovakia, covering a distance of 130 km. There was only one barrage to cross on the way and conditions were good.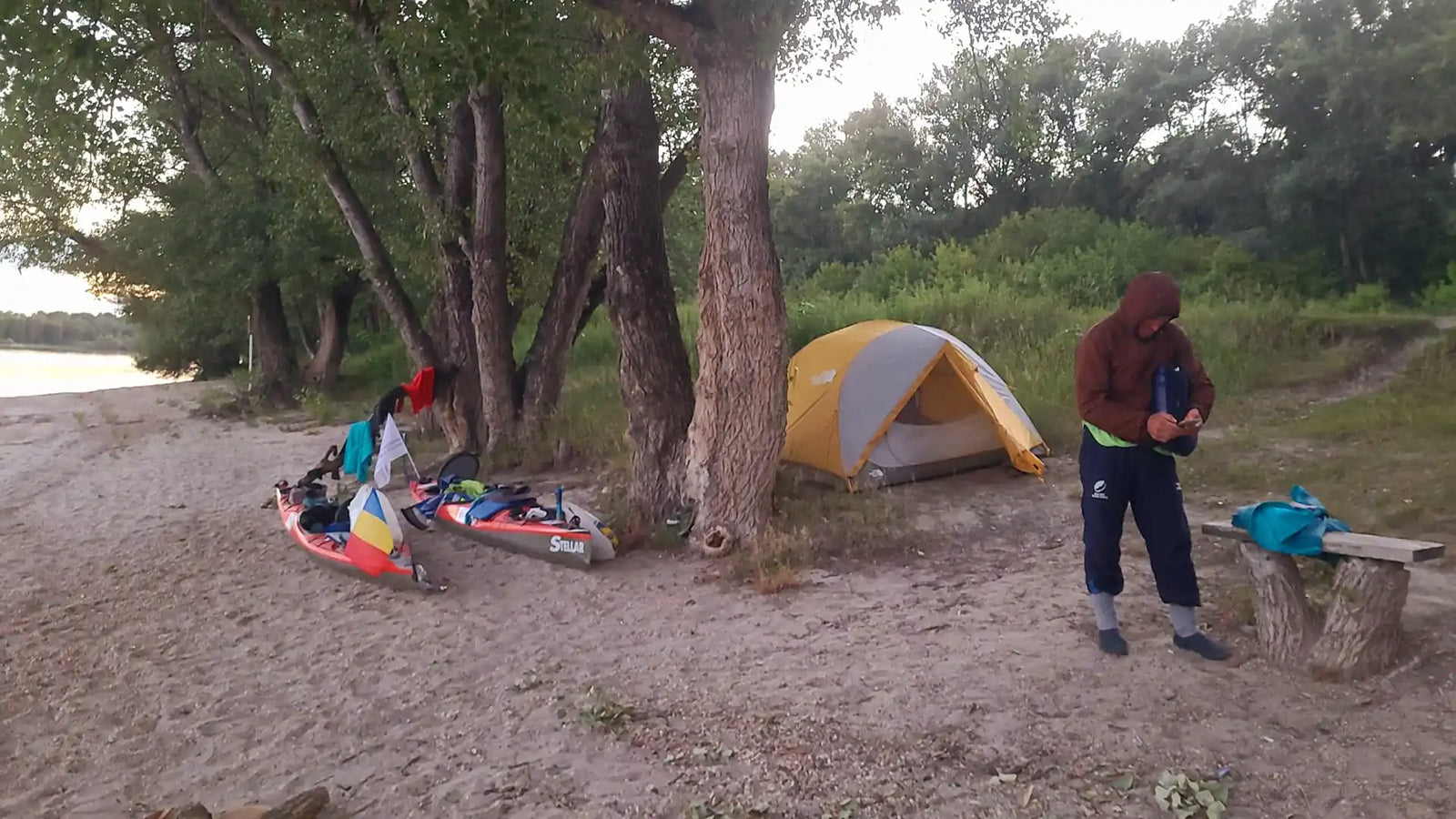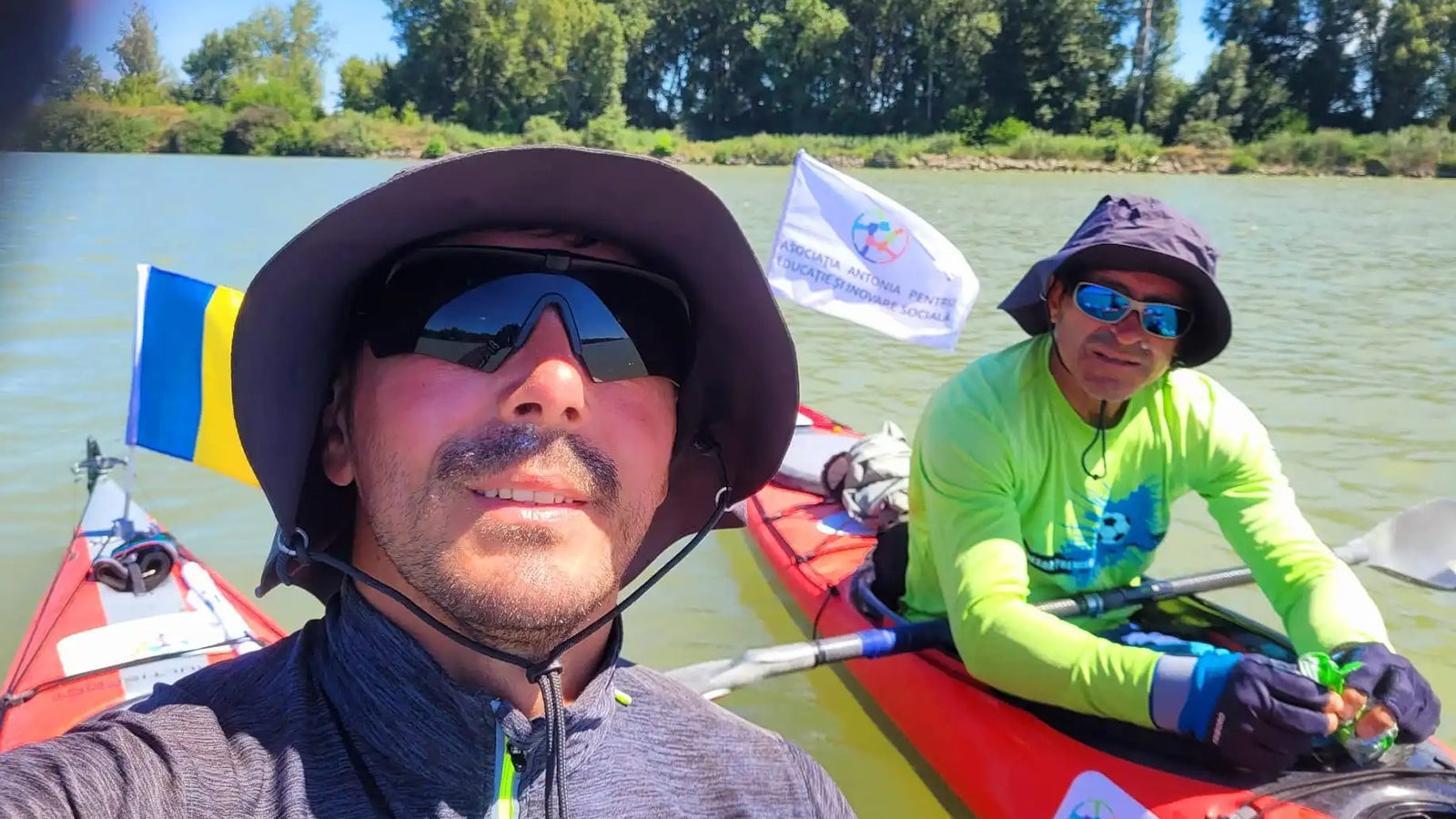 9. Tagesetappe from Zlatná na Ostrov 🇸🇰 to Szigetmonostor 🇭🇺
Hello from Hungary! 113 km covered yesterday. Sok szerencsét, good luck in the future!
10th stage from Szigetmonostor to Paks 🇭🇺
Yesterday was Alin's 33rd birthday 🥳 Happy birthday, fittingly a route with cultural highlights on the through-town route through Bucharest!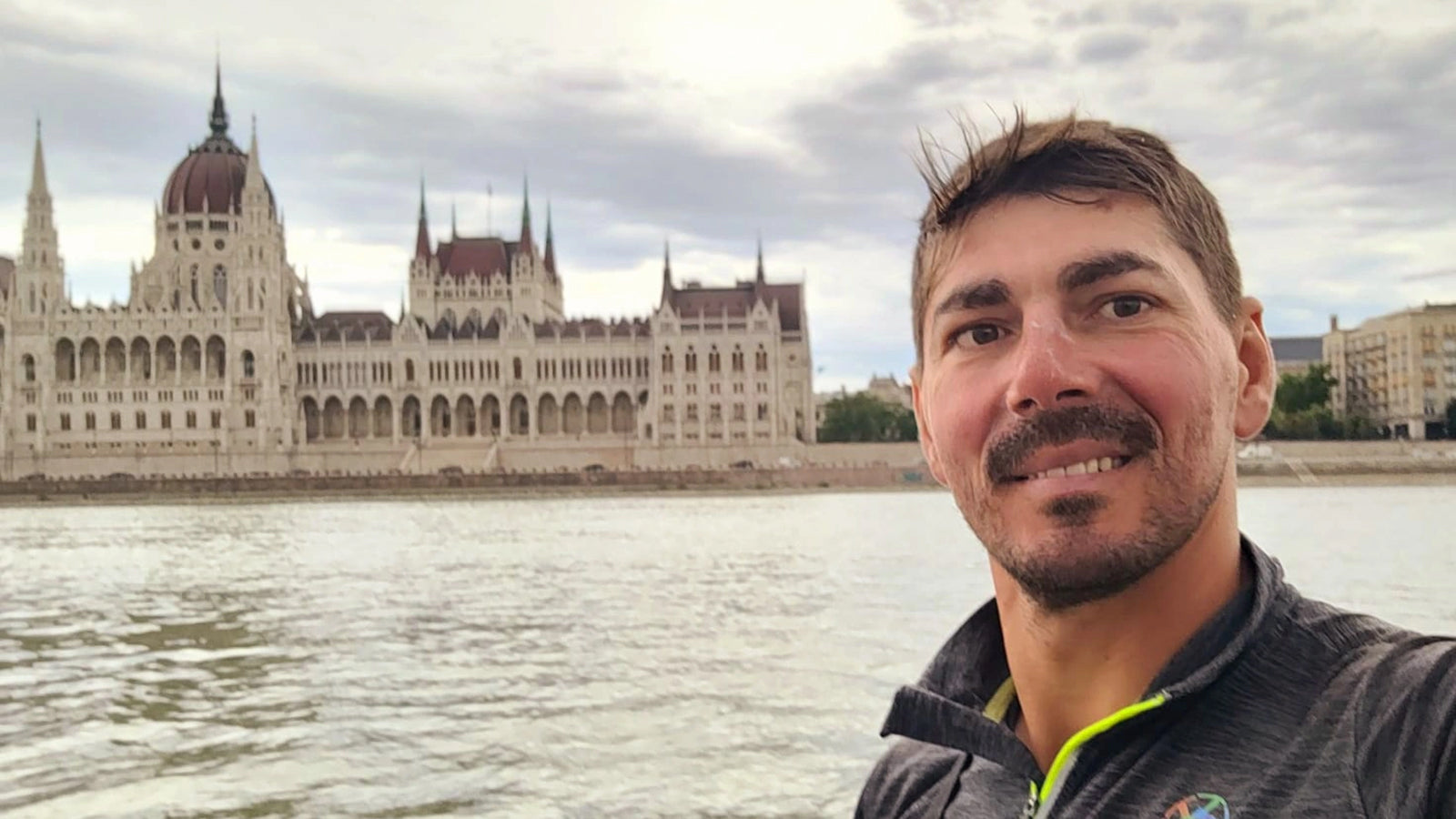 Alin in front of the Parliament building in Budapest, which is located right on the banks of the Danube.
11th stage from Paks 🇭🇺 to Bezdan 🇷🇸
After 105 km kilometers now in Serbia, so Zdravo from Bezdan!
12th stage in Serbia 🇷🇸
Status from the boys: "Did 114 km today, 12 hours of kayaking, all good."
13th stage in Serbia 🇷🇸
Although the scenery is beautiful and it seems like it would be easy to cruise down the Danube, our palms look like it. It's not just calluses, it's open sores and your palms are always swollen. Sometimes we paddle at least 3 hours on the Danube, which is like a lake - without the benefit of a current - and we spend at least 11 hours in kayaks every day, with very short breaks.
This is our dream - and also hard work and perseverance. No pain no gain! 🤗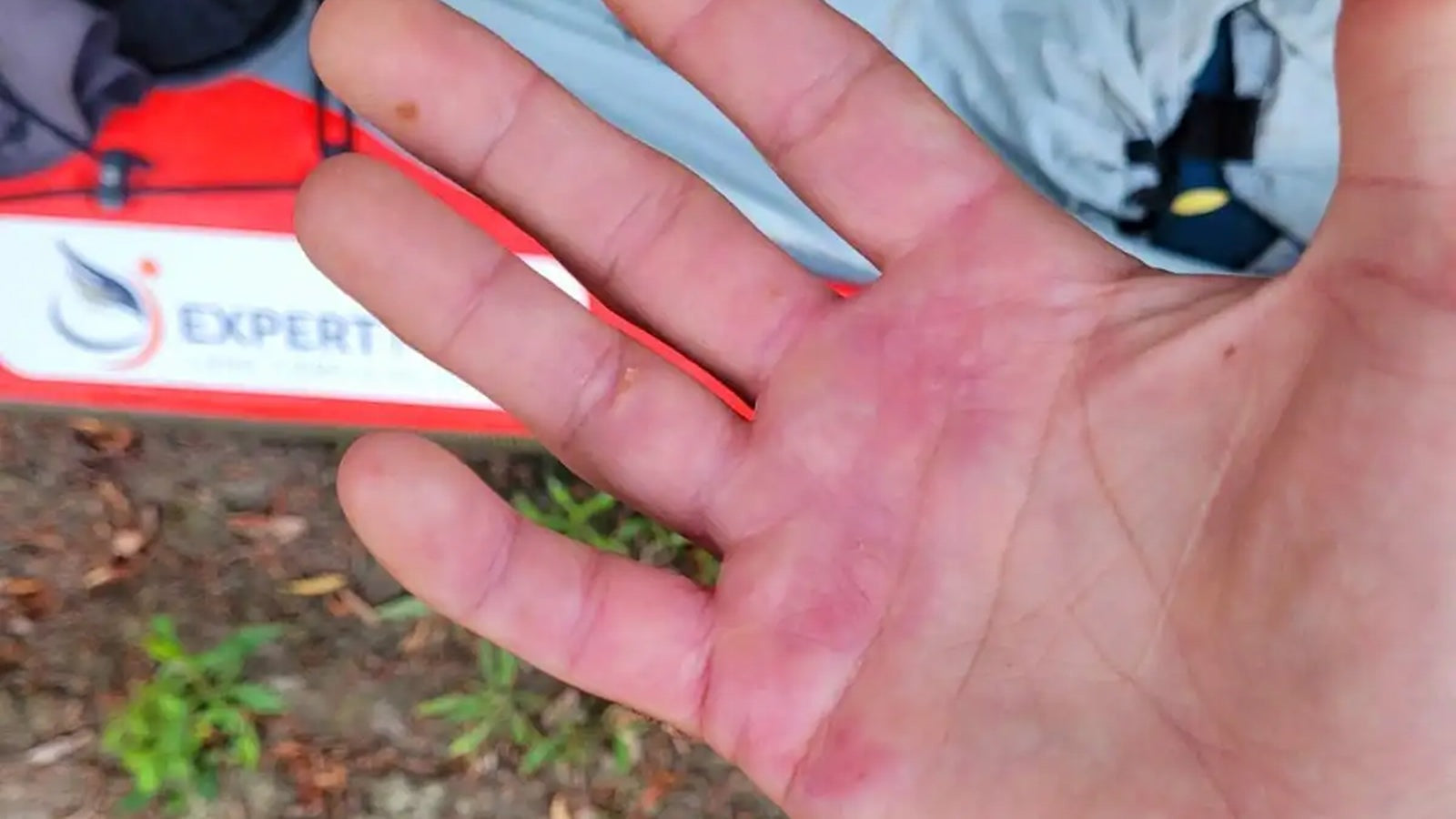 14th stage in Serbia 🇷🇸
"It was very hot today and there was no wind at all, no cooling or shade in sight. That's why we only covered 103 km. According to our calculations, tomorrow evening we will have a Romanian signal and will come to the border with Romania!!!"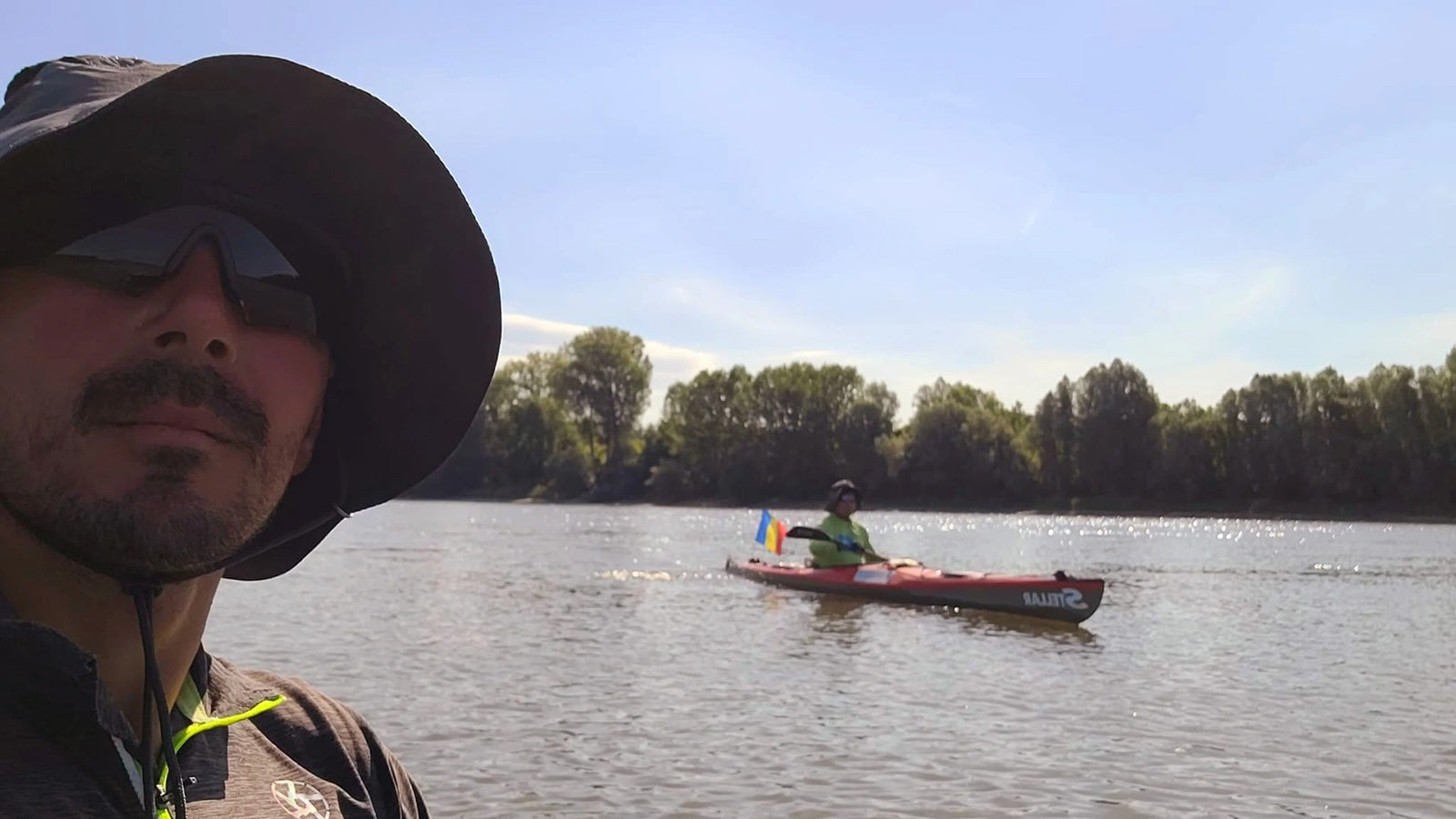 15th stage of the day Ram 🇷🇸 to Svinița 🇷🇴 in Romania
Only 94 km but: we are back in Romania! 🥳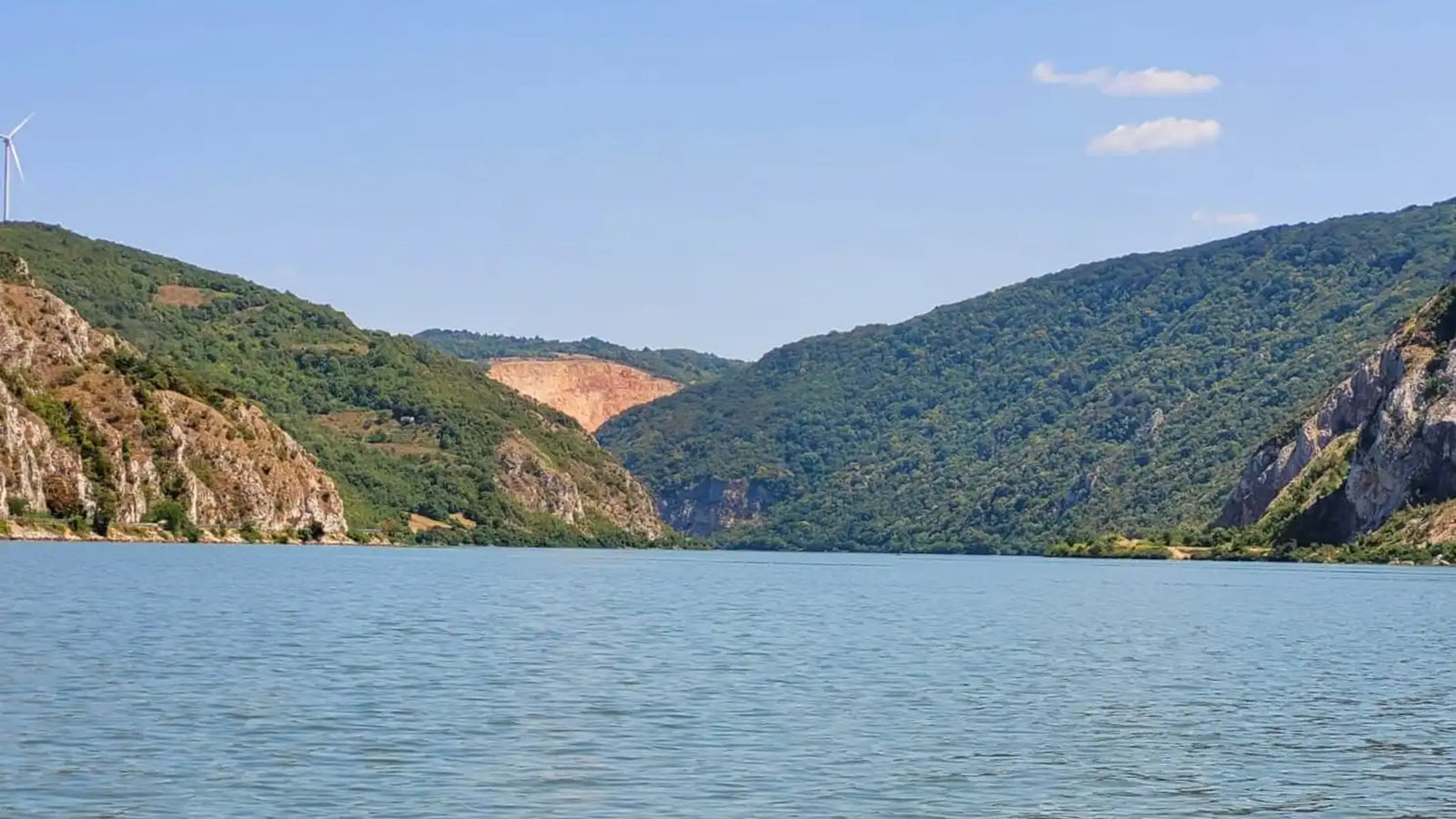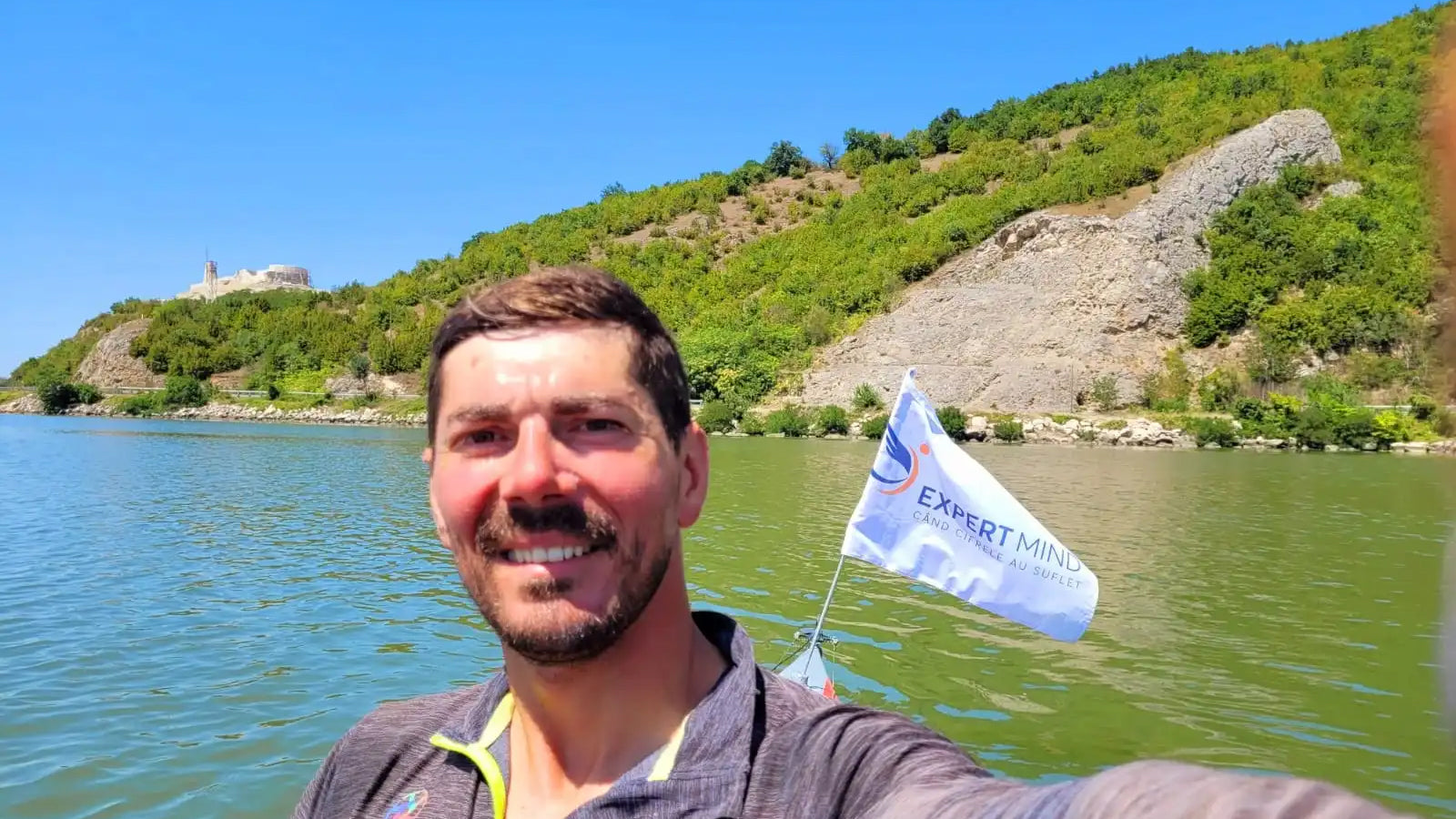 16. Tagesetappe Svinita nach Batoți, Mehedinţi 🇷🇴
Status from the boys: "95 km covered, strong wind, nice but hard. We are happy to be back in Romania and enjoy the scenic highlights along the way."
Note: The stone-carved portrait in the background shows the Dacian king Decebalus. It is 55 meters high and 25 meters wide: This makes the sculpture eight meters higher than the Jesus Monument in Rio de Janeiro. It is considered to be one of the largest stone carvings in Europe.
Matching the current heat, the boys sent us a video of the water so that we can cool down with them in the Danube 🌊.
17. Tagesetappe: Batoți, Mehedinţi nach Cetate, Dolj 🇷🇴
Status from the guys, for yesterday: "We've traveled 92 km, we're on the 817th milestone."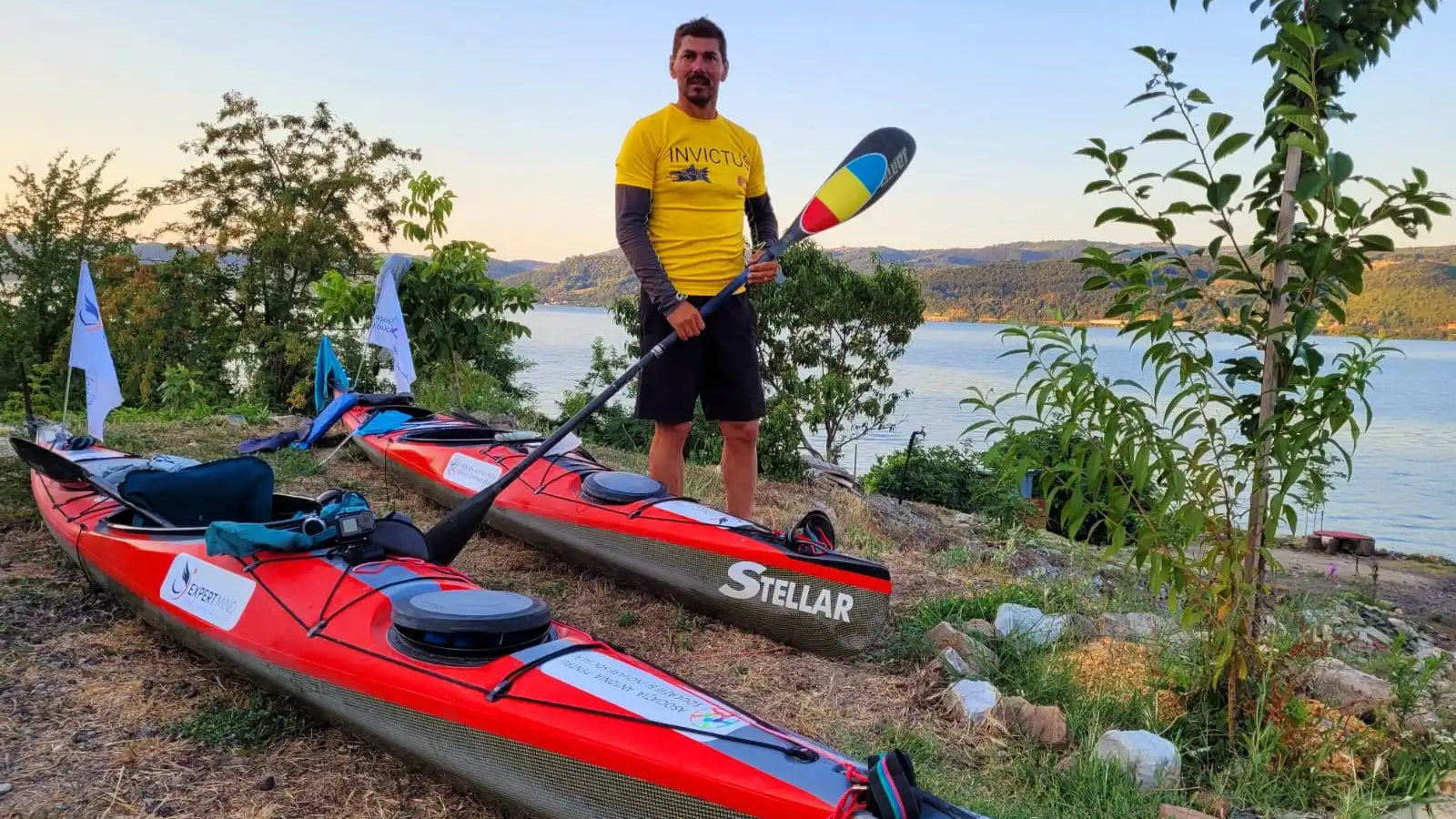 18. Tagesetappe: Cetate nach Gighera, Dolj 🇷🇴
The boys covered 115 km yesterday.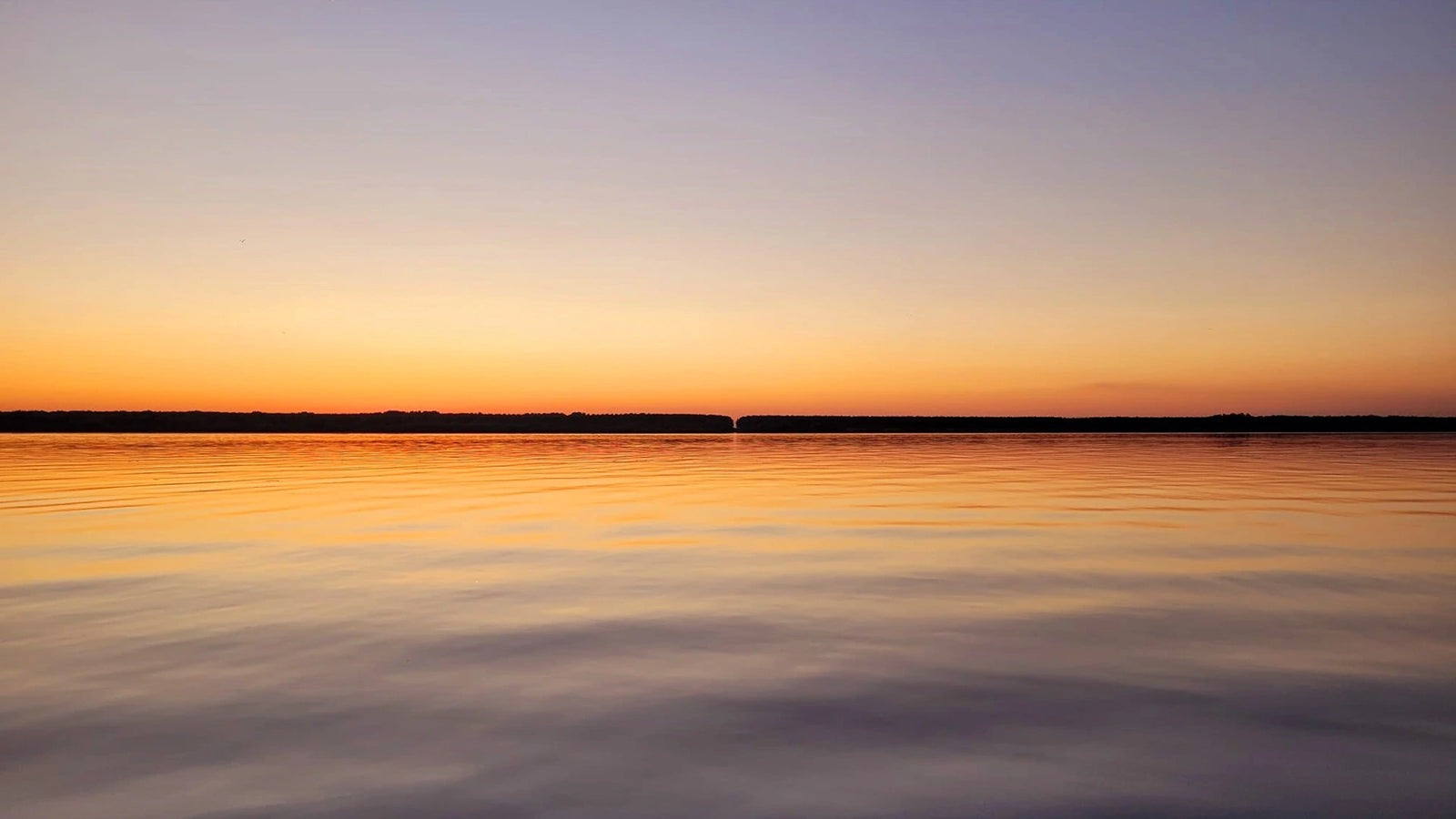 Pair 19. Tagesetappe: Gighera, Dolj nach Turnu Măgurele, Teleorman 🇷🇴
The boys covered 107 km yesterday. Special thanks to the crew at Escape Bar & Food in Bechet Harbor for inviting us to the table and offering hospitality! with an image to focus on your chosen product, collection, or blog post. Add details on availability, style, or even provide a review.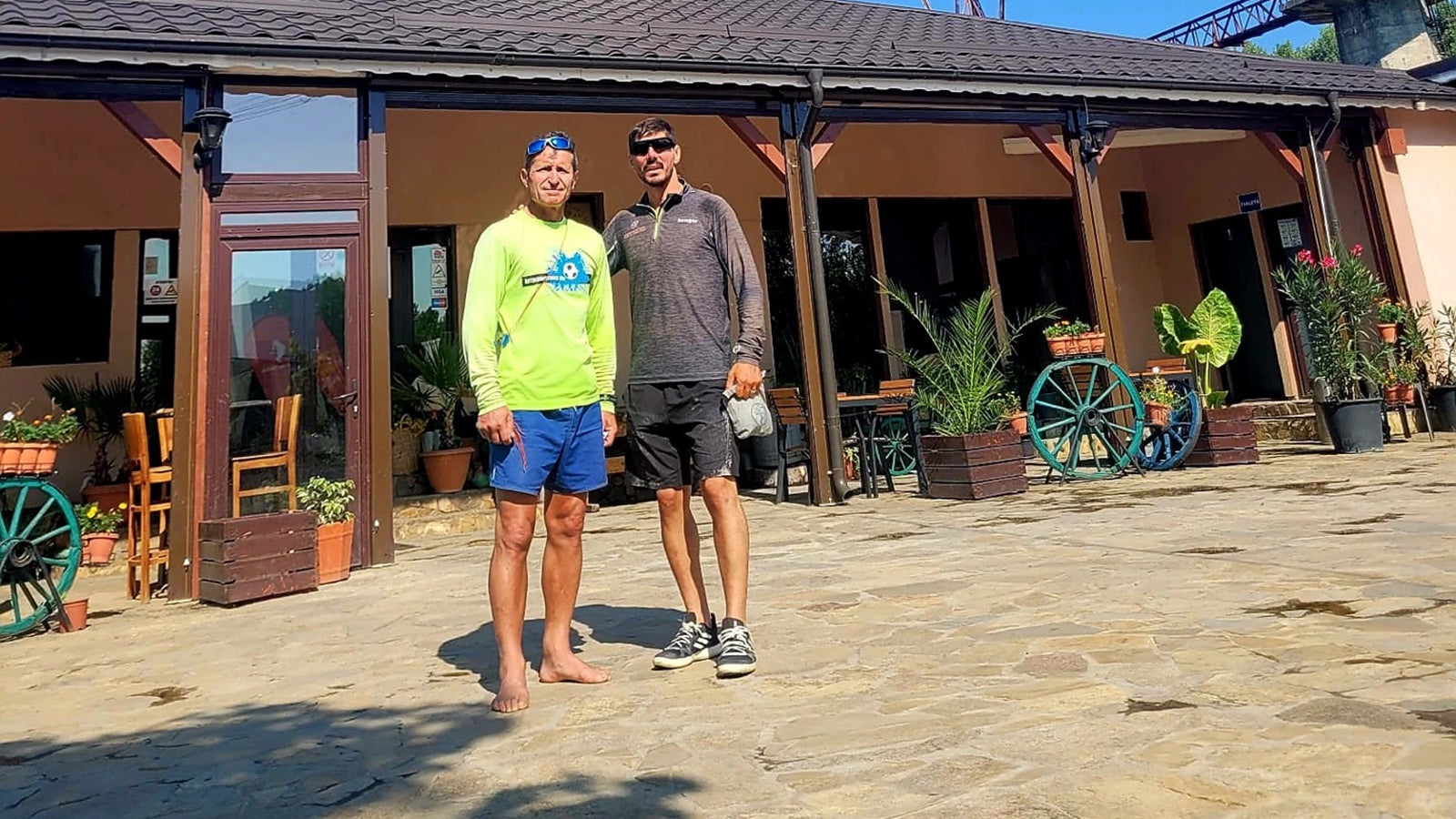 20. Tagesetappe: Turnu Măgurele nach Giurgiu 🇷🇴
The guys covered 105 km yesterday, they arrived in Giurgiu last night.
21. Tagesetappe: Giurgiu nach Călărași 🇷🇴
The guys covered 113 km yesterday, they will probably be in Galați tomorrow evening - if you want to come and say hello, message us.
22. Tagesetappe: Călărași nach Giurgeni, Ialomița county 🇷🇴
The guys covered 130 km yesterday, tonight they will be in Galati around 6 p.m.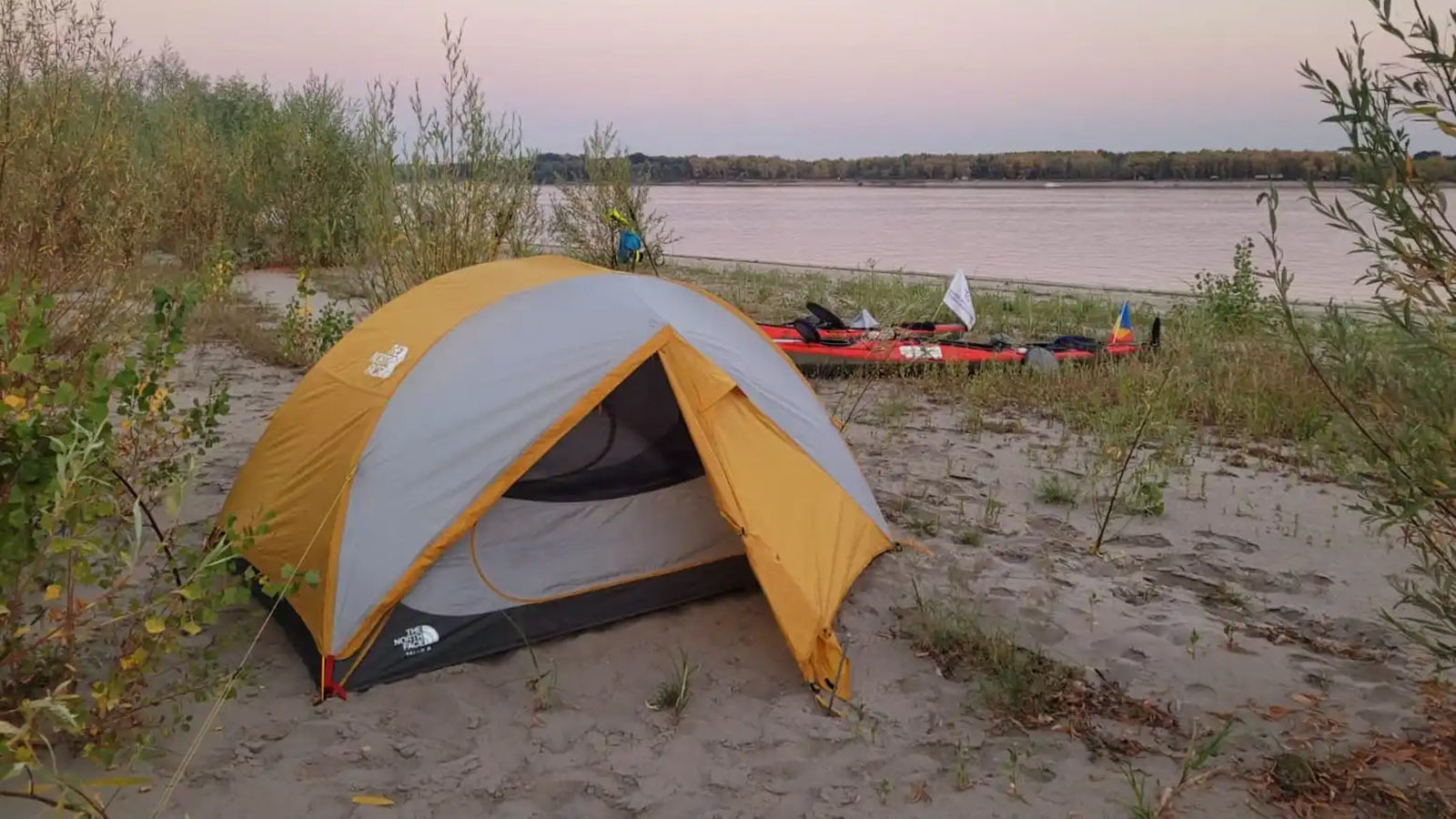 23. Tagesetappe: Giurgeni, Ialomita county nach Galati 🇷🇴
Only 85 km covered as strong headwinds made the stage very strenuous. But great that we had a bit of company, it feels like a tailwind!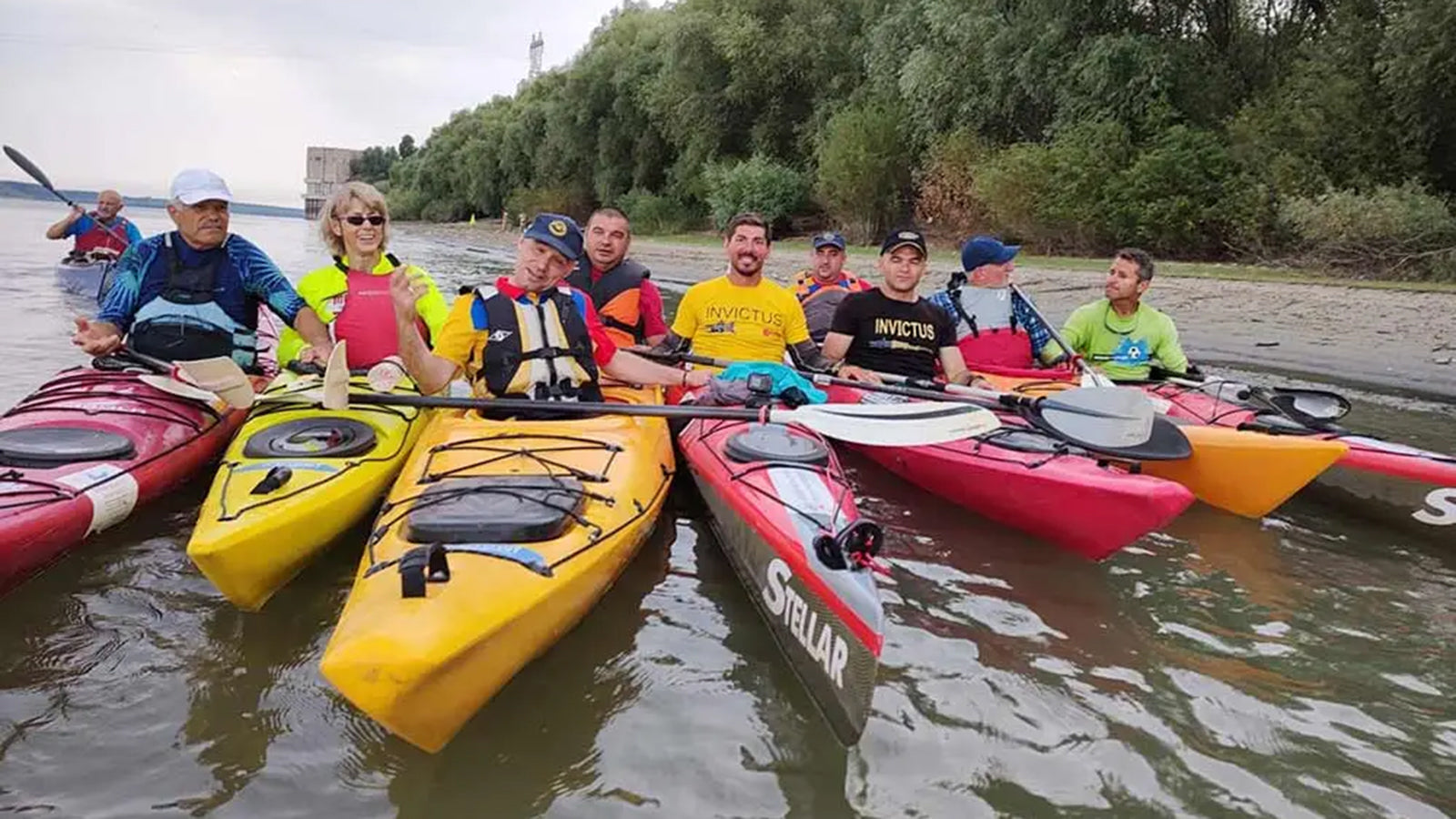 24th stage:
Today we can do it! Galati to Sulina 🇷🇴 - we did the last 150 km in one go and proved a record endurance of 17 hours in the kayak. An absolute record for us to have covered the distance in 24 days! 🏆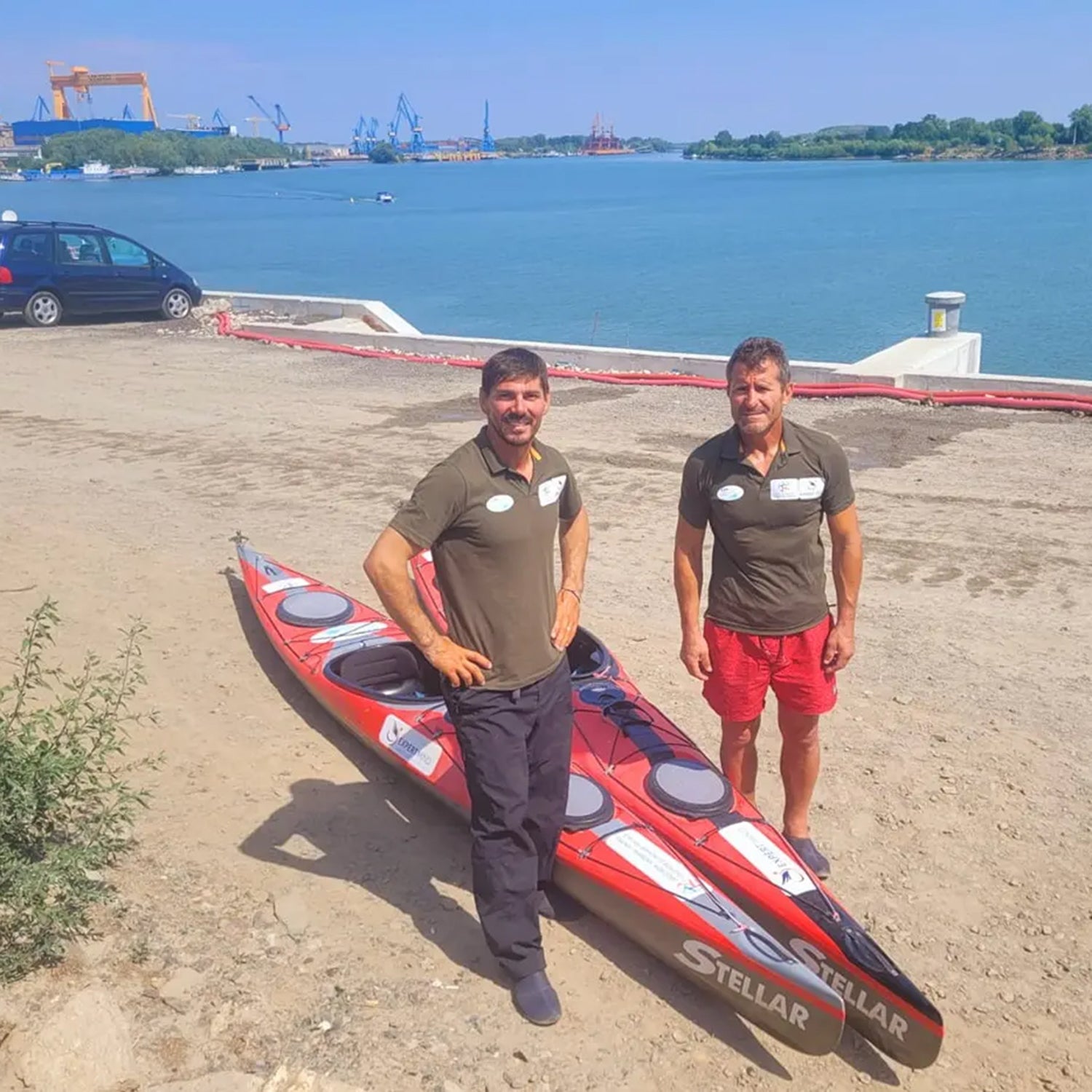 Project long-distance tour 2,600 Danube kilometers in 24 days
Wow! 10 years after completing the entire navigable stretch of the Danube in 2012 with a feat of 30 days, Marin Chirazi and Alin Vorniceanu are returning and paddling the Danube again in July 2022. They aim to shorten the record to 26 days, while covering over 100 km a day.
They set off from Ulm (where the Danube becomes navigable) in early July, crossing eight countries - Germany, Austria, the Slovakia, Hungary, Croatia, Serbia, Bulgaria and Romania - and four capitals - Vienna, Bratislava, Budapest and Belgrade - and reach the Black Sea estuary in Sulina in record time, with minimal means, isolated from society, only paddling and with a tent for the night on the banks of the Danube.
They want to show the world that if you really want something, if you work hard and persevere, you can achieve your goal. The action, supported by Antonia Association for Education and Social Innovation, Expert Mind Business Center and Tehno Steel Construct, is dedicated to children, young people and all athletes who want to push their limits and shape their future with their own efforts and dreams .