We visited the production of SKIM Kayaks in Finland and also interviewed the boss of SKIM - Evert Aartsen. It was about the brand and the values ​​of SKIM, about the outstanding details and the innovative, functional design and also about an outlook on future innovations.
The interview in full length in the video
(Tip: Watch directly on Youtube for German subtitles)
and here below in text form for reading.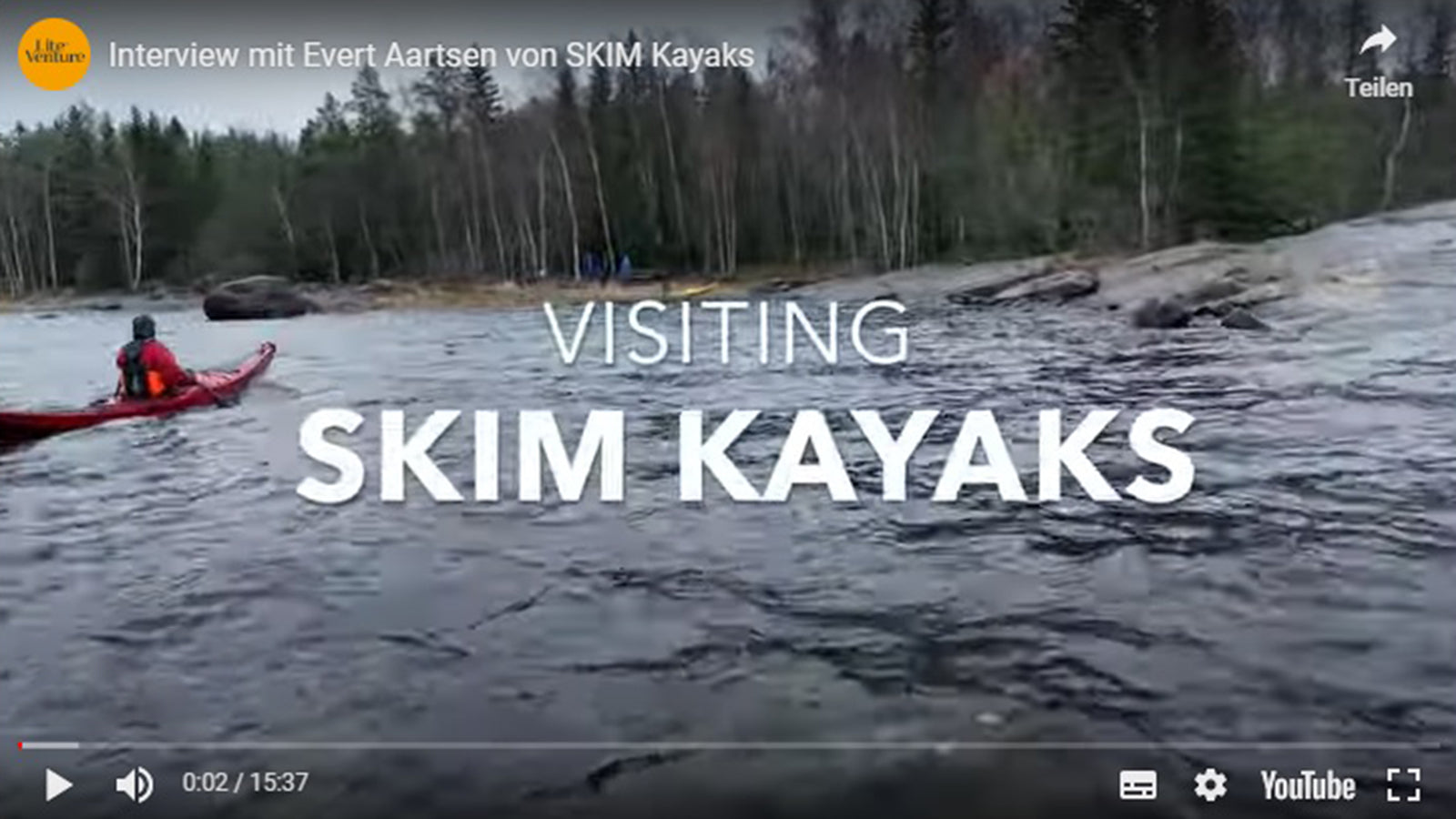 Anne: I'm Anne from Lite Venture and we're very happy to be visiting SKIM Kayaks in Kokkola, Finland this week. And we are especially excited to meet Evert Aartsen, the owner of SKIM Kayaks. We'll take a closer look at the SKIM brand and the kayaks with you. And of course we also show you some impressions behind the scenes!
Evert: Yes, welcome to Finland! It's really great to have you guys here for a full week and we're going to be very busy! We'll also get to know each other better it's going to be a really good week!

Anne: Yes, and we'll take this one at the end Bringing home some brand new kayaks, so another trailer full of joy that we deliver to our customers. And we also take the opportunity to bring new employees here to train their knowledge of repairs on the kayaks. So when we go back home we are prepared for everything! Evert, what made you decide to build sea kayaks?
Evert: It started when I worked in my father-in-law's company. I was busy building sea kayaks for Kayak Sport when Kayak Sport was still making sea kayaks themselves.I started my own company in 2003 as a contractor for SKIM Kayaks in Sweden and that's how it all started.
Anne: Okay, and then you decided to set up your company in Kokkola (Finland)? Was there a specific reason for that?
Evert: Yes, there were various reasons, once I lived here and there was no reason to start it anywhere else. 85% of the entire boat building industry in Finland is located within a 35 km radius of Kokkola. So there is a great deal of expertise and so much knowledge here. Materials are also easier to come by here, so this is the perfect place for any type of boat building.

Anne: And are SKIM kayaks only built here in Finland in Kokkola, or are there other places?
Evert: No! We build every single kayak in our own production facility here in Kokkola.
Anne: And the accessories on the kayaks, for example the hatch covers?
Evert: 90 percent of the components - or even 95 percent - also come from Finland. They all come from Kayak Sport in Pori (Finland). And Kayak Sport also manufactures everything in Finland. And so there is very little imported from abroad.
Anne: So we have an almost 100 percent Finnish product that is completely made in Finland?
Evert: Yes, and we are very proud of that!
Anne: What does that mean Brand name "SKIM"? And what is the essence of the brand in your opinion?
Evert: "SKIM" means: something that flies over the water! Something that walks very lightly over water, hence the name.What we want - and what we do - is to listen to our customers. So when we design a kayak, we take input from our customers and what they want. We try to design a kayak that is perfect for our customers. We don't design a kayak that we think is good. We don't do this for ourselves, we do it for the people out there who want to paddle.This is the main thing we focus on at SKIM.

Anne: Okay! To go into a little more detail, we find that most customers ask about the Rockhopper layup. Because they think it's a very strong layup given the high percentage of Kevlar that's used. The entire lower hull is constructed with two layers of Kevlar. Some also say it could be the toughest, most impact-resistant layup on the market used on a kayak of this construction.What do you think about it?

Evert: I think it's a great layup! It's a very, very impactful layup, I don't know if it's the strongest in the world, of course it's hard to say because I don't know what others are doing. But we never had any problems with the Rockhopper layup. It's extremely durable.I mean, if you're going to rocky waters in a kayak and you want to feel safe, then the Rockhopper is definitely a great layup! It's absolutely fantastic! Anyone who looks at a SKIM kayak immediately realizes that the design is truly outstanding. When you look at a SKIM kayak you immediately see that it is different from other kayaks on the market.It's not just about what you see, there is also a technical background to different parts of the kayak such as the deck and hull.
Anne: Could you explain that a bit?
Evert: Yes, of course, I can try: At SKIM, we have of course always tried to be innovative. We tried to find new solutions to problems. We tried to think of new approaches. Right from the start when designing the first SKIM kayaks. at that time it was still common to design kayaks with a white hull and a yellow, red or blue deck and that was it.
SKIM came with solid colors, with the solid stripe on the deck, and a lot of magazines had the headline "The kayaks with the racing stripe!" That was one of the things.
And then SKIM was one of the first brands out there to use a tow/lock device.And then we have a flush bulkhead here so water can be quickly removed from the cockpit again. This is also one of the features that SKIM was the first boat builder to bring to the market.And then you see here on this model - the Beaufort - that the cover strip is recessed.It is continuous from front to rear. In the meantime, this is also a detail that is copied by many manufacturers.
Anne: But you were the first?
Evert: We were the first! And we're still the only ones who really understand why we did it (laughs).It fulfills a lot of functions: It brings a significantly higher rigidity to the length of the kayak.It makes the deck stiffer without using more material.
Then we made the lowering so that . look specifically at the conditions here in Scandinavia, especially when it gets colder: here you don't want a lot of water collecting on the hatch covers, because it freezes.And these channels - or whatever you want to call them - cause the water to drain away.At any incline you paddle the kayak, the water will drain off the hatch covers so ice doesn't form there. And then of course you can also attach a drinking bottle.So the cover strip fulfills a lot of tasks.
Anne: Yes, that's very interesting to find out! There's something behind the coaming. What purpose does it serve?
Evert: Ah, these are outriggers for paddle floats. If you capsize and have to save yourself again, you can attach your paddle here. With a buoyancy for the paddle, you can very easily get back into the kayak from the side. So when you're alone out at sea in cold waters like the one we have here, getting back in your kayak quickly is a matter of survival. And that's a good solution for that.
Anne: So this is also an important security feature?
Evert: Yes, especially in cold water, very important.
Anne: And this little thing?

Evert : This is a tow clamp. So when you're towing someone, you don't have to wrap the rope around your body. You can run it from the clamp under the bridge so it is in the middle of the kayak and here you can adjust the length or loosen it.
Anne: Okay! And when we come to the stern of the kayak, we see that it is really unique, does the stern design have a specific function or does it bring a technical advantage?
Evert: There is a theoretical advantage: Compared to the waterline, the kayak is shorter. So the waterline is effectively longer than the kayak. But that's not the real reason why we designed it that way. When designing the kayak we had great support from Peter Norlin who was a sailboat designer and in his honor the stern was modeled on a sailboat.So the rear is more of a design thing. I personally think it looks wonderful!
Anne: Yes, it does! And it looks very different. Yes, many customers give us feedback that the Beaufort is a very fast yet very agile kayak compared to its length. It turns very well.
Evert: Yes, it's very posable. But the length is a bit misleading, if it had the usual shape of a traditional sea kayak it would be at least 30cm longer.
Anne: What many customers who order a SKIM kayak like is the possibility to customize a lot. So every customer gets his personal kayak, which differs from others. Would you explain which features you can customize on a SKIM kayak?
Evert: Yes, of course! Basically, as you say, we do it the way the customer wants it.
So what is possible, we do. What is most in demand are the colors. In principle, you can choose any color from the RAL palette.
Then of course we can adjust the bulkheads. So if someone is a bit smaller, we can move the bulkheads and pedals, which gives more storage space. If someone is taller, we can increase legroom. What we also do more often is the adjustment of the thigh braces. Some people with longer or thicker legs have difficulty getting in and out. We can downsize the thigh braces. This is another frequently requested option.And then of course we have four different layups to choose from.
Anne: And can customers also cut it to length themselves if they want it later?
Evert: Absolutely yes! That is an option. That's just fiberglass. You just have to remember that underneath is the cushion. So it's not a problem to adjust it afterwards.
Anne: The most important custom option is the choice of layup. So there are four different layups. Could you explain the most important differences?
Evert:Yes of course! We have the TR - Traditional - that's a fiberglass and diolen layup. This is a hand laid kayak. Fiberglass and diolen give a very good, stiff layup.But it's nothing extra special. It's a very good, solid layup.
Then there is the XR - Extra Rigid. This is very similar to the TR Traditional, but instead of the Diolen we use Kevlar. That makes it - as the name says - extra stiff (extra rigid) and also a bit more impact resistant.
Then we have the Rockhopper. This is by far the most impact resistant layup we have. As the name already says: Rockhopper.
Anne: And lighter too, right?
Evert: It's a bit lighter because it's vacuum infused with vinyl ester resin. It's "bulletproof".
And then we have the carbon layup. This is the easiest layup. We use this to make the kayak as light as possible. But of course it should also be stiff and stable. We don't go to the ultimate in lightness, because a kayak should also be durable.
Anne: You mentioned the XR, the Extra Rigid. Would it make sense to order a Beaufort or a Braveheart with the XR instead of the Rockhopper?
Evert: We do not supply the Beaufort or Braveheart in the XR. The Extra Rigid is not available on all models. Beaufort and Braveheart are the more playful kayaks. If you're taking it out to sea and you're looking for something really durable, you should choose the Rockhopper layup.We have the Extra Rigid on the Artisan 5G and the Viking, which are made for lighter conditions than Beaufort and Braveheart. So we deliver these in the XR layup if you want them to be a little more stable.
Anne: So the Challenge Series boats that include Beaufort and Braveheart are available in three different layups - Traditional, Rockhopper and Carbon Light
Evert: Correct.
Anne: When we get an order where a lot of things are individual, colors, layup, .and we say that the boat will be ready in 8-10 weeks, then most are very surprised that the delivery time is so short. Why can you make this possible?
Evert: I think that we're not the only ones making this possible, it's because of the very good cooperation between Lite Venture and SKIM Kayaks. You order kayaks very regularly, so we send you a delivery every 5 to 6 weeks. This makes availability much easier.Many dealers only order two or three times a year. So you have to order practically standard colors. So of course it's very simple.So I think it's not just about us, we are very flexible in how we produce, but without this cooperation with Lite Venture it would never work.
Anne: You explained a lot of special features, are there any new developments planned?
Evert: Yes! The existing kayaks will remain as they are, maybe there will be minor adjustments in the future. What we are working on at the moment is a new line of kayaks: it will be very different from the current line.There will be a tandem. And there will be a kayak for children. We think that there are currently no really good kayaks for children on the market. So this is going to be a very sophisticated kayak for youngsters.

Anne: Auch en Tsomposite?

Evert:  Ya, en Tsomposite Kayak. At the moment we are also planning to develop a PE kayak. We expect to launch it in late 2023.

Anne: Ah, that's excellent news! So, we're at the end.

Evert: Yeah a really great week to have you guys here and showing you the production how we build the kayaks for you to see with how much passion we do it. Certainly also nice to see the surroundings here. And Thomas, one of your guys, is still paddling around out there behind us!

Anne: Yes, thank you for being around us care! And we plan to come back next year.Evert: Oh, her! (be lacn.)